By Gary Wien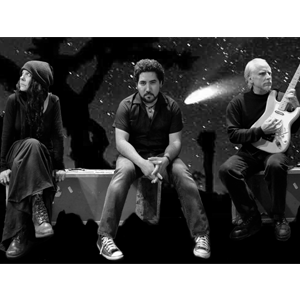 (ASBURY PARK, NJ - DECEMBER 14, 2013) -- After many years, Concrete Blonde returned to Asbury Park with a stellar performance at the Stone Pony. I had seen the band a couple of times before through the years, but Johnette Napolitano's voice sounded better tonight than I can ever remember. She's always had one of the best set of pipes in the business, but after seeing her in such form as tonight, I'd say she just might be the most underrated vocalist in rock and roll. And her band can flat out rock.

Proving that their best days are not in the past, Concrete Blonde kicked off the show with "Rosalie", the band's current single, and played the b-side "I Know The Ghost" following an incredible cover of Midnight Oil's "Beds Are Burning". Throughout the rest of the set, they ran through a good portion of their catalog from "True" off of their self-titled debut to "Roxy" from one of the band's last releases, Group Therapy. Seeing their songs presented this way in one setting, it's amazing just how steady their music and the songwriting has been over the years.

The band is a three-piece with Johnette on bass and lead vocals, James Mankey on guitar, and Gabriel Ramirez Quezada on drums. Together they combine to put forth a solid rock and roll sound that borders on punk at times, and which features a heavy dose of gypsy/mysticism thrown in for good measure. Johnette frequently showcased her flamenco dancing moves, while Mankey offered some of the sweetest solos you could ever hear. The solos were brief, but melodic and beautiful, and fit in perfectly whether alongside a slower number or one of the fastest.

With news of the shooting at the Connecticut elementary school fresh in everybody's minds, it was not the easiest show for the band to get through and Johnette clearly was fighting her emotions all night. She tried playing "God Is A Bullet", but barely could get through a quarter of the song before shutting it down, saying "I can't do this. Not tonight." The crowd all understood. It was actually pretty nice to see such utter honesty from a performer. They live in the real world too, but sometimes try so hard to put up barriers that it seems they aren't as affected by the news as you or I. For the band to avoid playing one of their most popular songs says a lot.

Concrete Blonde did a great job of mixing acoustic numbers with full blown rockers and doing subtle twists on the songs so they didn't sound one hundred percent like the records do. The setlist contained most of their hits, but included several cult classics as well. Looking at the crowd, it was nice to see a mix of original Concrete Blonde fans as well as those who looked barely old enough to drink. After recently attending a concert for an early 80s band that was like a senior citizens convention, this mix was most welcome.

In fact, one of the coolest moments of the night dealt with someone who was probably the youngest member of the audience. A young girl approached Johnette with her autograph book and Johnette was pleased to sign it. When Johnette asked what her name was the girl replied Lux. "I don't know if you were named after Lux Interior of the Cramps, but that kicks ass if you were," replied Johnette. She then proceeded to give the girl some advice on how to find a rich guy, and to remember her Aunt Johnette when that day arrived.

Highlights for me included a wonderful cover of "As Tears Go Bye" by the Rolling Stones, the rollicking "I Know The Ghost", and the smooth eloquence of "Scene Of A Perfect Crime". The closing song, "Bloodletting (The Vampire Song)" just might have been the best closer I've seen in a while. Johnette and the band left no doubt that this was the final number of the night. The song just seemed to build stronger and stronger with the bass literally pounding until the ultimate crash at the end. It was one of the most impressive live performances of a song I've ever seen.

While there was no encore, I think everybody felt they got their money's worth. I know I did. Sometimes you don't need the phoniness of the industry standard encore to complete a night.
---
In no particular order, here are the songs I remember were played.
Rosalie
I Know The Ghost
Beds Are Burning - Midnight Oil cover
Caroline
Joey
True
God Is A Bullet (Partial)
Someday?
Mexican Moon
Everybody Knows - Leonard Cohen cover
Run Run Run
Scene Of A Perfect Crime
100 Games Of Solitaire
As Tears Go By -- Rolling Stones Cover
Roxy
Ghost Of A Texas Ladies Man
Bloodletting (The Vampire Song)


---
Gary Wien has been covering the arts since 2001 and has had work published with Jersey Arts, Elmore Magazine, Princeton Magazine, Backstreets and other publications. He is a three-time winner of the Asbury Music Award for Top Music Journalist and the author of Beyond the Palace (the first book on the history of rock and roll in Asbury Park) and Are You Listening? The Top 100 Albums of 2001-2010 by New Jersey Artists. In addition, he runs New Jersey Stage and the online radio station The Penguin Rocks. He can be contacted at gary@newjerseystage.com.
---