By Gary Wien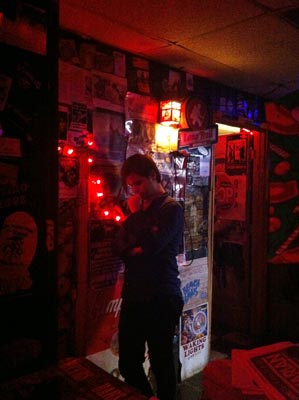 (ASBURY PARK, NJ -- SEPTEMBER 28, 2012) -- On nights like this, I realize just how lucky we are along the Jersey Shore to have a place like The Saint -- a bar that on certain magical nights resembles "Cheers" with live music. On Friday, September 28, we had one of those nights. Three artists who all stamped their mark into the local music scene shared a bill with one of the area's fastest rising stars. It was one of those rare nights that felt like a homecoming with hardly a barrier at all between the performers and the members of the audience. People sang along, joked with the performers, and turned the club into a large living room. We were all friends on this night and those are always the very best and most special shows.

Lee Mrowicki once described the Jersey Shore as a musical island of sorts. While a few of our artists like Springsteen and Bon Jovi become popular throughout the world, the majority are stars only within the area. I think that's still true today. We don't really care what the outside world feels, we believe in the talent of our local scene regardless of whether or not they have hits nationally. Local music fans who follow the scene know these songs by heart. It was that kind of crowd that showed up at the Saint this evening.

The night began with Emily Grove, an artist who has gone from playing coffee houses as a teenager to being on many of the biggest stages in the area. Playing a set full of songs from her wonderful EP, "Way Across The Sea" as well as a few newer songs, Grove showed why she's in such demand by fellow musicians. Her beautiful voice was in pure command on The Saint's stage. Feeling at ease among friends, she spoke between songs much more than in the past. She revealed how she was a loner in high school, a book nerd sitting off to the side. Somehow I find it a bit hard to believe that people didn't take to her then, but they certainly are now. Maybe she's making up for lost time.

Rick Barry followed with a somewhat similar set to the one I criticized a month ago in Red Bank. The difference tonight was clear. While his soft, introspective tunes sounded out of place on a large outdoor stage, they sounded perfectly at home on this stage. It's amazing how a venue can make all the difference in the world, but it does. A month ago, Rick seemed extremely uncomfortable in front of the audience. While he still showed a touch of discomfort tonight, he was still able to talk to the audience in between songs. He even joked at his lack of stage banter expertise. "I'm more of a listener," he explained. Fighting through a setlist planned out by his fiancee (whom he kept referring to as his 'assistant') he avoided a song by Justin Bieber put on the list as a joke, and mixed some of his newer work with highlights of his from the last few years.

Val Emmich, who recently released his latest disc entitled "Bulldozzzer" was up next. Starting off with songs from the new release, Val pointed out how his new record doesn't actually exist in a physical form; it's only available as a download (or as he put it "in the ether"). The release features Val's music in a beautifully simple and stripped down fashion. Available at http://valemmich.bandcamp.com/ for whatever price the user wishes -- even for free. In my opinion, it's worth throwing a few dollars Val's way simply for the brilliant closing number, "Audience" which was one of the tunes played by Val tonight.

After running through about half of the new release, Val switched gears and gave the audience something of a "Best Of" presentation. Running through classic fan favorites like "Get On With It", "Decadent Decline", and "Absolutely Still" Val was on top of his game. Listening to a solo performance of "Absolutely Still" made me realize just how amazing Val's songwriting really is. He's one of the few artists who can play a song solo, yet still have me hear the drums pounding behind him in my mind.

Brought back for an encore, Val pulled out "High Noon" but shook things up a bit by stepping away from the microphone and unplugging his guitar. Stepping to the edge of the stage, he played acoustically and sang without any amplification while members of the audience sang along. It was one of those "Cheers-like" moments at The Saint that I'll always remember. Thankfully, I was actually at the side of the stage at the time and managed to capture the moment on video.


The reunion of Secret Sound kept the night going. The band was one of the most popular acts in Central Jersey from New Brunswick on down to the Jersey Shore in the first half of the last decade. Featuring Kevin Hildebrandt, James Dalton (aka JPAT), Eric Safka, Dave Ferraro, and Adam Alexander, the band sounded as if they hadn't missed a beat. I remember seeing them several times at places like the Saint and the Downtown in Red Bank, but it had been so many years I honestly couldn't remember much. Once they began playing, it all came back to me though. At the time, there was a huge jam band scene in the state. Secret Sound was part of that scene, but unlike the majority of bands who took after the mellow songs of the Dead, Secret Sound was like the raucous, boisterous, little brother who demanded your attention. They didn't just sing, they howled. Their music didn't mellow you out, it made you want to dance -- they put the jam in jam band. Hopefully, they'll play additional shows because they sounded so tight it would be a shame if this was just a one-off reunion.

As someone who has seen James Dalton perform solo, with a duo, with a trio, and with a full band, I really love how he fits with a band like Secret Sound. When he takes lead vocals, he's got room to be the front man we all know he can be. When Kevin handles lead vocals, it offers him the opportunity to stretch himself on harmonica without the need to rush back with the vocals. And Eric Safka on keyboard really gets a chance to groove non-stop with these tunes. Seeing them again you remember just how many great musicians were in the band. That's why the band became so popular, the talent was obvious. And judging by this set, the talent is still there. The question is whether or not the desire to see where this band can go is still there.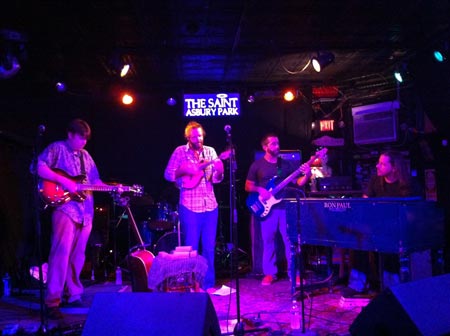 It's funny thinking back, but three of the acts on the bill played rather significant roles in my music journalism career. I largely credit JPAT for helping me with my first book ("Beyond the Palace") and Val Emmich was the very first cover story of my Upstage Magazine (and always helped out whenever asked). Meanwhile, Rick Barry was the subject of my most quoted, most ridiculed, and most remembered article ever (the one where I said Rick was the next Billy Bragg). The only one missing from the fold was Emily Grove and she inspired me to set up a new series online -- magazine covers and articles that would have run had the magazine continued. So, keep your eye out for "Fake Upstage" and see where things might have gone...


---
Gary Wien has been covering the arts since 2001 and has had work published with Jersey Arts, Elmore Magazine, Princeton Magazine, Backstreets and other publications. He is a three-time winner of the Asbury Music Award for Top Music Journalist and the author of Beyond the Palace (the first book on the history of rock and roll in Asbury Park) and Are You Listening? The Top 100 Albums of 2001-2010 by New Jersey Artists. In addition, he runs New Jersey Stage and the online radio station The Penguin Rocks. He can be contacted at gary@newjerseystage.com.
---