By Gary Wien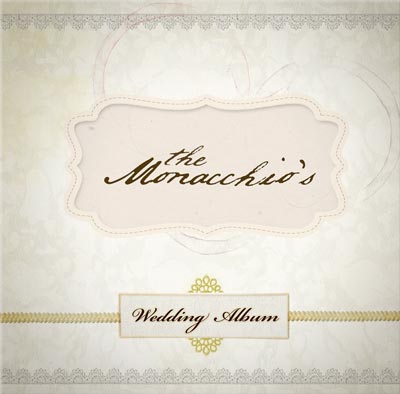 On Friday, October 21 from 7:00pm - 10:00pm, Keith & Sheli Monacchio will host a CD release party for Wedding Album at Espresso Joe's (50 West Front Street, Keyport, NJ). NewJerseyStage.com had the chance to speak with the two songwriters on writing together, how they avoided sounding cheesy, and what the future holds for them...


How did you and Sheli come up with the idea for the Wedding Album? Was it an idea from the start or did you just start writing songs together and liked how the songs went together?

Keith -- When we started talking about what kind of wedding favors to give people at our wedding, we really wanted to do something different. It was a logical choice that it would be something to do with music. Something that represented the both of us, but was a bit different (although I once got a fish as a wedding favor, which I thought was a little presumptuous of the bride & groom. Do people really want to leave your wedding with a pet?!!? Hey, why stop at a fish? Really, what's next!?!? How about a puppy or a kitten? I mean, you go to someone's wedding and then you have to go to PetSmart on the way home to get supplies!?!)

Sorry about that my rant... Anyway, I had the idea of us maybe trying to write 3 or 4 songs and releasing an EP at the wedding, just for our guests. Well, 3 or 4 turned into 7 or 8 then we were like "we might as well make it a nice round number, so we wrote two more". Before we knew it we had the album. Me being me I said, we might as well have a proper release for everyone. In retrospect, it probably wasn't the wisest choice to put the pressure of recording an entire record, along with planning, and don't forget paying, for a wedding in a 5-month span of time. The two weeks before your wedding is really stressful for any couple. But, then to throw in finishing up the vocal tracks, mixing, mastering, artwork, changes, sending them off to print, etc. We really should have our heads examined. BTW, I would totally do it all over again, because I love the songs!!

It's rather appropriate I guess to have an album like follow your last solo release. Did you ever think of the irony of an album about a guy searching for love and then the follow-up Wedding Album?

Yes, it is really ironic. I guess when you put the feelers out without all the negative shit that goes along with it, people respond. I went through a period of writing songs that didn't have a proper balance to them lyrically. What I mean is the songs were leaning to much in one direction. Either a song was to "flowery" (although not a whole lot) or to much "woe is me" (these I had a ton of). The Long Evening was my way of freeing myself from that kind of negative thinking, without losing that glass half-empty edge, because that's who I am at this point in my life. Not everything is rosy, but everything doesn't suck either.

What was it like writing with Sheli? Did you two continue to write your normal way and bring ideas to each other or did you actually work as songwriting partners from the start?

We hadn't really collaborated on writing songs before this. A few times we would run different songs by each other and maybe make a suggestion about a lyric or a chord progression, but never start to finish or working with a blank canvas. I haven't collaborated with anyone, since Joe Baker (The Semibeings), in the 90's. This was not totally new territory for me, but it had been quite a while since I sat down to write a song with another person. I thought since we have been writing on our own for so long we should try to just ease into the process. I gave her the chords and the melody, and the first line of the chorus. Then I said "lets go to separate rooms and write a verse each and see what happens". After she got done looking at me like I was nuts, we came up with basic shell of "I Could Get Used To You". When we got that first song under our belts, we ditched the idea of writing in separate rooms and just sat together with guitars and started bouncing off ideas. I think the most important thing was just being open to whatever idea the other person had and exploring it to the fullest. It actually was quite nice to be the co-pilot and not to have all the ideas. It took a lot of the pressure off of both of us.

I like how the album contains a pair of your extended family -- Melissa Anthony and Sean (who seems like a brother to you). You've obviously worked with Sean for a long time, what was it like recording with Melissa? I know you've been a fan of hers for a long time.

Keith -- Melissa Anthony is hands down, the best female songwriter on the scene today, bar none. I don't say that because she's Sheli's daughter, I say it because she is a phenomenal talent. Those who see her perform once, come away thinking the same way. I actually played a show with her before before Sheli and I even got together. We were trading off songs and she said "here is a new song called "Salty Lungs & Loose Teeth". I was totally knocked out by what was coming out of this girls mouth I almost fell off my chair. What a fucking great song!! Just a brilliant, brilliant, songwriter. An undiscovered treasure that will leave a big fat scar on the NJ scene and beyond, if she chooses to. At only nineteen years old, the sky is the limit for Melissa. Everyone, should go see her band, we are. Go see them play live!! She did a fantastic job for us in the studio, a total pro.

Sheli -- The reason I started playing guitar in 2003-2004 is because both of my kids got guitars. I wanted to bond with them somehow through the music and I was not sure where that would take us all. My son would play guitar in his room, but was shy overall and wouldn't play in front of people. He has also written songs, that not many people have heard. Melissa started playing and would shake an egg along with me at my first open mics. Then in 2005, I started performing out at various open mics and shows, and Melissa would sing along with the most beautiful harmonies. She is an absolute natural. By the time I wrote the songs for my first album Digging For Daylight, Melissa had parts in all the songs and was a part of my music that I didn't want to do without. I was still new at playing out and the fact that she was a part of it, made it so much easier and so much more fun for me. She started writing her own songs and released her first album called Paint the Walls that many people haven't heard. At age 15 her songs were well beyond her years! We had a cd release on her sweet sixteen birthday and I cannot tell you how proud that Melissa made me. It brought me such joy performing with her and warmed my heart. It was always my favorite part of the music. Then she started performing in we are. and I performed more on a solo basis after that. Keith and I thought it would be appropriate to have Melissa sing on this record. One reason was to signify our new family through marriage. The other reason was because this project was so special to me. If anyone else was to join us, it would not have been the same. Working with Melissa again was one of my favorite parts of this project and something I will never forget. Her vocal additions on "Lost at Sea" and "Safe Harbor" actually brought tears to my eyes in the studio. I cannot put into words how proud I am of my beautiful and talented daughter. I am blessed to have her in my life.

Keith -- Sean Glonek has been a good friend for a long time now. We were also in a band together, the Commons, for almost ten years. He produced all the Commons records and has since produced my solo record and Sheli's last record, as well as countless others. The work he's doing at SRG Studios is some of the finest in New Jersey. I realize that people think that Trenton is a ways away from everything but it's smack dab in the middle of the State. I wish more bands would look past the confines of the 3 or 4 studios recording the same zillion bands year in and year out and come to SRG. Yes, he's my friend and I'm a big fan of his work, but I would be the same way if I was just a regular customer. The guy is the hardest, most meticulous, engineer I've ever worked with and his musical knowledge is right up there with the best of them. He won't rest until the song is right.

You two pull off a pretty rare trick in doing a project like this and not seeming "cheesy" in any way. The songs sound like something either one of you could or would have released on your own. Was there any worry that the idea might seem too forced or cheesy?

Sheli -- This was actually a huge concern for us in the beginning. We didn't want people to hear that we wrote an album called Wedding Album and judge the project before they even heard it. We wanted people to listen to the songs and react to the songwriting, just as most songwriters want when people hear their music. We want fans to look at Wedding Album as The Monacchio's debut album, and not the concept that we wrote an "album for our wedding". I suppose this is why we are going ahead with an actual record release. What started out as an idea for 3 songs for a wedding favor took an unexpected turn. Collaborating over a 5 month period and ten songs later, "Wedding Album" was born. Because of the direction the project took, we are very proud of where it ended up. The title is indeed appropriate because we were having a wedding, but I would like to think if we put any other title on this record, it would still be a respected album.

Keith -- Probably the reason we open the record with "The Great Flood" which is a murder ballad. So, even if people have reservations about the possible "cheese, sappiness" factor of something called "Wedding Album". I'm more than positive that those feelings will diminish greatly after the father shoots his daughter's boyfriend in the closing verse of track # 1.

Do you plan on doing future releases together or just guesting on either other's work?

Sheli -- I think both are in the cards for the future. The process of writing together was very organic. I have tried to write with people in the past. Sometimes it worked and sometimes it didn't. Regarding our writing together, I was prepared for it to go either way. I thought we would either kill one another or this would turn out to be a very unique and special collaboration. I am happy to say we are both still here to talk about this album. I would absolutely write more albums with Keith, especially knowing that we will not have only 5 months to finish a project as we did with this one. I was lucky to have Keith record with me on my last project "Kansas" and he has been "guesting" with me ever since. I have been playing with some guitar and vocals to some of his songs as well and I do enjoy backing each other up as well. I look forward to doing both in the future.

Keith -- I think if we have a good batch of songs that we like as much as these, then there will definitely be another record. I liked playing on Sheli's stuff, so I would love to that again for her next solo release. I have one EP in the can, that got put on the backburner because of this project. I'll be releasing that quietly in the spring. As far as full length records, I think I have one more in me and then I'll be taking a much needed break from writing and recording. I'd like to focus on other things, besides music, for awhile. See what else is out there.


Regarding your wedding, it was a huge outpouring of support from the Jersey music scene. What was that day like for you?

Sheli -- I agree. In this last year and a half we have had mixed reactions to me and Keith becoming a couple. We've had many ups and downs during that time, however we always found a way to come together to get through everything. The roads we each have traveled separately throughout the past 20 something years have lead us to that wedding day. It was exactly what we wanted. To not just get married to each other, but also to be surrounded by our family and friends. We wish we could have had even more of our friends there but I know people understand budget issues. Keith and I are very lucky to have such great people in our lives every day, not just on our wedding day.


How was the honeymoon?

Sheli -- Considering that the honeymoon started at 3:45 am the evening of our wedding (our flight was at 6:45 am), it was such a great way to start our lives together. We were actually given our honeymoon as a gift, and what a gift it was. We stayed in Palm Desert, CA and visited Palm Springs, Encinitas, San Diego and Joshua Tree. It was the perfect way to relax after planning a wedding and finishing a record! The day before we went home, we were lucky enough to attend The Joshua Tree Roots Music Festival and Keith and I compared it to PhanPhest as there were many similarities. What a great festival, and great way to end our honeymoon before heading back to New Jersey.

What are your plans for after the cd release party? Are you going to set up a little tour together?

Sheli -- We were just talking about this! We are actually going to look at the idea of doing some short house concert tours. We believe our music is very conducive to the House Concert circle. Maybe we will take a weekend..or 5-10 days at a time on the road throughout next year. Keith and I think it would be a great opportunity for us to get our music heard if we get out there and tour a bit. Keith tells stories of touring with The Semibeings that are quite interesting and I am trusting that he's learned what to do and what NOT TO DO over the years by the time our tour comes around.

Keith -- We'll keep the focus here for this year doing some small mini-tour type things, as well as our regular gigs. Hopefully, we can make some plans to do a few weeks overseas in England & Ireland. That is something I've always wanted to do and Sheli is game for doing it, as well. Anybody have any booking contacts over there? Give us a shout!!

---
Gary Wien has been covering the arts since 2001 and has had work published with Jersey Arts, Elmore Magazine, Princeton Magazine, Backstreets and other publications. He is a three-time winner of the Asbury Music Award for Top Music Journalist and the author of Beyond the Palace (the first book on the history of rock and roll in Asbury Park) and Are You Listening? The Top 100 Albums of 2001-2010 by New Jersey Artists. In addition, he runs New Jersey Stage and the online radio station The Penguin Rocks. He can be contacted at gary@newjerseystage.com.
---