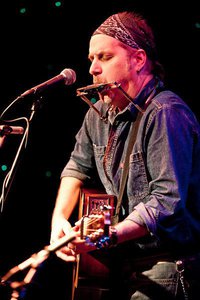 Bill Toms, the long-time Pittsburgh rocker and former member of Joe Grushecky and the Houserockers will return to Asbury Park for a show at The Saint on Saturday, March 19. New Jersey Stage caught up with Bill via email to talk about the show, his new record, and surviving as an independent artist.

According to your website, the new cd has been recorded and is in the mixing stage. Have you been playing the new songs live during your shows or are you holding off a bit until the CD is released?
A little of both. A couple songs actually developed through the live performance. But I will hold a few back and wait for the CD to be released.
What can fans expect with the new disc?
Gospel, soul, blues, and rock and roll. All the American influences on our musical culture wrapped around lyrics that seem to use characters who are searching for enlightenment, even though there may not be an answer.
Have you come up with the title yet?
Possibly "I'm getting Closer". But still throwing things around in my brain.
To produce this CD, you sought help from your fans. How did the fundraising go?
Ok. We are still raising money. There is a "Get Involved' page at http://www.billtoms.com for people to see what they will receive for their involvement. We have enough to pay the producer and some recording, but still are a long way away with costs in mastering,promotion, etc.
What do you think of the way artists are using the Internet and live shows to get fans involved in projects like this?
It's the way the industry is. Record labels are not the strength behind the music like they once were. That's good in a way, but it puts all the pressure on the artist to develop a fan base. No more artist development from the labels.
Will Kimbrough produced this past record for you. Many fans around here are very familiar with his work with artists like Todd Snider. What was it like working with him?
Will has brought to me the vision of someone who is outside my normal circle of people I work with. He understood that I was not here to make a big 'Rock' record, but I wanted a soulful, passionate CD that could be played next to all the Stax, Chess, Muscle Sholes stuff ... He did not come with any of my past projects banging around his head. I really needed that in a producer.
You'll be returning to Asbury Park on Saturday, March 19 with a show at The Saint. You played Asbury Park many times while in Joe Gruschecky's band and have performed several solo shows there as well. I think Gruschecky sort of considers Asbury Park a home away from home for him, what do you think of the town and its music fans?
I play all over, and don't get to the area as much anymore. When I do it's more of a listening crowd because I am playing mostly acoustic. I think the people here have been very open to this. It's more important to connect on that lyrical level for me, or at least a good portion of my music is presented that way. I will bring a trio into the Saint for the show on the 19th. We will give the fans an intimate performance with a tent revival attitude...
Speaking of the Houserockers, you spent nearly two decades in the band. How did working with Joe and playing shows around the world help your career?
You are always working in a place that your past has taken you. I always try to learn from all the experiences I have been lucky enough to have. The problem with starting a solo career is the preconceived ideas people have about you based on what you did before.
Did it help you build a fanbase in many areas you probably wouldn't have reached otherwise?
I believe it has given me the opportunity to get in front of an audience. I needed to connect if this thing was going to grow. Kind of a scary time, but we got through. I feel very blessed to have what I have. I present my music in many ways. this is something I wanted to do for a very long time.
One such area you've been able to tour is Italy, which inspired "A Troubadours Journey" - a documentary shot during your 2008 Italian tour. What was it like to go through that process and what did you think of the film in the end?
I thought the film was well done. It's hard to judge... With a low budget, Jane Marino really did a great job. I was not out to make a film. It was her idea and direction. I just said, please don't make a film about how wonderful Bill Toms is. She made the documentary with the idea that this was a group of people in a different country trying to connect. There is not a lot of glamour. It is pretty funny at times as well...
As an independent artist, you've got to be open to new ideas. On your website you mention house concerts - I was wondering if you have done many house concerts. If so, how do those shows differ for you from playing in a club?
I do many house concerts. When you are on the road and the only ammo you have is an acoustic guitar, a house concert is an oasis of musical integrity. No bar noise, no drunks, no one in the mens room telling you they like the loud guitar songs better...
Do you enjoy the intimacy of house concerts?
It's easier to make the connection with people that want to be there for the music, and not because it's a place where you can pick up chicks, or guys...
You also provide guitar lessons and do songwriter workshops and clinics. Are you able to make a living solely through music or do you hold down a 9 to 5 as well?
I make my living, or what I call a living in music full time. I find that teaching is so much more rewarding as I get older and feel I can pass on a bit of experience to my students..
Finally, as if you weren't busy enough, you began hosting a weekly radio show last September. How do you like being a dj?
I love it. Not sure how good I am. But people seem to like it. I try to be prepared. I also use it to maybe play things and talk about artists in ways that haven't been done.

What's your show like?
It is all about the American landscape and its musical history. From blues, soul, rock and roll, country, folk, jazz, etc. Sometimes we as North Americans forget about all this. We get too caught up in the pop sounds and the big business of things.
Do you spin music?
I spin and program the whole hour. Goes by pretty fast actually.
Interview any artists?
Sometimes. If someone is coming through town and are staying at my house, they get dragged off to the studio on Monday night.
Ever perform your own songs during the show?
Never..It's about me being a DJ. The kind I use to hear as a kid. The kind that had input. We don't see the DJ's or writers like that. The ones with opinion. Lester Bangs would never make it today. Of course we have the internet..Monday Nights at 10pm EST www.wnjr.org "In The Dark' - The Bill Toms Radio Hour.
**********************
You can see Bill Toms perform at the Saint in Asbury Park, NJ on Saturday, March 19. The show is a special Asbury Cafe acoustic show with no talking allowed during the performances. The night also features sets by Christopher McKeon from The Afterbangs, John Alberici, and special guests. Doors open at 6pm. Admission is $10 in advance or $13 at the door.
**********************