By Gary Wien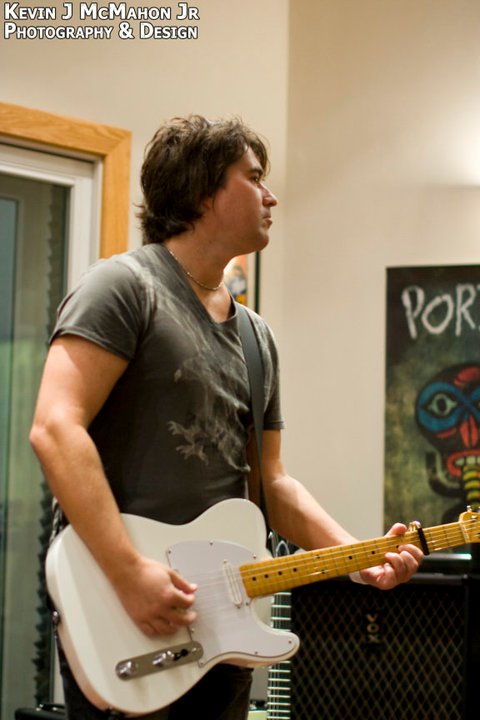 In recent years, you've been building up Beach Music Studios. Did you sort of put your own music career on the back burner for a while?
Not necessarily. While I certainly haven't been performing live as much over the last couple years, I've spent the time writing a lot of songs, recording them with the band, traveling & meeting many talented musicians, engineers & producers.

Did working around other musicians every day keep you focused on your own work? Or did running a business make it that much harder to find the time to write new tunes?
Around '05 Mike Wanchic (John Mellencamp's longtime guitarist/co-producer) saw me in NYC & heard some recordings & was interested in producing some new songs. We hit it off really well, ya know & have been recording songs in NYC & their home base in Bloomington, In. The first time I was out at their studios I was intrigued by the way they worked & had their entire operation self contained. John had bought a small house years back & converted it into their studio, rehearsal space, management offices etc... That is the Belmont Mall Studio you've read about where they record all their albums as well as R.E.M. and a few other acts. So when I came back to NJ I thought it was a great model & went about finding a space to kinda do a similar thing. Instead of paying a rehearsal space 3 times a week, a studio to lay tracks down I put the money towards my own space Beach Music Studios in Belmar, NJ a few blocks from the beach. Don't get me wrong it wasn't THAT easy. It certainly took time to get together, but now we record most everything there & rehearse there. Having the space, I also started renting it out to friends bands in the area & other working bands looking to rehearse & record. Knowing a lot of musicians in the area who were looking to pick up extra money, we started giving lessons in the afternoon & evenings & I have 10 teachers a week now.

You recently released a new single that was featured in the film "Just Around the Corner" -- how did that come about?
Well, I've been doing the Light Of Day shows from the beginning & last year they started filming for a movie documentary on Bob (Benjamin) & the LOD Foundation. Steve Caniff & Jim Justice directed & produced the film and asked if they could use a song. I had just returned from Austin, Tx where I was mixing with CJ Eiriksson & had a final mix of "Prisoners Of Hope" which was written with Bob & his situation in mind. They loved the song & closed the film with it. They did a fantastic job with the film...

Tell me about your latest demo recording. What songs are on it, who recorded it, and what musicians did you work with? Were these songs recorded in your own studio?
We're coming to the end of the process for the new CD that started full on about a year & 1/2 ago. Most tracks were recorded at Beach Music & Jankland Studios in West Belmar, NJ. But there are songs & tracks that were also cut in various cities & towns: NYC, Bloomington In, Memphis Tn, Clarksdale Ms, Austin Tx. Most of the songs were mixed & co produced with C.J. Eiriksson, who mixed U2's last disc & is working with them on their new album right now as well as bands like Incubus, Phish, Live & Matchbox 20. Two of Mike Wanchic's produced songs will be on it and Shelly Yakus, who is a legend in the industry and has worked with everyone from John Lennon, The Band & Tom Petty mixed a couple tracks. Steve Jankowski at Jankland recorded & engineered a few tracks & mixed one. And my personal engineer at Beach Music Studios, Casey Zanowic engineered all the tracks.

Besides my band - my musical brother James Long who has a huge hand in molding the songs/tracks played bass, piano and sings the best harmonies around and Mike Askin a great guitar player who makes every song better- I had a whole host of the best area musicians come in and add their incredible talents to the tracks. Kerry Divine of Divine Sign sings harmonies on a few tracks, Sarah Tomek came in on drums at a crucial time & lifted some of the songs to a new level like only she can, Keith McCarthy from The Sunday Blues played slide & lead guitar on a few tracks, Arlan Feiles added a killer piano track on "Maybe We'll Be Fine?" and Layonne Holmes & Deb Vaughn added amazing vocals on a couple tracks. It was great fun & very cool of them all to come in and help make the tracks better, can't thank them enough. I also have to thank Bob Avallone, a great songwriter, who is my editor & czar of coolness and makes sure I don't sneak any garbage in the tracks...or at least not too much!

Are you trying to shop the demo around? Are you working on a full-length release?
We recorded well over 30 songs & I have the disc down to 14. A few more than I would normally like but it feels right. It'll be everywhere.

I noticed you seem to be playing a bit more regularly recently. Are you starting to push that side again?
Well now that the majority of the work is done on the CD, I'm starting to get out there more & give the new songs some test runs in front of people. That's how you know what you have. Then the band will be out playing all over.

I guess your schedule is a bit more open this year since you didn't renew your season tickets! What are your thoughts on the NY Rangers this year? How far do you think they can go?
Ha, well I really didn't have the time to go to the game! I miss it, but they're having a pretty good season even with all the injuries! Eh, I hate to say it but probably not past first round, but maybe the King gets hot & ya never know...

Finally, Beach Music Studios is a great place that offers quite a lot. What would you like musicians (or would-be musicians) to know about your business?
I'd like them to know that Beach Music Studios is there for them. If they need a nice place to rehearse or record with quality gear in a relaxed & creative environment they should come by & speak with Carmen (manager). Beach Music Studios is located at 808 Belmar Plaza in Belmar NJ. For more information call 732-280-1181.

---
Gary Wien has been covering the arts since 2001 and has had work published with Jersey Arts, Elmore Magazine, Princeton Magazine, Backstreets and other publications. He is a three-time winner of the Asbury Music Award for Top Music Journalist and the author of Beyond the Palace (the first book on the history of rock and roll in Asbury Park) and Are You Listening? The Top 100 Albums of 2001-2010 by New Jersey Artists. In addition, he runs New Jersey Stage and the online radio station The Penguin Rocks. He can be contacted at gary@newjerseystage.com.
---