By Gary Wien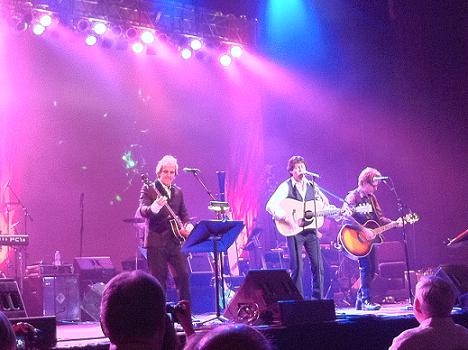 (NEW BRUNSWICK, NJ -- SEPTEMBER 18, 2010) -- "I would like to say thank you on behalf of the group and ourselves and I hope we've passed the audition", said Bob Burger, echoing the words of John Lennon as Glen Burtnik & Friends closed out a set that saw the band cover the American versions of "Help!", "Rubber Soul", and "Let It Be" -- complete and note for note as originally recorded while images and videos of The Beatles played in the background.

Roughly thirty years ago, Glen Burtnik first performed as Paul McCartney in Beatlemania alongside Marshall Crenshaw as John Lennon. Nowadays, Burtnik and Burger form the perfect combination of Paul and John. In fact, the couple next to me initially thought Bob was Marshall Crenshaw on stage! I guess first impressions really do last. Friends and songwriting partners, Burtnik and Burger led an inspired Beatles tribute band that also included John Merjave, Marc Muller, Eric Troyer, Dusty Micale, Dave Anthony, and Joe Nocco. Special guests such as Kasim Sulton, orchestral musicians, and a choir featuring over 15 backup singers were added throughout the night.

This was the fourth such "Jersey Beatles Bash" presented by Burtnik over the last few years. Previous editions have covered such landmark records as "Abbey Road", "White Album", and "Sgt. Pepper's Lonely Hearts Club Band". Covering three records in one show was a new twist and one that provided an interesting look at how the band's music changed over time. Starting with "Help!", Burtnik and his talented cast led the audience through a half decade of music that took the Beatles from topping the charts to changing pop culture and ultimately to the breakup of the band and the group's final release.

Highlights for the Help! Album included: "You've Got To Hide Your Love Away", "You're Gonna Lose That Girl", and "Ticket To Ride" which all featured Bob Burger on lead vocals; and "The Night Before" and "Another Girl" which had Glen Burtnik on lead vocals. The latter is the kind of upbeat, pop song that I will always associate with Burtnik. It's the kind of song I remember hearing him play when I first started following him in the mid-80s at The Stone Pony in Asbury Park.
Throughout the evening, Burtnik seemed to be having a ball. I think that's what makes these shows work so well. It's obvious that the entire band puts in a great effort to learn the songs note for note and are accurate and deferential to the originals, but, more importantly, they love the songs as well. They don't simply go through the motions; they're having fun on stage.

Hearing these records live, you notice just how much the record company changed the albums for the North American market. In North America, songs like "Yesterday" and "Act Naturally" were left out of the release of "Help!", while songs like "Nowhere Man" and "Drive My Car" existed outside of "Rubber Soul". Even though I don't like what they did, I've got to hand it to the record executives because they knew exactly which songs to build other albums around. There was such an abundance of riches to work with during this period. Few bands have ever had such an amazing height of creativity and mainstream hits at the same time.

"There were, of course, two Beatles albums," explained Burtnik. "There were ten in Britain that they turned into about 40 for America!"

"Rubber Soul", the album which rocked the world -- literally and figuratively -- was next. Highlights included wonderful takes on "I've Just Seen a Face" (Burtnik on lead vocals); "Girl" (Marc Muller on lead vocals); and "The Word", "It's Only Love", "In My Life", and "Run For Your Life" (Burger handling lead vocals for all four). "It's Only Love" really showcased the range of Burger as his vocals echoed beautifully throughout the venue as if sung by Roy Orbison. As for "In My Life", well, that's simply one of my favorite songs of all-time and Burger nailed it perfectly.

I've always been more of a John Lennon fan than McCartney fan -- you can clearly notice who your favorite is when you listen to a few of their albums in their entirety. Ironically, one of the McCartney-led songs I was really hoping to hear Glen do was done brilliantly by special guest Kasim Sulton. The song, "I'm Looking Through You", was one my friend and I used to try getting Glen to cover in the 80s. In fact, I think one day we even wrote a note requesting the song and left it on his car! Sadly, I still haven't heard him tackle that number, but Kasim's take on it was very good.

Also worth noting was impressive sitar work by John Merjave during "Norwegian Wood (This Bird Has Flown)" and nice lead vocals by Eric Troyer on "My Michelle". In addition to having someone who provided backing vocals on John Lennon's "Double Fantasy" album (Eric Troyer), Burtnik pointed out how Bob Burger performed with Paul McCartney during a party a few years back.

"Unfortunately, Paul couldn't be with us tonight," said Burtnik.

After a short intermission, the band returned to close things out with the "Let It Be" album. Kicking off with a spectacular version of "On Our Way Home" sung by Burtnik and Burger, they followed with one of the most magical moments of the night -- a beautiful version of "Dig A Pony" in which John Lennon was singing along with Bob Burger simultaneously as the "Let It Be" video played on the screen behind the band. If the band ever wanted to prove they were hitting everything note for note, this was the proof. The few moments when this took place gave me chills and was an image I'll never forget.
You could just sense the momentum building when a Steinway grand piano was wheeled out for Burtnik. There was no way the final numbers were going to be played on a keyboard! As the band closed out the night, at least 15 backup singers, various horn players, and violinists were brought on to the stage. Of the backup singers I could see, I noticed Jo Wymer, Lisa Bouchelle, Joanna Burns, Jerzy Jung, and I believe a pair of Glen's daughters.

The ultimate highlight for me was the title track, "Let It Be". Glen sat at the piano, minus the beard as I remember him in a photo from Beatlemania that used to reside at the Asbury Park Rock 'N Roll Museum. He led the way through one of the best songs ever written, in my opinion. When "Let It Be" hits that instrumental bridge towards the end, I honestly don't know if there's anything better.

I've been fortunate enough to see all four of Glen's Beatles shows and each time there's one particular song that blows me away live that never really interested me before. Tonight it was "I've Got a Feeling". Sung by Glen, this song seemed to be a perfect match for him and sounded much better live than I would have imagined.

One of my favorite things about the "Let It Be" album is the song "One after 909". For some reason, I've always loved how the song was one of the first ever written by The Beatles but never released until what would ultimately be the band's final album. I think I still have an old bootleg record by The Quarryman showcasing an early version of the song. I've always believed that the inclusion of this song was a great tribute to the band's early years and a rock and roll spirit which stayed true till the end.

Glen returned to the Steinway for "The Long and Winding Road". With the stage completely full of musicians and singers, it reminded me of when Glen and his friends tackled "Sgt. Pepper's Lonely Hearts Club Band". At one point during the night, Glen pointed out that they would be using about 30 musicians to recreate the music of the Fab Four and he was right. It's amazing when you think of it.

You could feel the energy from the audience as we came to "Get Back", the final number on the album. The crowd was clapping, stomping, dancing, and singing along as Glen grabbed the microphone and strutted across the stage. At times, he even lied down on the piano, showing the effects of a long night. Towards the very end of the song, Glen even missed his cue! If you looked closely you saw Glen smiling and laughing briefly, perhaps even expressing a little relief. I'd say that was acceptable considering the band had done everything perfect up until that point.

Apparently three complete Beatles albums weren't enough for the crowd as the band was brought back for an encore. "We only have time for one more because frankly we're all a little tired of playing The Beatles at this point!" said Burtnik before settling down at the Steinway again for a fitting cover of "Hey Jude". As the song neared it finish, dozens of people started pouring on stage. Men, women, and even children danced around and shared microphones with the band. It was a Hollywood ending to a magical night.

Glen's Beatles Bashes combine history lessons and music appreciation with a simply incredible rock and roll experience. They show how the music of The Beatles remains timeless. Tonight's audience ranged from those old enough to have seen The Beatles live at Shea Stadium to kids younger than my Beatles CDs. To see the members of the audience up on stage, relishing in the sounds of albums released more than 40 years ago, was a wonderful image. For some reason, I left the theatre humming a song not released by the Beatles -- "Rock and roll is here to stay, it will never die." Those words never seemed more appropriate to me than tonight...


---
Gary Wien has been covering the arts since 2001 and has had work published with Jersey Arts, Elmore Magazine, Princeton Magazine, Backstreets and other publications. He is a three-time winner of the Asbury Music Award for Top Music Journalist and the author of Beyond the Palace (the first book on the history of rock and roll in Asbury Park) and Are You Listening? The Top 100 Albums of 2001-2010 by New Jersey Artists. In addition, he runs New Jersey Stage and the online radio station The Penguin Rocks. He can be contacted at gary@newjerseystage.com.
---