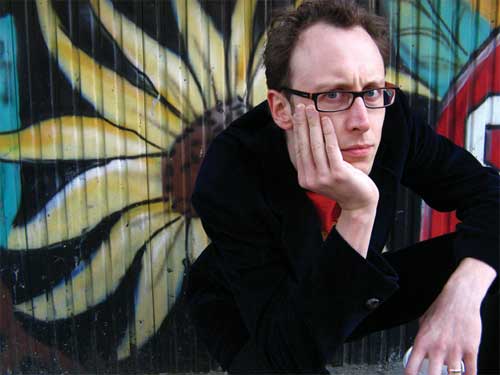 New York City has clearly gotten into the soul of Ben Godwin, a musician born and bred in London who moved across the pond a few years ago. Godwin's latest album, "Skin and Bone", is filled with tales inspired by the city. The record is currently being added to college stations across the country. You can see Godwin live on September 5th at the Goldhawk in Hoboken, NJ.
"What actually brought me over to the states was my wife," explained Ben Godwin. "I guess I'm a mail order bride! We had the opportunity to come here and it's just such an amazing music scene over here. There's a culture of music in the states that I just love."
This latest album goes down a different direction for Godwin. While his earlier material sounded a bit influenced by fellow countryman Elvis Costello, "Skin and Bone" has a distinct Tom Waits feel. It looks like living in New York has really toughened up Godwin.
"Yeah, New York definitely brings out the anger!" laughs Godwin. "It's just such an intense city. London and England as a whole are pretty polite places and I love that about the U.K., but New York lets it all hang out in a big way and that definitely reflects in the songs. Plus there's this sense of impending doom. Tom Waits had a brilliant quote once, 'New York is a ship and the sea is on fire' and that thought was definitely behind these lyrics.
Godwin knew he needed to make a new record because it was clear his music was going through a transformation. The songs he had previously released no longer represented the work he was now creating.
"We just dove into it and when we sat back and listened to the songs, it was clear they were all songs about the city," he said. "There are songs about coming to New York, songs about being in New York, and songs about escaping New York. It's all grounded in this headrush of living in New York City."
Godwin is part of the anti-folk scene in New York City. Actually, he was part of the anti-folk scene in London as well even though he didn't know it at the time! According to Godwin, the meaning of anti-folk seems to mean different things to different people and changes every few years, but the main thing is that it is a community of artists and they generally get together at the Sidewalk Cafe in New York City.
"When I first came here I had heard about this open mic," he explained. "It was different from any open mic scene I'd ever been to because people were staying for the whole night and they were listening to everybody and getting into everybody. Just this level of listening and support that's a million miles away from most open mic situations where often there will be this grim faced queue of musicians all waiting for their chance to play; all sufferring through all the other acts waiting for their shot, which is rather boring. There's this amazing wealth of talent in New York and a lot of it winds up at the Sidewalk Cafe every Monday.
"There's a lot of really strong listening going on and there's also room to take risks and be silly, which is kind of refreshing because sometimes we take music so seriously. I got into the whole scene there and started taking risks as a songwriter, which I've never really done before. I've always been the kind of guy who would sit and polish the song until it was absolutely perfect and then I'd play it for people. Since I started playing at the Sidewalk I'll do things like get there at 7:30pm, sign up to play somewhere between 10 and 11 o'clock and then go downstairs to the basement. Then I'll take whatever's rattling around in my head, turn it into a song and literally jump up on stage and play it! If you're a songwriter that's like a tightrope without a safety net. It's invigorating! I wrote alot of the songs on the album that way."
One of the most interesting things about Godwin is how he has been able to use his music to give back to the community and build a following at the same time. When he moved to New York, he found out about LIFEbeat's Hearts & Voice program while searching on Craig's List. The program brings live music to people living with HIV in and around Manhattan; many who wouldn't know how to get access to live music or can't even leave the hospital.
"One of the demands of being a musician is having to self promote a lot," said Godwin. "And it gets tiring to promote. I had the idea of putting it in a non-profit context. That way at the very least I'd be giving back. And we just have a ball! It's just an amazing example of the power music has for people. You see things that really seem miraculous like people getting out of their wheelchairs to talk. And once you look at your music in that context you don't seem to mind self-promoting because you start to realize that it might have some value for people."
Godwin is donating $1 from the sale of each copy of "Skin And Bone" to LIFEbeat's programs to fight AIDS and performs about once a week with the group.
In addition to his work with LIFEbeat, Godwin is also very involved with vegan causes. He became a vegan over five years ago and has participated in
demonstrations and benefits for groups like PETA.
The show on September 5th will not only be Godwin's first time playing in Hoboken, but it also takes place on Ben's birthday. So it should be a fun night all around. Godwin will also be performing at The Bitter End in New York City on September 19th. For more information visit www.bengodwin.com