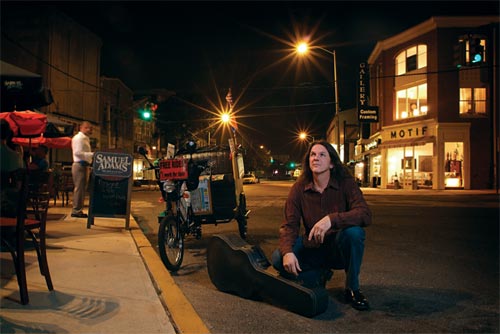 It's not easy being a musician when your favorite music is not the type generally heard in the local clubs. For years, Anton Roolaart has dreamt of the type of record he wanted to make even though he knew his style of progressive rock might fall on deaf ears in New Jersey. Thankfully, he stayed with that dream and not only has created a wonderful record but one that attracted the attention of Umbrello Records, a new label in the UK started by Steve Nardelli, the frontman for The Syn.
Roolaart's debut is appropriately called "Dreamer". It is distributed through the Americas by Warner Bros/ADA and in Europe and Japan by Umbrello Records. It's also available in many major record stores and online websites like Amazon.com.
Ironically, the dream may never have happened if it wasn't for an online radio station Roolaart started about three years ago. The station, progrockradio.com, allowed Anton to play the type of music he loves and encouraged him to stay focused on his own writing.
"I've always been into prog rock," said Anton Roolaart. "I now have over 500 artists including several hundred that I had never heard of just a few years ago and they all influence me a lot. My musical experience is growing and part of that deals from the artists that I hear on the radio station.
"I like that prog rock, in many cases, is a little bit more complex. You have more complex rhythms and it doesn't always fit normal formats. I like songs that change all of a sudden - if it's done right and keeps the melody I think it works very well. The radio station has influenced me, but I actually started the radio station hoping that it would influence other people into different types of music."
The radio station not only has helped influence his music, but led him to the chance of a lifetime. He had only been running progrockradio.com for a few months when he received an email from YesServices saying Chris Squire was reforming the band he joined before YES when he was 18 and they wanted his station to have the very first interview. Even though Roolaart had little experience interviewing people, he could not pass up the chance to talk to one of his idols. The interview wound up going over so well that he was asked to do another one six months later. The emerging friendship led to an invitation to go to London for the opening party of Umbrello Records, the label created by Squire's bandmate, Steve Nardelli.
Roolaart went to London and hung out there for a few days. They told him that the label was looking to do music that was a little bit different and were hoping to work with new artists. He didn't need to be asked twice.
"I said I'll have a demo CD prepared in a couple of months," he recalled. "They said sure, we'll listen to your demo. So, I went home and said I'm going to make a demo CD!"
Anton doesn't mind that there are more progressive rock fans in other parts of the world than in his backyard. Roolaart was born in Tehran, Iran but moved to Holland when he was was just a year old (his father is Dutch, his mother is Belgian) and then moved to the United States when he was 8. He lived in Connecticut and North Carolina before settling in New Jersey after college. So he's pretty well accustomed to moving around and looks forward to hopefully playing some shows on foreign soil as well.
"It was very special to be aired on a Dutch radio station recently because I'm from there," he said. "The Dutch community have always been very big into progressive rock. So, is England, which was the birthplace of this stuff."
Roolaart and his band made their debut at the Saint in June. He'll be setting up a mixture of solo shows and band shows throughout the year. You can catch him at the Twisted Tree Cafe in Asbury Park on Wednesday, July 18th. For more information visit www.antonroolaart.com