By Gary Wien

Photo by Steven Dundas, SJD Photography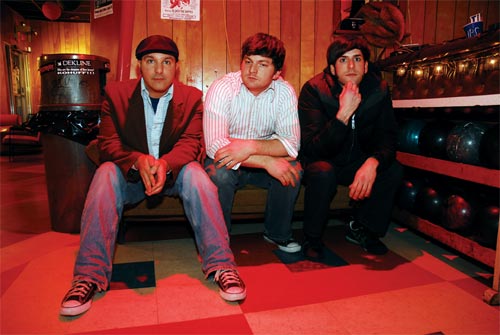 The crowd at the Baronet Theatre in Asbury Park was there for another artist, but it was The Chilling Details who owned the stage from the minute they ripped through their first chords. Even though the show took place in January, it's a fair bet that their set will rank among the year's best. As I was watching these three musicians on stage, I realized this must be why brides dress up their bridesmaids in such ugly outfits. After all, why risk being upstaged when it's your party?

The Chilling Details include Frank Bressi, a veteran of the Asbury Music scene, James Griffith and Chris Smith. Together, the three are rapidly becoming one of the most popular indie rock bands in the state and were named the Top Indie Rock Band in last year's Asbury Music Awards. The band's debut record, "innerdialogue" will be released in June with a CD release party at Asbury Lanes on June 16th. They will also be playing on May 18th at the Saint and May 19th at the Sidehatch Bar as part of the Wave Gathering Festival in Asbury Park.

This may be the band's first CD, but it's certainly not Frank Bressi's first. One of the area's most profilic songwriters, Bressi's biggest band to date (Psychedelic Oven Mit) was once on the brink of going national. He uses the experiences learned with that band to help guide this one.

"I think no experience is a bad experience," said Frank Bressi. "There's a lot that I learned that I know works in certain settings and so you try to reinvent or duplicate it with a fresh sensability because it's a different time now. But then there are certain things that don't work and you try to avoid those. That's something experience has given me."

I've seen Frank play in several bands and perform solo and I think this is the most comfortable setting I've ever seen for him. Sometimes songwriters like Frank have to adapt their songs for a particular band, but with The Chilling Details the songs all sound like they were born to be played by this band and wouldn't work otherwise.

"I don't usually write with anything in mind," explained Bressi. "I've never really identified with a Jersey Shore sound. For a long time, I wasn't even sure what it was. I just try to not censor and write as honestly as I can. There are some things that we'll try that won't work with the band so I'll just bring the song back and stick it under my couch or something. If the song clicks then it becomes a Chilling Details song."

The songs they ultimately decide on have definitely been clicking. Even in this area of conservative radio, the band's demo songs were played on stations like G-Rock, WRSU, WMCX, and 90.5 The Night. They're hoping for an even better response with the new record. The band says they're not actively seeking a record deal, but would like things to progress in a more organic way.

"I'd rather just do it like the jazz way," said Bressi. "We're putting out this record and we're going to play behind it. We'll develop a repore with certain clubs and if the kids come out then they come out and if they come out then they're going to come back and we'll develop our own circuit.

"There are some groups that we're friends with who have gotten signed and dropped in the last couple of years. So even getting signed isn't the be all and end all. That's why you can't let someone dictate what your group is going to sound like. The labels aren't really known for their loyalty, so getting signed isn't that big of a thing to us. I think the chemistry that we have as a band is what really fuels the momentum and people seem to react really favorably to us. I think we could do a better job on our own because we'd be in charge. "

As long as they play each show like it's their last, the crowds will keep coming. And chances are that a label might coming knocking as well. After all, history has shown that the bands that don't go looking for a label are the ones that have labels looking for them...