By Gary Wien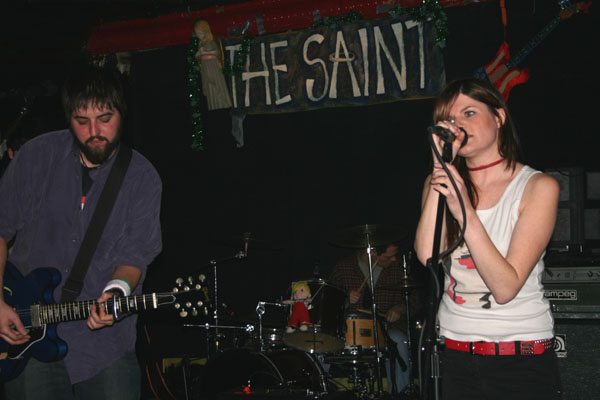 (ASBURY PARK, NJ) -- New Year's Day for those among the Jersey Shore means three things: waking up with a hangover, watching football all day, and going to the Saint at night for Rick Barry's Annual Hangover Bash. The annual show kicked off 2006 with its 4th straight year of rock and roll shows with one of its strongest lineups to date. The cast included The Jigmakers, Arlan Feiles, April Smith, and, of course, our host for the night, Rick Barry.

The Jigmakers got the night off to a blazing start. Rick Barry had turned me on to them and I looked forward to seeing them live for the first time. They definitely did not disappoint. They're a very good live band and somebody to keep your eye on. The Jigmakers currently have a 4-song EP available and hopefully will have a full album out sometime this year. The band consists of Tom Cawley on Guitar and vocals, Pete Casnova on Guitar, Justyn McKelvey ("Goofy") on Bass, and Tom Killer on drums.

Arlan Feiles, one of New Jersey's best songwriters, was up next. Doing a set comprised of a mixture of acoustic guitar and keyboard numbers, he ran through some melancholic tunes perfect for the day. Kerri from Divine Sign helped out on background vocals for a song as Arlan moved between solo numbers and those with the help of his band The Lone Howdies (Corey Lederman and Dan Green).

Arlan is truly one of the most underrated artists in the scene today. His blend of country-influenced folk music really stands out and his last record "Razing A Nation" is a pure gem.

Following Arlan was Rick Barry himself. But before he started his set, April Smith came on stage to introduce him and dedicated the first song to Upstage Radio and the fire that happened right after a phone call from Rick Barry about this very show. The man then kicked off with the song that is one of the most requested tunes in the online station's history - "Stupid American Song".

Early on, Rick stayed close to his newer work including "All Your Mistakes Have Names" which was recently quoted on April Smith's myspace site. He brought his band on stage for a blistering version of "Ballad of the Unwilling Martyr", "Judas", and the wonderfully catchy "Broken English" - a song that is simply one of the best local songs to hear live in some time. During the song, Marianne Morrow was invited up to engourage everyone singing along to "come on, come on." She is the vocalist who appears on the recorded version of Broken English on "Small Town Politics."The band consisted of Tom Cawley (of the Jigmakers) on guitar and back up vocals, Justin Borneman (of the Problem) on Bass, Eric Paugh (of Cleverly hidden hero) on guitar, and Anthiony Orr on drums.

"New Year's Eve, I was thinking what my resolution would be," said Rick Barry to the crowd, as he stood alone on stage. "There's so many things I need to do." He had the crowd clap for the resolution they liked the best as he read them out. "Quit smoking, quit drinking, work harder at music and make a career at it, or make every show I play worth your while that you go home thinking 'shit! that was the best show I've ever seen!'"

The last choice had the crowd clapping the loudest. The band was brought back on stage for an encore and responded with the signature Rick Barry love song - "Be My Whore." But the band wasn't finished yet.

"We're going to do a song with April Smith and we're going to fuck it up because we just learned it yesterday and we're not that talented!" exclaimed Barry before the band led April into "Bright White Jackets" from her new CD. Rick and April alternated singing lead and harmony. The band not only pulled it off but wound up presenting an incredible version that I'd personally like to see recorded sometime.

The finale for Rick Barry included bringing Arlan Feiles back on stage for "Fortunate Son" as done by the entire lineup. Vocal duty passed back and forth from Rick Barry to Arlan Feiles to April Smith as Rick's band rocked on.

One of New Jersey's brightest upcoming stars, April Smith, closed out the night with a solo set. "I am so in awe of Rick Barry that I sometimes forget that he's a doucebag on stage... a very talented doucebag!" she said before running through a set featuring songs from the recently released "Loveletter Bombs".

Of particular note, Soundman Steve created an absolutely stunning black and white image of April Smith on the Saint's tv screen monitor. The image was so good that April really should think about using it as an album cover or promo shot. Everyone that noticed it was amazed by how incredible it looked.

April brought Rick Barry back on stage for a couple of tunes as a duo and then launched into a wonderful version of "California" and a sultry take of "The One That Got Away".

As I watched her up on stage, I realized that April is starting to play with more and more confidence with each show. If you had seen her a few years ago you would hardly recognize her now - she's grown into her role I guess. Maybe it was from being signed to Indigo Planet or maybe Indigo Planet had incredible foresight to sign her when they did - either way, she is definitely gaining star power with each show.

Her cover of "Unchained Melody" showcased her incredible range but not nearly as much as the virtually operatic "Come Back To Me" which proved that she truly is the Jersey Shore's answer to Kate Bush.

April was brought back for an encore and responded with "Temptation" by Tom Waits and "Rebound" which she prefaced by calling her Smashing Pumpkins ripoff.

All in all, it was a wonderful way to kick off the new year. Here's hoping that the show not only comes back each year but continues to grow into a Jersey Shore tradition.
---

Photo by Mike Black. To view more photos from the show taken by Mike Black click here

---
Gary Wien has been covering the arts since 2001 and has had work published with Jersey Arts, Elmore Magazine, Princeton Magazine, Backstreets and other publications. He is a three-time winner of the Asbury Music Award for Top Music Journalist and the author of Beyond the Palace (the first book on the history of rock and roll in Asbury Park) and Are You Listening? The Top 100 Albums of 2001-2010 by New Jersey Artists. In addition, he runs New Jersey Stage and the online radio station The Penguin Rocks. He can be contacted at gary@newjerseystage.com.
---