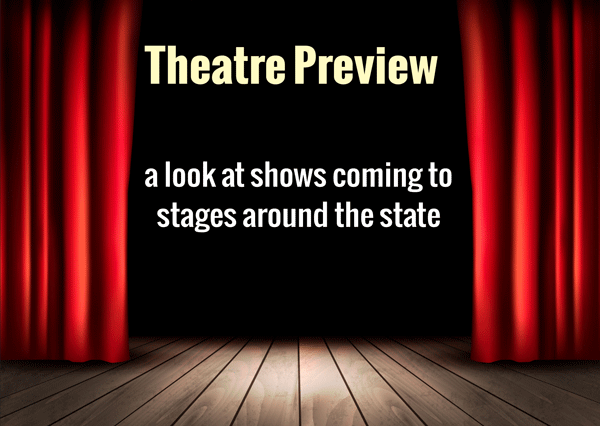 The Merry Wives Of Windsor
Two River Theater, 21 Bridge Avenue, Red Bank
One of Shakespeare's most delightful and rowdy comedies! Looking to restore his riches, Sir John Falstaff conjures a plan to seduce the wives of two of Windsor's wealthiest men. However, Falstaff is no match for the cunning and trickery of Mistress Page and Mistress Ford--who quickly turn the tables. Directed by Eric Tucker, the production features 3 actors, 25 roles, and lots of laughs. Two River Theater presents The Merry Wives of Windsor from February 25 through March 26.
---
Danny and the Deep Blue Sea
Alliance Repertory Theatre, 426 Springfield Avenue, Summit
In a seedy, desolate bar we meet Danny and Roberta, two damaged souls with secrets to share.Both seek solace and redemption as their night turns into morning. Will they find it? Or will their lives continue downhill? Danny And The Deep Blue Sea by John Patrick Shanley is a moving, raw drama of lust, love and human connection. Directed by Michael Driscoll. Alliance Repertory Theatre Company presents this March 3 to March 18 at Mondo in Summit.
---
Sarah Sings a Love Story
Crossroads Theatre Company, 7 Livingston Ave, New Brunswick
---
The world premire of Stephanie Berry's new musical play which follows the story of the famed Sarah Vaughn's career through the lens of her adoring fans, a middle-aged couple. The cast includes Tamar Davis ("The Voice") as Sarah Vaughan and Marva Hicks and Curtiss Cook as the married couple Elaine and Russell, whose long romance flows and evolves with her music. Crossroads Theatre company closes out its season with Sarah Sings A Love Story from March 9 to March 26.
---
Multiple Family Dwelling
New Jersey Repertory Company, 179 Broadway, Long Branch
Secrets from long ago, best left buried, are revealed when Kelly's friend from childhood rents the upstairs apartment that Kelly and her husband own. The two couples find themselves entangled in multiple deceits and betrayals, past and present and no one is truly innocent. A World Premiere by James Hindman, directed by Alan Souza and starring Dana Brooke, Dustin Charles, Maria Couch, and Jared Michael Delaney. New Jersey Repertory Company presents Multiple Family Dwelling by James Hindman from March 9 to April 9.
---
The Neverending Story (Atreyu And The Great Quest)
The Growing Stage, 7 Ledgewood Avenue, Netcong
Told with all the thrills of a classic adventure, the story begins with Bastian, a lonely boy, who stumbles into a curious bookshop where he discovers a curious book—The Neverending Story. Bastian hides in the attic of his school and begins to read, and a huge adventure surges into life. Fantastica, a land of stories, is being destroyed by the Nothing. The Childlike Empress has chosen Atreyu, a young hunter, to be the Hero of the Great Quest. The Growing Stage presents The Neverending Story from March 10 to April 2.
---
The Miss Firecracker Contest
South Camden Theatre Co, 400 Jasper Street, Camden
The place is the small Mississippi town of Brookhaven, the time a few days before the Fourth of July. Carnelle Scott (known locally as "Miss Hot Tamale") is rehearsing furiously for the Miss Firecracker Contest—hoping that a victory will salvage her tarnished reputation and allow her to leave town in a blaze of glory. Written by Beth Hanley (Crimes of The Heart) and directed by Scott Grumling, The Miss Firecracker Contest is presented by the South Camden Theatre Company from March 10 to March 26 in the Waterfront South Theatre.
---
Murder on the Orient Express
McCarter Theater Center, 91 University Place, Princeton
The exotic Orient Express is about to go off the rails! With a locomotive full of suspects and an alibi for each one, it's the perfect mystery for infamous detective Hercule Poirot, n'est-ce pas? Wax your mustache and hold onto your passport—Adapted from Agatha Christie's masterpiece, Tony Award-winning playwright Ken Ludwig and multi-award-winning director Emily Mann will take you on a suspenseful, thrilling ride aboard the legendary Orient Express! McCarter presents Murder on the Orient Express from March 14 through April 2.
---
John & Jen
The Eagle Theatre, 208 Vine Street, Hammonton
A truly original musical that delves into the complexities of relationships between brothers and sisters and parents and children, set against the background of a changing America between 1950 and 1990. john & jen brims with intelligence, wit and a beautifully melodic score. Two stellar performers will take John and Jen from childhood, through adolescence and beyond. john and jen is a musical about connections, commitments and the healing of the human heart. John & Jen is presented at Eagle from March 10 to April 9.
---
Solo Flights: Miracle in Rwanda
Passage Theatre, Front and Montgomery Streets, Trenton
Immaculée Ilibagiza's true story of resilience in the face of the Rwandan genocide. Her story is one of personal empowerment, of overcoming all obstacles through the power of faith, and of ultimately finding peace through forgiveness. Solo Flights: Miracle in Rwanda by Leslie Lewis, based on Left to Tell, the NY Times Bestselling true story of Immaculée Ilibagiza is directed by Edward Vilga. The production is presented by Passage Theatre from March 18 to March 26 at the Mill Hill Playhouse.
---
Bad Jews
George Street Playhouse, 9 Livingston Avenue, New Brunswick
Liam is a self-proclaimed "bad Jew" - he may actually be an atheist. It's the night after his grandfather's funeral - Liam and his high-strung and unbending cousin Daphna are arguing over who should inherit "Poppy's" Chai necklace. The verbal battle rages until LIam stakes claim to the heirloom, and a vicious and hilarious brawl about family, faith and legacy begins. George Street Playhouse presents Bad Jews by Joshua Harmon from March 21 to April 9. The production is directed by Jessica Stone.