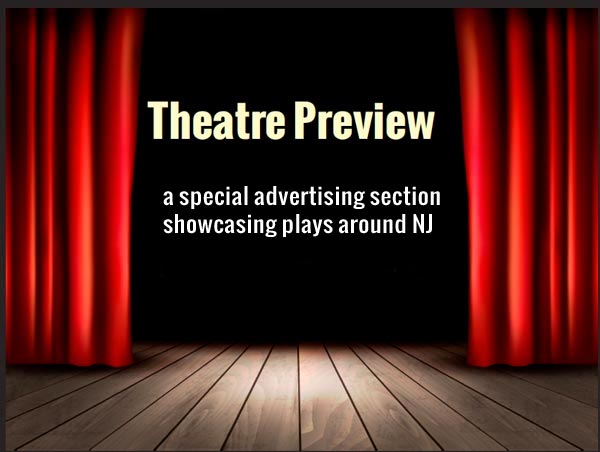 Peter Pan
Algonquin Arts Theatre, 173 Main Street, Manasquan
Based on J.M. Barrie's classic tale, Peter and his mischievous fairy sidekick, Tinkerbell, visit the nursery of the Darling children late one night and, with a sprinkle of pixie dust, begin a magical journey across the stars that none of them will ever forget. In the adventure of a lifetime, the travelers come face to face with a ticking crocodile, a fierce Indian tribe, a band of bungling pirates and, of course, the villainous Captain Hook. Peter Pan is the perfect show for the child in all of us... who dreamed of soaring high and never growing up. On stage through July 30.
The Realistic Joneses
Alliance Repertory Theatre Co., 426 Springfield Avenue, Summit
Alliance Repertory Theatre Company presents the New Jersey Premiere of a thoughtful play that resonates with richness and feeling as two couples reach for connection, both human and cosmic, in Will Eno's existential dramedy about mortality and communication. "Plays as funny and moving, as wonderful and weird as The Realistic Joneses, by Will Eno, do not appear often on Broadway. Or ever, really." - The New York Times. Directed by Mike Driscoll, Alliance presents this from July 14 to July 29 at MONDO in Summit.
A Midsummer Night's Dream
The Shakespeare Theatre of NJ, 2 Convent Road, Morristown NJ
Featuring an exuberant array of music, dance, and visual surprises, Ms. Monte's fresh new vision for Shakespeare's most popular comedy features a world constructed almost entirely of objects that would normally be on their way to a landfill. Delight in seeing how her inventive bands of fairies transform trash into whimsical treasure. Picnic under the stars with family and friends as art, nature, and the ancient tradition of outdoor theatre all come together! Presented on the outdoor stage at the College of St. Elizabeth through July 30.
Halftime With Don
New Jersey Repertory Company, 400 Broadway, Long Branch
Retired NFL great, Don Devers, has had over thirty surgeries, experiences violent mood swings, and relies on a blizzard of yellow Post-It notes to offset a memory ravaged by traumatic brain injury. But when devoted fan, Ed Ryan, appears at his doorstep, a series of events are put in motion that just may bring Don out of his self-imposed isolation and salvage his life. Halftime With Don is a World Premiere by Ken Weitzman. The cast includes Malachy Cleary, Susan Maris, Daniel McVey, and Lori Vega.On stage through July 30.
The Bungler
Shakespeare Theatre of NJ, 36 Madison Avenue, Madison
This rarely-produced hilarious comedy by the great French master, Molière, will help you leave the world behind and let laughter rule the day. This side-splitting romp is Molière at his frothiest and silliest, and if laughter is good medicine, then this show will cure all ills. Follow the adventures of a clueless young lover as his clever servant attempts to help him win the heart and hand of a beautiful gypsy girl. Alas, the lover bungles every wily ruse his servant concocts! Presented through July 30 by Shakespeare Theatre of NJ.
---
Skeleton Crew
Premiere Stages at Kean University, 1000 Morris Avenue, Union
Premiere Stages presents the New Jersey Premiere of Skeleton Crew by Dominique Morisseau; directed by John J. Wooten. In this compelling portrait of American workers struggling to hold on against the tide of technology, ambitions, secrets and conflicted loyalties threaten to destroy an automotive plant's status as a sanctuary in a rough city. Faye, the matriarch of a small family of line workers, gives her all to keep her team employed in one of the last auto stamping plants in Detroit. Presented July 13 to July 30.
The Tale of the Allergist's Wife
Cape May Stage, 405 Lafayette Street, Cape May
This side-splitting comedy by Charles Busch takes place on the Upper West Side of Manhattan where Marjorie Taub is looking for meaning in her life. A mysterious figure from her past appears and at first infuses her with life but soon becomes an unwelcome and sinister guest in her home. Marjorie's 80 year old mother is obsessed with her bowels and the dialogue is scatological but smart and funny. The New York Times called it "a window rattling comedy of mid-life malaise…it earns its wall too wall laughs." Presented June 28 - August 4.
Ah, Wilderness!
East Lynne Theater Company, 500 Hughes Street, Cape May
Richard's letters to his girlfriend, Muriel, contain quotes from Khayam and Swinburne. Finding these letter offensive, Muriel's father forbids Richard to see his daughter again. Heartbroken, Richard goes on a bender and meets Belle. Is Richard going to turn into his Uncle Sid, or can he be brought back to his senses? This large-cast play takes place during the July 4th weekend in 1906 in a small Connecticut town. East Lynne Theater Company presents Eugene O'Neill's only comedy from July 26 through September 2.
The Gin Game
Cape May Stage, 405 Lafayette Street, Cape May
This Pulitizer Prize winner takes place on the porch of a retirement home where irascible Weller Martin meets the prim, self-righteous Fonsia Dosey. Fonsia wins every game and their secrets become weapons used against each other. "The New York Times" called the play "a thoroughly entertaining lesson in the fine art of theatrical finesse. The closest thing the theatre offers to a duel at 10 paces." It is a funny, intelligent play that will touch your heart even as you laugh at the characters foibles. Presented August 9 through September 22.
F Theory
New Jersey Repertory Company, 400 Broadway, Long Branch
A World Premiere written by and starring Megan Loughran and Alex Trow. Two women meet in college and share a lifelong relationship in this funny, poignant play about what it really means to be a friend.Presented by New Jersey Repertory Company from August 17 through September 24.