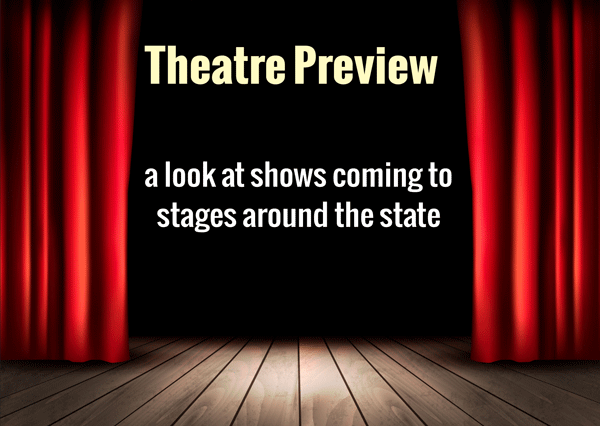 The Neverending Story (Atreyu And The Great Quest)
The Growing Stage, 7 Ledgewood Avenue, Netcong
Told with all the thrills of a classic adventure, the story begins with Bastian, a lonely boy, who stumbles into a curious bookshop where he discovers a curious book—The Neverending Story. Bastian hides in the attic of his school and begins to read, and a huge adventure surges into life. Fantastica, a land of stories, is being destroyed by the Nothing. The Childlike Empress has chosen Atreyu, a young hunter, to be the Hero of the Great Quest. 
The Growing Stage presents The Neverending Story from now to April 2.
---
Multiple Family Dwelling
---
New Jersey Repertory Company, 179 Broadway, Long Branch
Secrets from long ago, best left buried, are revealed when Kelly's friend from childhood rents the upstairs apartment that Kelly and her husband own. The two couples find themselves entangled in multiple deceits and betrayals, past and present and no one is truly innocent.  A World Premiere by James Hindman, directed by Alan Souza and starring Dana Brooke, Dustin Charles, Maria Couch, and Jared Michael Delaney.
New Jersey Repertory Company presents Multiple Family Dwelling by James Hindman from now to April 9.
---
Murder on the Orient Express
McCarter Theater Center, 91 University Place, Princeton
The exotic Orient Express is about to go off the rails! With a locomotive full of suspects and an alibi for each one, it's the perfect mystery for infamous detective Hercule Poirot, n'est-ce pas? Wax your mustache and hold onto your passport—Adapted from Agatha Christie's masterpiece, Tony Award-winning playwright Ken Ludwig and multi-award-winning director Emily Mann will take you on a suspenseful, thrilling ride aboard the legendary Orient Express!
McCarter presents Murder on the Orient Express from now through April 2.
---
John & Jen
The Eagle Theatre, 208 Vine Street, Hammonton
A truly original musical that delves into the complexities of relationships between brothers and sisters and parents and children, set against the background of a changing America between 1950 and 1990. john & jen brims with intelligence, wit and a beautifully melodic score. Two stellar performers will take John and Jen from childhood, through adolescence and beyond. john and jen is a musical about connections, commitments and the healing of the human heart.
John & Jen is presented at Eagle from now to April 9.
---
Bad Jews
George Street Playhouse, 9 Livingston Avenue, New Brunswick
Liam is a self-proclaimed "bad Jew" - he may actually be an atheist. It's the night after his grandfather's funeral - Liam and his high-strung and unbending cousin Daphna are arguing over who should inherit "Poppy's" Chai necklace. The verbal battle rages until LIam stakes claim to the heirloom, and a vicious and hilarious brawl about family, faith and legacy begins. 
George Street Playhouse presents Bad Jews by Joshua Harmon from now to April 9.
The production is directed by Jessica Stone.
---
Million Dollar Quartet
Paper Mill Playhouse, 22 Brookside Drive, Millburn
The smash-hit musical inspired by the famed recording session that brought together rock'n'roll icons Elvis Presley, Johnny Cash, Jerry Lee Lewis, and Carl Perkins for the first and only time. On December 4, 1956, these four musicians gathered at Sun Records in Memphis for what would be one of the greatest jam sessions ever.  This thrilling musical brings you inside the recording studio for one unforgettable night and hit songs from the early days of rock 'n roll.
Paper Mill Playhouse presents Million Dollar Quartet from March 29 to April 23.
---
Betrayal
Mile Square Theatre, 1400 Clinton Street, Hoboken
Darkly humorous and charged with emotion, Betrayal explores marriage and infidelity among the entangled trio of Robert, Emma, and Jerry.
Robert and Jerry are best friends and partners in a publishing firm. But an affair between Emma (Robert's wife) and Jerry creates a tense world of deception and mistrust. Famous for its structured timeline reversal, Betrayal cinematically unravels the plot, ingeniously using dramatic irony to build tension.
Mile Square Theatre presents this from March 30 through April 23.
---
Buddy - The Buddy Holly Story
Algonquin Arts Theatre, 173 Main Street, Manasquan
Before the Beatles or the Stones ever played a note, rock & roll was born and popular music was forever changed by the bespectacled kid from Lubbock, Texas - Buddy Holly.
Buddy tells the true story of Buddy Holly's meteoric rise to fame, from the moment in 1957 when 'That'll be the Day' hit the airwaves until his tragic death less than two years later on 'The Day the Music Died.'
Written by Alan Janes, the production stars Jared Mancuso as Buddy Holly.
Buddy runs April 1-9 at the Algonquin Arts Theatre.
---
Exit Strategy
The Theater Project, 10 Durand Road, Maplewood
New Jersey premier of Ike Holter's edgy new comedy about the shutdown of a crumbling Chicago school uncovers all the humor in the teachers' room gossip, conflicts and chaos in the staff's efforts to save the school.
Holter looks at the very topical issue of the rightful role of public schools vs charter schools.
The cast includes Nicholas Wilder, Liz Zazzi, BK Dawson, Gary Glor, and Rokia L. Shearin, Melody Vargas and Thomas Vorsteg.
The Theater Project presents Exit Strategy from April 7-23.
---
The Women of Padilla
Two River Theater, 21 Bridge Avenue, Red Bank
The story of eight women who kept the faith.
Through the power of food, faith, laughter, and each other eight women find a way to carry on life at home while their husbands are away at war.  Inspired by the heightened lyricism of the renowned playwright and poet Garcia Lorca, this beautiful new play shows us there is always a way-- even through the hardest times --to set our love free.
Directed by Ken Rus Schmoll, Two River Theater presents The Women of Padilla from April 8 to April 30.
---