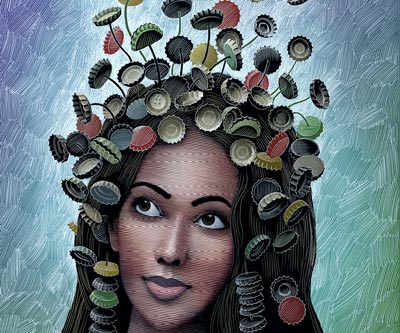 (MADISON, NJ) -- The Shakespeare Theatre of New Jersey continues their 55th season with the popular tradition of an Outdoor Stage production, this year featuring A Midsummer Night's Dream, directed by Artistic Director Bonnie J. Monte. Featuring an exuberant array of music, dance, and visual surprises, Ms. Monte's fresh new vision for Shakespeare's most beloved comedy will make this popular play more enchanting than ever. In a world constructed almost entirely of objects that would normally be on their way to a landfill, her band of fairies transform trash into whimsical treasure. Picnicking under the stars with family and friends makes for a delightful evening where art, nature, and the ancient tradition of outdoor theatre all come together.

Performances of A Midsummer Night's Dream are Tuesdays through Sundays at 8:00 p.m., with a special twilight performance on Sundays at 4:30 p.m. The Theatre is excited to once again offer free tickets for young people 18 and under. Located on the campus of the College of Saint Elizabeth, the Outdoor Stage performances begin on June 14 and run through July 30, and patrons can purchase tickets by calling the Box Office at 973-408-5600 or online at www.ShakespeareNJ.org.

The Outdoor Stage is generously sponsored by Bank of America. A partner of The Outdoor Stage since 2004, their committed and generous support has helped make The Shakespeare Theatre's Outdoor Stage production a hallmark of the summer season in the region. Bank of America customers can purchase tickets for the Outdoor Stage for only $27 using the promotional code BOFA. Patrons can also present their bank cards at the box office to obtain this offer. This production of A Midsummer Night's Dream is sponsored in part by The Merrill G. and Emita E. Hastings Foundation.

The Cast:

Leading her band of fairies is Vanessa Morosco as the Fairy Queen Titania in her Shakespeare Theatre debut. She will also take on the role of the Amazon warrior queen, Hippolyta. She has performed regionally with the Colorado Shakespeare Festival, New York Classical Theatre, and the Folger Shakespeare Theatre. Her film and television credits include I, Witness and Isn't it Delicious.

As Oberon, King of the fairies, and Theseus, Duke of Athens, Earl Baker, Jr. also makes his STNJ debut after appearing in last year's play reading series. His theatre credits include The Tempest (La Mama), Pericles (Theatre for a New Audience), Angelique (MCC), Superior Donuts (Denver Center Theatre), Proof (Virginia Stage Co.), and The Killing Act (Williamstown).

Bruce Cromer returns for his eighth season as Egeus and Peter Quince. His company credits include Coriolanus, The Alchemist, As You Like It, Timon of Athens, The School for Wives, The Taming of the Shrew, and Life of Galileo. Mr. Cromer is a resident actor with the Human Race Theatre, a professor and Head of Acting for Wright State University's Professional Actor Training, and a certified Stage Combat teacher with the Society of American Fight Directors.

Ian Hersey makes his STNJ debut in the role of Nick Bottom. He has performed regionally with Florida Stage, La Mama, and Mosaic Theater. His film and television credits include Law and Order, Out of Time, and Eve's Dropping In.

As Demetrius, Mustardseed, and Francis Flute, Austin Blunk returns for his third season. His company credits include Much Ado About Nothing and Shakespeare LIVE! (2015). Mr. Blunk has performed regionally with Actors Theatre of Louisville, Idaho Shakespeare Festival, Great Lakes Theatre, and Shake on the Lake.

Nike Kadri will play Helena, Cobweb, and Starveling. She performed Off-Broadway in Iphigenia in Aulis at Classic Stage Company and regionally in Cardboard Piano at Actors Theatre of Louisville, Twelfth Night at Chicago Shakespeare, A Christmas Carol at McCarter Theatre, and A Midsummer Night's Dream at Guthrie Theater.

Jonathan Finnegan returns for his second season with The Shakespeare Theatre in the roles of Lysander, Moth, and Snout. He was most recently seen at The Theatre in the inaugural performance of Something Lucky This Way Comes, and before that in The Merry Wives of Windsor. He has performed regionally at the St. Louis Repertory Theatre, Actors Theatre of Louisville, and the Great River Shakespeare Festival.
As Hermia, Peaseblossom, and Snug, Courtney McGowan will continue her third season with The Shakespeare Theatre, most recently performing with this year's Shakespeare LIVE! tour. Her company credits include The Learned Ladies, and the Apprentice Company productions of The Winter's Tale and Titus Andronicus.

Rounding out the cast is Felix Mayes who returns for his third season in the roles of Philostrate and Puck. His company credits include A Midsummer Night's Dream in collaboration with New Jersey Symphony Orchestra, The Merry Wives of Windsor, Love's Labour's Lost, and Shakespeare LIVE!. Mr. Mayes has had the opportunity to perform on stages from NJPAC to Lincoln Center to Dvorák Hall in Prague.     
The Director:

Bonnie J. Monte is in her 27th season with The Shakespeare Theatre and serves as the Artistic Director; under her leadership, the Theatre has evolved into one of the most respected classical companies in the nation. She has directed over 60 acclaimed productions for the company during her tenure, most recently directing last season's Red Velvet and Exit the King.

The Artistic Staff:

The visual and aural landscapes for A Midsummer Night's Dream are all part of Ms. Monte's overall vision and concept for this production. She is designing the sound, costumes, props and set. Scenic Consultant Steven Beckel, Lighting Designer Burke Wilmore, and Costume Associate Tiffany Lent will all be part of Ms. Monte's creative team, as well as many volunteers who are helping to gather, recycle and transform garbage into magic. The Production Stage Manager is Jackie Mariani.

Tickets:

Single tickets for A Midsummer Night's Dream are $37 with unassigned festival-style seating at the Outdoor Stage. The Theatre is proud to bring back its successful 30 UNDER 30 program for the 2017 season. Patrons aged 30 and under can purchase tickets for only $30 with valid ID, subject to availability. For tickets, patrons can call the Box Office at 973-408-5600 or visit www.ShakespeareNJ.org

The Shakespeare Theatre of New Jersey offers various cost-saving opportunities, including our free 18 and under tickets, our Bank of America customer discount, and $15 student rush tickets, which are available 30 minutes prior to each performance, with a valid student ID, and a limited number of Pay What You Can tickets for the first preview performance on a first come, first serve basis.