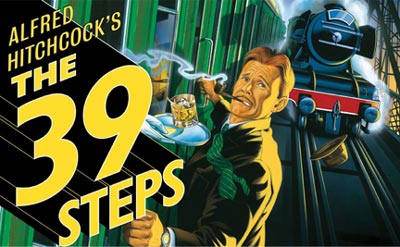 (WILLIAMSTOWN, NJ) -- The Grand Theatre and the Road Company present the madcap comedy, The 39 Steps from March 16  – March 26, 2017  in Williamstown. This gut-busting comedy is based on an Alfred Hitchcock film of the same name. Richard Hannay just found out classified information by a woman who just died in his own home. Now, our very confused protagonist is running from a strange organization, which leads him on a wild ride, to say the least.
Richard Hannay is a simple man leading a simple life until a fatally injured woman enters his home and reveals that she is a spy along with very classified information that could get him killed. Richard flees by train and in doing so learns that there is a hit out on him. His situation becomes more and more convoluted as Richard searches for a safe place. Along the way, Richard meets over a hundred eccentric characters all played by three other actors in a dazzling display of talent.
The 39 Steps premiered in the West End in 2007 where it received the Laurence Olivier Award for Best Comedy and upon its transfer to Broadway, garnered two Tony Awards. The play is adapted by Patrick Barlow from an original concept by Simon Corble and Nobby Dimon. The Road Company's production is directed by John Blackwell, the cast includes Ian Kimble, Melissa Connell, Jeremy Wright, and James Teesdale.  
Performances take place on Thursdays at 7:30pm; Friday and Saturdays at 8pm; Sundays at 2pm. Tickets range from $22-$25 with discounts for seniors, students and groups. Performances are in the Grand Theatre, located at 405 S. Main Street, Williamstown, NJ. Tickets are available at www.roadcompany.com or 856-728-2120. 
---