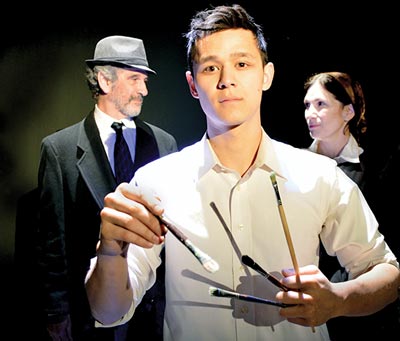 (CAMDEN, NJ) -- South Camden Theatre Company presents My Name Is Asher Lev for 9 performances from May 5 through May 21, 2017. Shows are Friday and Saturday nights at 8:00pm and Sunday matinee's at 2:00pm.  The acclaimed play is based on the book by Chaim Potok and adapted by Aaron Posner.  It tells the story of a young Hassidic artist torn between his observant Jewish community and his need to create. His artistic genius threatens his relationship with his parents and community and weighs heavily on his conscience.
Asher Lev is born with a natural and prodigious artistic gift which clashes with the values of his fiercely Jewish household. His father views painting as foolishness at best, and more often as sacrilege. His mother is torn between her love for her husband and son, her commitment to her community, and her own personal calling.
Ray Croce, Senior, SCTC's Artistic Director is excited to be bringing this play to the Waterfront South Theatre's stage. He stated, "My Name is Asher Lev tells a real human story about the lives of people whose religion and art are at odds. The play is set in the 1950's, but could easily be happening anywhere in the world today." This play tells the story of young Asher's coming of age as a boy and an artist amid his turbulent relationship with his father. A secular Jewish artist who becomes Asher's mentor warns him that art and Judaism are equally strong traditions and one cannot commit to both simultaneously. Ultimately, Asher must choose between them.
A cast of three bring the story of the novel to life on stage. Tyler S. Elliott stars as Asher Lev. Elliott is a 2015 graduate of Swarthmore College and has been seen in a variety of shows around Philadelphia. Stacy Skinner (The Women) and Steve Gleich (The Men) will create the remainder of the cast of characters who influence and inspire Asher Lev on his journey - parents, teachers, mentors and friends. Stacy Skinner holds degrees in Theatre and Speech-Language Pathology. She has been on stage at the Walnut Street Theatre and Hedgerow Theatre among others. Steve Gleich has appeared in previous SCTC productions and works with many theaters in the area and has been seen in several independent films. 
Director Josh McLucus graduated from Swarthmore College Theater Department. He is also the co-artistic director of [redacted] Theater Company and has directed several shows for that Company. [redacted] Theater Company is a theater collective composed not just of performers, but painters, musicians, writers, choreographers, and composers. They create ambitious performances through collaboration, and through the juxtaposition of many art forms and many brains.
---
Our mission as Camden's first professional theater is to enhance the community by creating quality artistic productions while anchoring The Waterfront South Arts District. We strive to promote South Camden's rebirth as a destination by providing a positive experience for its residents and those from the surrounding region. Our goal is to entertain, engage, and educate.
ABOUT THE PLAYWRIGHT:
Chaim Potok (1929 - 2002) was born in the Bronx to Jewish immigrants from Poland. Potok's years in an Orthodox household and schooling through college stood in stark conflict with the world of literature and art that captured his imagination. Later he found in Conservative Judaism, with its emphasis on historical evolution of Jewish texts, an intellectual home where his love of Judaism and of secular culture could dynamically interact. Upon ordination he served as a US Army chaplain serving 16 months in Korea in the mid-50's with combat medical and engineer battalions. In 1959 Potok and his young family first settled in Philadelphia where he was scholar in residence at Har Zion Temple and pursued a doctorate in philosophy at the University of Pennsylvania. He wrote The Chosen in Jerusalem, the same year he wrote his dissertation. In 1967 he became editor-in-chief of the Jewish Publication Society of Philadelphia. He taught writing at Johns Hopkins University and a popular course in philosophy to the Benjamin Franklin Honors Fellows at his alma mater. The Chosen was followed by other famous works such as The Promise, My Name Is Asher Lev and The Gift of Asher Lev. He also wrote plays and children's literature in addition to non-fiction and short stories. My Name Is Asher Lev was a recipient of the Edgerton Foundation New American Plays Award.
My Name Is Asher Lev will be onstage at the Waterfront South Theatre at 400 Jasper Street in Camden, New Jersey beginning on May 5 and running through May 21. Tickets are available online by visiting www.southcamdentheatre.org or over the phone by calling: 866.811.4111.