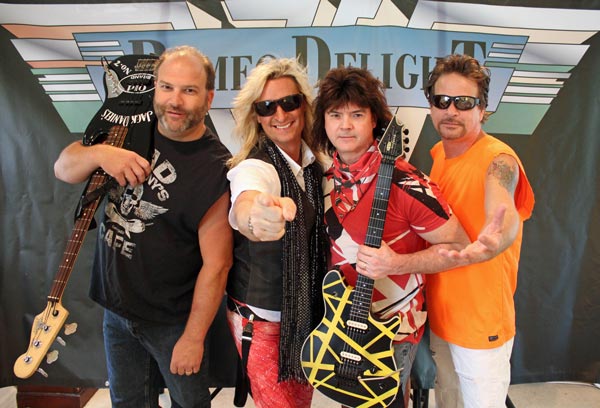 (LAKEWOOD, NJ) -- Songs from Van Halen's debut album, Van Halen, have dominated rock radio ever since its release in 1978.  Hits like "Runnin' With The Devil," "Ain't Talkin' 'Bout Love," and the band's classic cover of "You Really Got Me" by The Kinks are still spun each day.  If you ever wondered what it would be like to see Van Halen on their original tour, you'll get your chance on Friday, September 16 when Romeo Delight - "The Ultimate Van Halen Tribute Band" - comes to The Strand in Lakewood, NJ.  In addition to playing hits from throughout the band's career, Romeo Delight will be replicating Van Halen's debut album note-for-note.
Van Halen's magnificent self-titled debut simultaneously rewrote the rules of rock guitar and hard rock in general ─ one of those rare debut albums that announced itself on fire from the onset, and ignited a revolution not unlike the debut albums by The Doors, Jimi Hendrix and Led Zeppelin. From Eddie Van Halen's lightning fast finger-tapping lead guitar, to Michael Anthony's swinging yet thunderous bass, Alex Van Halen's quirky sense of drumming time and David Lee Roth's creation of the metal lead singer role to near performance art standards, Van Halen arrived with indelible classics like the aforementioned tracks along with "Jamie's Cryin'" and "Eruption."
None of this has been lost on Romeo Delight, an award-winning Van Halen tribute band like no other, recognized by everyone from Howard Stern to Micky Dolenz of the Monkees to "Diamond" David Lee Roth himself for studiously and meticulously recreating the vintage Van Halen concert experience from "Jump," if you will, once described by Rolling Stone as "a nonstop booze-and-babes party train." Dolenz has even performed on stage with Romeo Delight.
Recognized for performing with the same euphoric energy, flamboyant look, and precisely pummeling sound that made Van Halen immensely famous, Romeo Delight was named among the Top Tribute Bands in the world by Mashable.com, and is the #1 Most Viewed Van Halen Tribute Band on YouTube.
Romeo Delight also is the first Van Halen Tribute Band to specialize in both the David Lee Roth and Sammy Hagar eras. Led by gloriously preening DLR lookalike Buddy Blanchard, the Philly foursome headlines major concert events before thousands of fans throughout North America with its family-friendly traveling rock 'n' roll circus. There's never been a better straight-up, good-time rock and roll band than the original Van Halen, whose best songs struck a perfect balance between the wink-nudge lyricism and flamboyant, hyper-masculine persona of front man David Lee Roth and the serious, groundbreaking musicianship of guitarist Eddie Van Halen.
---
Tickets range from $15 to $35. The Strand is located at 400 Clifton Avenue in Lakewood, NJ.