As the audience cheers, Rimes waves, soaking in the adoration from the fans in this very intimate setting.
Moving on to one of her biggest hits — a song that spent more than six months on the 2000 Billboard Hot 100 charts — Rimes' rich voice fills the theater with soul on "I Need You."
Not afraid to express herself, she makes an emotional connection with the crowd. Switching up to her floating head voice with ease, she makes her fans understand that she really does need them just as much as they need her. Her voice crying at times, it soars effortlessly as she sings with her eyes closed, her hands placed delicately on her heart.
As the crowd cheers and whistles, one excited audience member shouts, "We love you," to which Rimes softly replies, "I love you."
In a speaking voice which truly sounds musical, Rimes reveals to her fans, "I am standing up for love. It's human to be human. I'm dumbfounded that many haven't realized that we're all connected and we're all the same underneath."
Talking about resonating with the social media hashtag #loveislove, Rimes says, "that really caught on with me — it's the happiest, most carefree thing to sing." As a result, "on this Sunday Soul Day," LeAnn performs a song she calls "one of my favorites" entitled "Love Is Love."
Singing directly from the heart, her arms wide open, Rimes performs flawlessly, her entire body dancing freely on the UCPAC stage.
Smiling as she sings, "Oh, let's start a revolution/Oh, love is love is love is love is love," the audience receives Rimes' message loud and clear and, like a giant mirror, reflects it right back to her.
As Hagen sets down his guitar and makes his way over to the grand piano, Rimes announces, "I have these epiphanies about how amazing music is! I'm almost crying with these emotional songs — and they're especially deep when you've written them."
"You were meant to sing these songs!" shouts a passionate fan in the audience.
"Aw…you weren't supposed to say that" responds Rimes, now tearing up. "Thank you. You're very sweet."
Relating a story about how Mother's Day is right around the corner, Rimes declares, "My mom lost me to the world when I was thirteen. I was apathetic to her feelings. And when I wrote this song, I was having a horrible day. I was really angry at my mom. I thought, 'I'll never get there.'"
"Two weeks later," she continues, "I 'got it,' and I said I was sorry. I saw my mother as a woman and what she had given me. So a lot of healing happened with this record."
Here, Rimes starts to weep, and says, "I'm just gonna shut up now and sing."
Taking a towel from the stage, Rimes wipes her face, composes herself, and then performs a stunning rendition of "Mother."
Ever the consummate vocalist, despite her obvious emotional state, Rimes shows her true professionalism. She electrifies each listener as she is supported by Hagen's beautiful piano accompaniment, singing, "And though our eyes may look alike/But they don't see the same thing/Hurt made a great divide/I added to the pain/My way to survive was shutting you out." She moves on to the song's powerful chorus, "Mother/You did the best you could, the best you can," before finally concluding, "Forgive me now/Oh, I understand."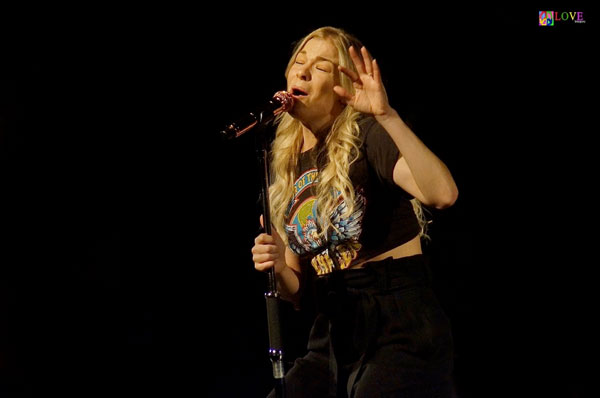 Following a heartfelt eruption of applause from the crowd, Rimes performs her biggest hit — #4 on Billboard's all time Top 100 list — "How Do I Live." Her voice sounding even more rich and resonant than on the original recording, this gifted singer makes her audience want to cry with her soulful performance, letting it all out, the natural gift of her full three-octave range on display for all to hear, feel, and enjoy.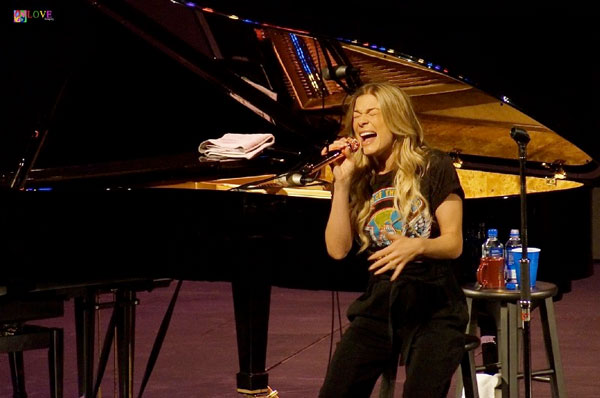 Moving on to yet another emotional number, Rimes passionately performs "Commitment." More like praying than singing, Rimes intones, "What I'm lookin' for/Is a love that's forever/Someone who can capture my soul in a heartbeat/And stay for all time."
As the crowd cheers, Rimes acknowledges with a bit of a gleam in her eye, "We have a set list, but about half way through, I usually start doing whatever I want."
At this point in the program, LeAnn introduces a song she and Hagen had not planned to perform tonight — a number which not only turns out to be one of the standout performances of the evening but, perhaps, of this entire concert season, when she delivers the definitive rendition of Willie Nelson's composition for Patsy Cline, "Crazy."
Singing not only for the audience, but for herself and for the ages, Rimes proves that she is obviously crazy about music, about singing, and about expressing herself in a way that only musicians at the top of their game can do. It is here in this rarified space, where artists can forget about the various mechanical aspects of performing — pitch, intonation, tone quality, etc.— they can just put forth raw emotion. As such, they can communicate on a different plane with those lucky enough to be a part of such an extraordinary in-the-moment concert experience.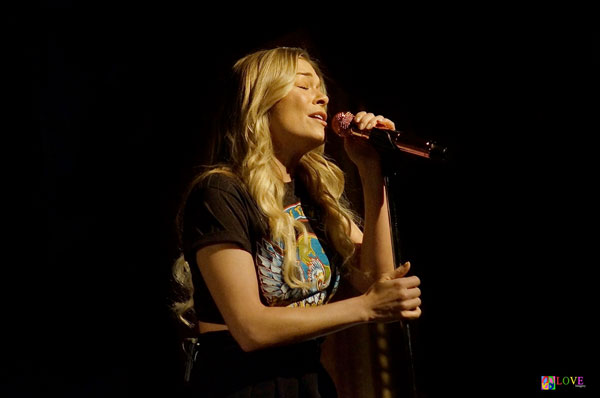 Following powerful applause, Rimes thanks the audience before introducing her latest single, "The Story," stating, "We're all part of this one collective story right now."
With Hagen deftly accompanying her on the guitar, LeAnn vocalizes as if she's personally communicating with each member of the crowd at UCPAC, singing, "All of these lines across my face/Tell you the story of who I am/So many stories of where I've been/And how I got to where I am/Oh, but these stories don't mean anything/When you've got no one to tell them to/It's true/I was made for you."
As she performs, she entrances the members of this audience who palpably feel the power of her song and of her story.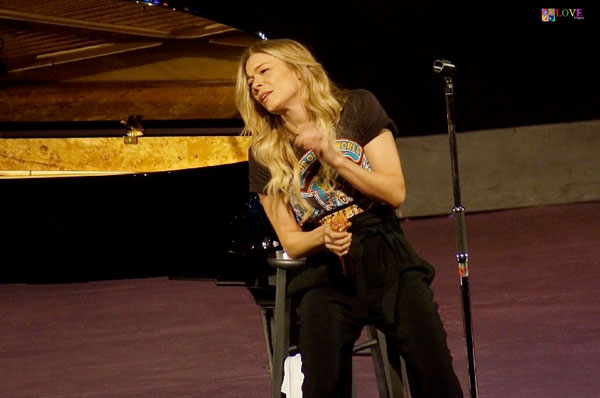 Inviting the eager crowd to clap along, Rimes and Hagen launch into an energetic rendition of her 2002 R&B collaboration with Desmond Child, "Life Goes On," rockin' the UCPAC audience with their great vocal harmonies and energy. With an enormous grin on her face, LeAnn says, "Hey, New Jersey — you wanna sing with me?" and soon gets the audience participating on the song's infectious "Na, na-na-na" coda, to which she cheers, "That was awesome!"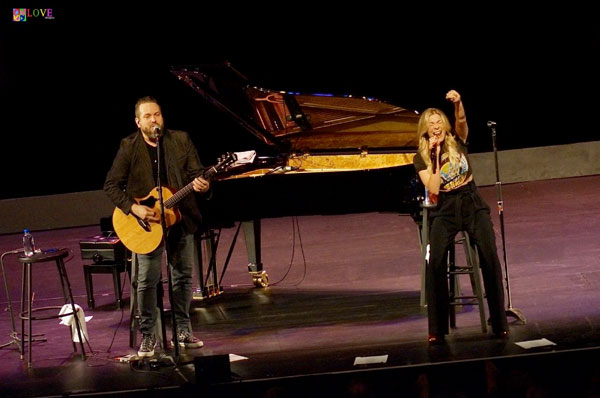 Going on to disclose to the crowd, "When I was seventeen, I was dancing on bars, and my mom was so happy that it was just in a movie!" With Hagen's impressive guitar performance solidly backing her up, Rimes dances to the music while performing an electrifying rendition of her 2000 Top 20 song from Coyote Ugly, "Can't Fight the Moonlight."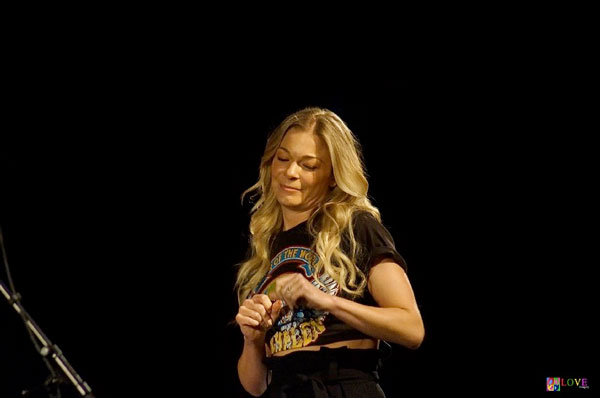 As the audience rewards her with a well-deserved standing ovation, Rimes and Hagen smile, bow, and walk offstage. Rimes acknowledges, "I love you, New Jersey," before stopping to sign an autograph for a devoted fan in the front row.
Not accepting the possibility that the show could be over, the audience cheers and claps — nonstop — until Hagen returns by himself to the stage.
"One more?" he inquires.
With the audience overwhelmingly shouting its approval, Rimes joins Hagen on stage, saying, "Thank you for being so kind, so attentive, and so sweet."
Then, she and Hagen launch into an exquisite rendition of Leonard Cohen's masterpiece, "Hallelujah." Hagen's brilliant guitar work is on display for all to enjoy, and Rimes' voice sounds as if she's lived the song — her world-class vocals filling this beautiful theater with stunning sound and feeling. The audience silently takes it all in… before erupting in yet another round of applause, whistles, and cheers!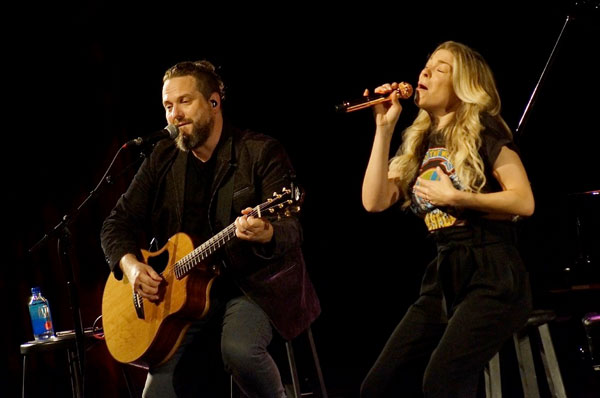 Filled with emotion after seeing this most impressive performance, the audience begins to file out of the UCPAC auditorium. As they make their way over to the lobby, we take a moment to chat with several members of the crowd regarding the performance we've all just communally experienced.
Cheryl from Rahway exclaims, "It was amazing!" and her friend Fran from Lakewood heartily agrees, adding, "The song she sang about her mother made me cry," going on to further note, "I also liked that the entire performance was acoustic — it was just beautiful."
Arriving in the lobby, we meet Linda and Matt from Wanaque, where Matt tells us, "We were in the front row and LeAnn signed a CD for me. She's so nice! When I asked her if she'd sign, I told her it was going to be my 50th birthday, and she even said 'Happy Birthday' to me."
Matt goes on to reveal that he's seen Rimes "five or six times," calling her voice "incredible," and admitting he's been a fan "since she first started, recording 'Blue.'" And even after just recently seeing Rimes perform backed by a full orchestra, Matt contends, "This performance was her best — just her voice and a single musician."
Matt's wife, Linda, agrees with her husband, adding, "You can't fake talent like that. LeAnn sings like an angel — her voice is pure and beautiful. And the way she expressed herself so emotionally tonight? I was going to give her my tissues," before concluding, "she's just so beautiful; we didn't want the night to end."
We also take a moment to chat with musician Greg Hagen, who also admits that tonight's show was special, saying, "There were a lot of emotional moments onstage tonight. I'm not sure if it was the venue, the audience, the mood — or maybe all of those things combined."
Going on to confess, "When I was sitting at the piano, LeAnn started tearing up, and she turned to me and she said, 'Help me, Greg."
Continuing, Hagen discloses, "And so I just said to her, 'LeAnn, you have the songs — the words, the music — they're all here."
At this point, Greg pauses for a moment — apparently thinking about what he wants to say next — and then reveals, "LeAnn realizes her songs mean so many things to so many people — and so, tonight, we went to an emotional, raw place," before earnestly concluding, "and when LeAnn does that, it's really beautiful."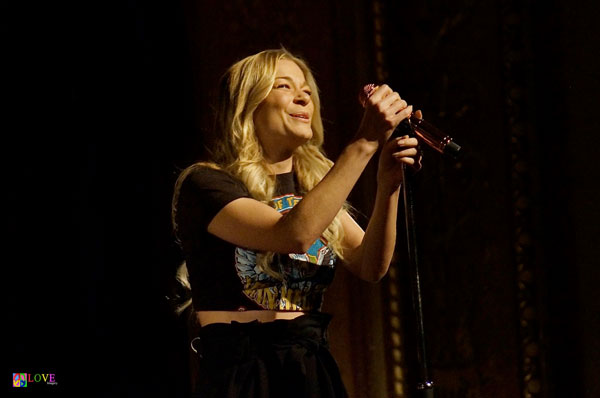 To learn more about LeAnn Rimes, please go to leannrimesworld.com. For further information on great upcoming performances at UCPAC — including Swinging with Sinatra and the Rat Pack on June 3, The Springsteen Experience: A Tribute to the Boss on July 8, and John Popper of Blues Traveler on September 30 — please click on www.ucpac.org.