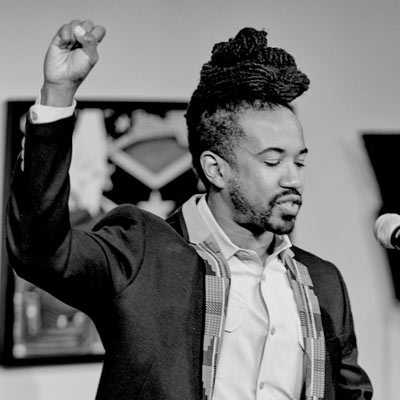 (TEANECK, NJ) -- The Puffin Cultural Forum continues their open mic series with an evening of poetry and expression on Friday, April 28 at 7:00pm. Hosted and moderated by writer, poet, educator, and emcee Toney Jackson. All wordsmiths are invited to sign up for mic time 30 minutes before the show. April is National Poetry Month; come celebrate and participate in Puffin Cultural Forum's endeavor to build and nurture a community of poets.
Toney Jackson currently teaches at Nellie K. Parker Elementary School in his hometown of Hackensack, NJ, began performing at Rutgers University in New Brunswick, NJ in 2001, where he helped foster the spoken word/open mic scene.  Since then, he has been recognized by the Academy of American Poets, has won several poetry slams, and has been a featured reader, performer, and workshop leader at schools, theatres, and other venues. He also writes and performs Hip Hop music under the name Zach Lost, working with such artists as Fat Joe, Dead Prez, Wyclef, Finch, and Talib Kwel. Toney has released two CDs; his song "You Know the Type" was 2006 winner for "Hip Hop Song of the Year" in the John Lennon Song Writing Contest; he is currently writing and illustrating several children's books.
There is a $5 suggested donation and reservations are recommended. Reserations must be made before 5:00pm on the Thursday prior to the performance: tix@puffinfoundation.org.
The Puffin Cultural Forum is a project of the Puffin Foundation, Ltd., which, through the arts, encourages dialog about issues important to the community.  The Puffin Foundation, Ltd. underwrites this and all other Puffin Cultural Forum events and programs in order to make it possible for everyone to attend. The Puffin Cultural Forum is located at 20 Puffin Way (off Teaneck Rd.) in Teaneck.
---