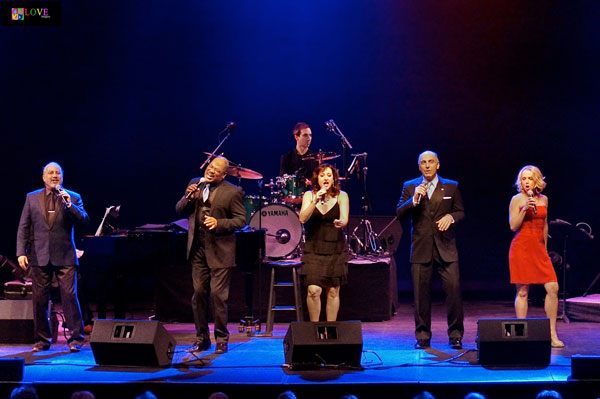 The packed house at the Count Basie Theatre in Red Bank, NJ on Sunday, April 2, 2017 excitedly awaits the start of Neil Berg's 101 Years of Broadway, a star-studded salute to music of the Great White Way!
101 Years of Broadway is the brainchild of Neil Berg, composer and lyricist of the hit off-Broadway musical, The Prince and the Pauper, which ran for two years at The Lamb's Theatre in NYC. But Berg's inspiration to create Broadway came out of his experience as a university student.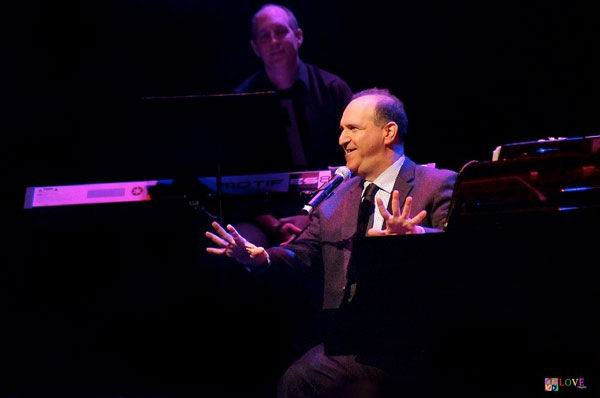 As Berg recently revealed in an interview with Spotlight Central, "When I was in college, in order to help raise money for my dorm, I would take students from the theater department, have them put on a concert, and we would sell ice cream to make money. Every month we would do a new show, and this was my first foray into producing Broadway concerts."
After graduation, Berg went on to volunteer to organize star-studded Broadway events in New York City and later graduated to organizing corporate events there as well.
Berg was also inspired to create his show based on the musical tastes of theatergoers like his own parents.
---
Relates Berg, "My mother and father were not in the theater industry. And I saw there was a disconnect between people in the business, including myself, where, if I was gonna go see a concert, I would want to hear the songs of Stephen Sondheim — really artsy, cool stuff — but the general public doesn't necessarily want to hear that. I recognized that my mother and her friends wanted to hear the hits, so I wanted to put something together based on everything I'd done before that really catered to the community — like my parents. And I wanted it to be fun — I wanted it to be as if I invited people to a house party in my living room and I just happened to have the best singers in the world showing up!"
And that's exactly what Berg created — a show where he could sit at the piano and provide his audiences with intriguing personal anecdotes and history about various performers and shows; then, he could follow up each of those introductions with performances highlighting some of the most thrilling moments in musical theater history.
And joining Berg for all of his Broadway concerts is his talented wife, Rita Harvey.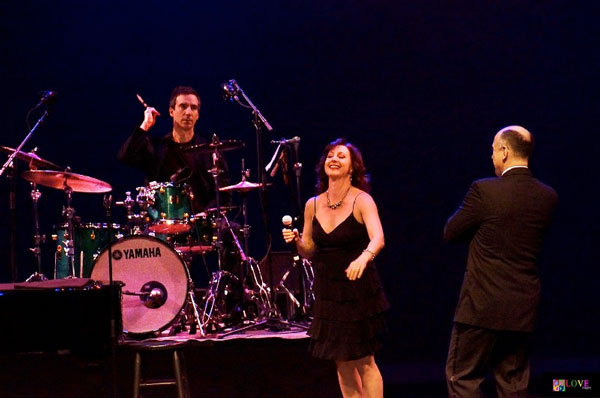 Harvey studied opera at Simpson College and received her Masters degree from Northwestern. She made her Broadway debut in the leading role of Christine in The Phantom of the Opera, after two and a half years playing it on tour. She also performed on Broadway in the recent revival of Fiddler on the Roof with Harvey Fierstein and Alfred Molina.
Some of Harvey's favorite opera roles include Susanna in "Le Nozze di Figaro," Adele in "Die Fledermaus," Marcelline in "Fidelio," and Monica in "The Medium." Also, Harvey has sung with many orchestras including the Greensboro Symphony Orchestra, the Hershey Symphony Orchestra, the Westfield Symphony, and The Bowling Green Symphony, in addition to touring as a part of her own Linda Ronstadt tribute show.
Says Berg about his first meeting with Harvey, "We met playing in the Broadway Softball Show League. I was a ringer on the Phantom team, and Rita had just come in from the road to play Christine. We met on the ball field," going on to note, "and that was that."
For the past 15 years, Berg and Harvey have made beautiful music together traveling the country and sharing the stage in Neil Berg's 101 Years of Broadway.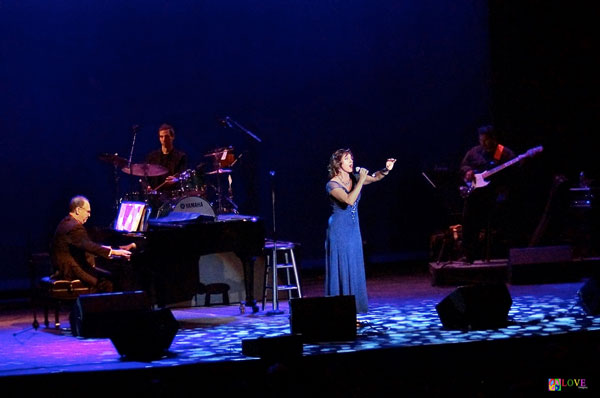 And that's what everyone here at Red Bank, NJ's Count Basie Theatre this Sunday afternoon is waiting to see — the show voted the number one touring concert in the United States!
The lights dim and we see a group of musicians — Roger Cohen on drums, Abraham Saenz on bass, and Brandon Sturiale on keyboards — take their places on stage.
Next, Neil Berg takes his seat at the grand piano and the group starts to play a rockin' version of "December 1963 (Oh, What a Night)" from Jersey Boys.
The crowd immediately responds to the music and claps along as — one at a time — five of Berg's all-star Broadway performers make their way onto the stage.
Along with Rita Harvey, these accomplished Broadway veterans include Danny Zolli, Lawrence Clayton, William Michals, and Catherine Brunell. All dazzle the crowd with their outstanding voices, stage moves, and engaging personalities.
Following animated applause, Berg takes a moment to introduce himself and explain to the audience how his show is designed to "recreate famous Broadway roles" and share "Broadway musical history."
Next, Berg introduces one of the stars of Disney's Beauty and the Beast on Broadway, in addition to a star of the recent revival of Man of La Mancha at Lincoln Center in New York, William Michals.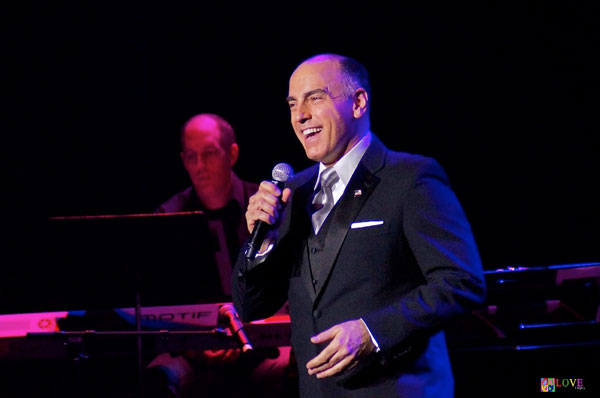 The audience "oohs" and "aahs" as they are enchanted by Michals' incredible baritone performance of "Some Enchanted Evening" from South Pacific, many on their feet by the song's end rewarding him with a well-deserved standing ovation.
Introducing the next featured soloist, Berg tells the crowd, "She's performed in shows from Fun Home to Next to Normal in addition to being in Fiddler on the Roof and Phantom of the Opera, but what's most impressive," he wryly adds, "is that she's my wife — Rita Harvey."
Performing an exquisite rendition of a number from Phantom of the Opera which Berg says is "dedicated to anyone who has lost someone close," Harvey gives an emotional performance of "Wishing You Were Somehow Here Again," clearly touching the entire listening audience.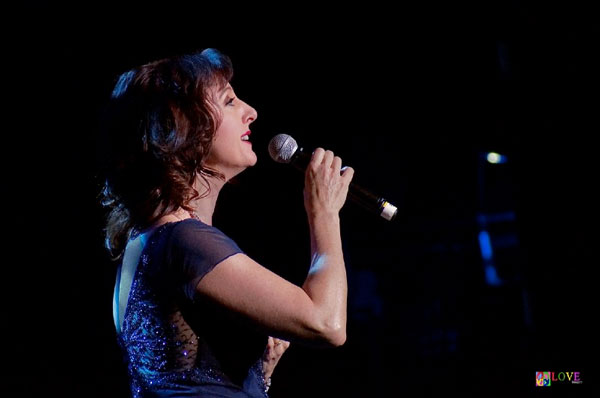 As the crowd responds with heartfelt applause, Berg explains the everlasting appeal of the theater stating, "We are here live. We can communicate with one another. These performers can touch everyone."
And continuing in that tradition, Berg introduces Lawrence Clayton, who starred on Broadway in Les Miserables. In a tribute to Cab Calloway, Clayton performs a captivating interpretation of "Minnie the Moocher," the audience echoing his inviting vocals until he scat-sings so quickly they can no longer keep up with him!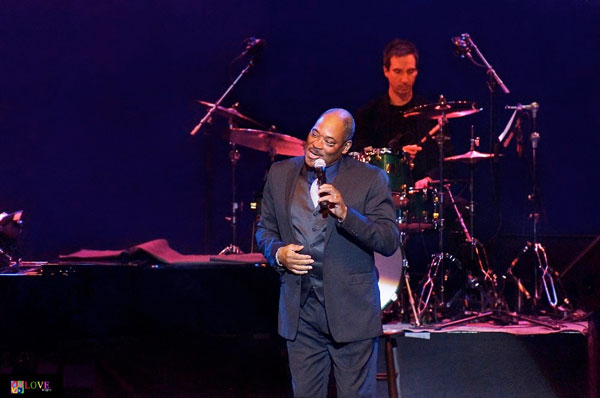 Mary Poppins' star Catherine Brunell performs an energetic version of "Gimme Gimme" from Thoroughly Modern Millie and then Danny Zolli — whom Berg contends probably "holds the world's record for the most performances of Jesus Christ Superstar" — does a soaring rendition of "Can't Take My Eyes Off of You" from Jersey Boys.
The pair is followed by William Michals, who returns to the stage and transforms himself into the character of Don Quixote. Together with Danny Zolli, who plays the role of Sancho Panza, the duo performs a compelling rendition of the theme song from Man of La Mancha.
A "Jersey Boy" himself, we learn that Michals hails from nearby Spring Lake, and started his career in local theater productions. With his outstanding rendition of "The Impossible Dream," Michals has the audience jumping to its feet, whistling and cheering.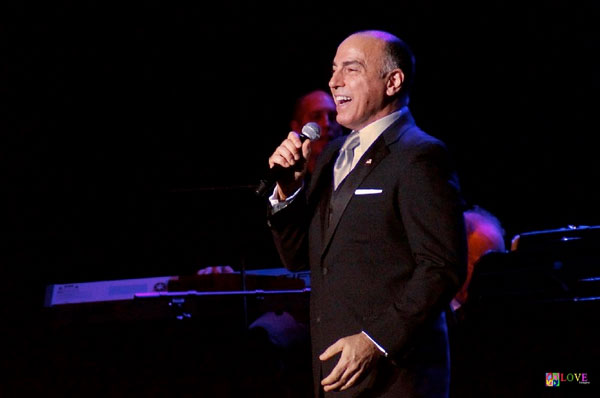 Berg tells the crowd that in the 1980's, Lawrence Clayton appeared on Broadway in Roger Miller's Big River, the story of Huckleberry Finn. Playing the character of Big Jim, he and Danny Zolli perform a finger-snappin' version of "Muddy Water." The duo is then followed by Catherine Brunell — "from West Orange, NJ," she says — who gives an appealing performance of a song she tells the audience "changed her life" — "Tomorrow" from Annie.
Next up is Lawrence Clayton who returns to the stage to perform another showstopper which Berg says was "a hit in the '50s, '60s, '70s, and '90s" and was "recorded over 300 times," "Unchained Melody." Clayton's outstanding vocal performance is supported by Neil who expertly accompanies him with a series of out-of-this-world arpeggios played on the piano.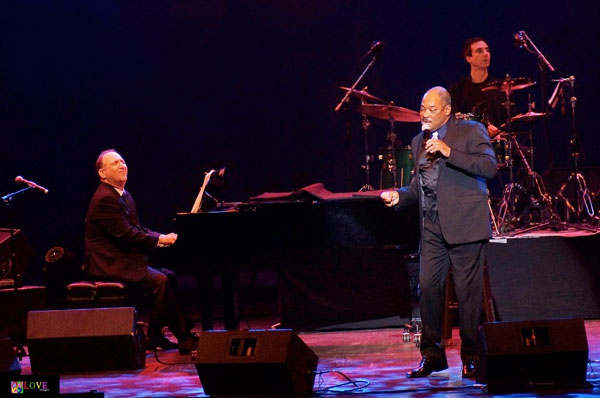 Softly crying out the song's lyric, "Are you still mine?," the audience cheers as Clayton hits the memorable high note on "I need your love," his falcetto voice floating above the crowd, lifting the souls of the entire audience!
Not to be outdone, Rita Harvey performs a dynamic version of "Cabaret," the audience hanging on her every word, and Danny Zolli concludes Act I with a passionate rendition of Paul Simon's "Bridge Over Troubled Water."
After a short intermission, Act II commences with Lawrence Clayton singing "Heaven On Their Minds" from Jesus Christ Superstar, Catherine Brunell performing "Never Neverland" from Peter Pan, and William Michel getting down on his knees and singing directly to the audience, wowing the crowd with his tone and breath control on "If I Can't Love Her" from Beauty and the Beast.
Next up is Danny Zolli who performs a crowd-pleasing version of "Sit Down You're Rockin' the Boat" from Guys and Dolls.
Following huge applause, Berg honors Rogers and Hammerstein, whom he calls "Broadway's greatest composing team." As a tribute to this talented duo, Rita Harvey performs "If I Loved You" from Carousel, the men sing "There is Nothing Like a Dame" from South Pacific, and the entire cast performs a spirited rendition of the theme song from Oklahoma.
Following fervent applause from the crowd, Danny Zolli brings down the house with a tune written by a composer of both Broadway and pop hits with Elton John's "Bennie and the Jets," Berg and the band rockin' it to the rafters of the Count Basie Theatre.
Following a medley of songs from Les Miserables, the high point of the entire production is a world-class performance of "Phantom of the Opera," featuring Rita Harvey's stunning soprano voice.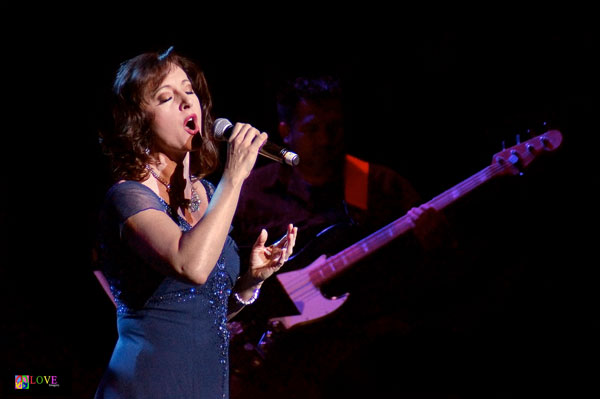 As the crowd delivers a well-earned standing ovation, Berg says, "Thank you all for supporting live theater!"
Following a spirited encore of "Do You Hear the People Sing?" from Les Miserables, we take an opportunity to chat with several members of the audience who share their thoughts regarding this afternoon's performance of Neil Berg's 101 Years of Broadway.
Bert from Barnegat exclaims, "This show far exceeded my expectations! I've never really gone to a Broadway show, but my kids got my wife and me tickets for this performance. We can't get over how talented each cast member of this show is! And, in fact, now we want to go to New York and see a production on Broadway."
Jennifer, from Upper Saddle River declares, "It makes me happy to see the response to this show from people of all ages! Somehow Neil Berg has managed to bridge the gap between Generation Z and the greatest generation, so that for everyone from 16-year-olds to people well into their 90s, the show strikes the same beautiful chord and unites them in a special way."
Jennifer's daughter Jessica agrees with her mom, adding, "I love Broadway, and I especially liked all the songs I hadn't heard before." Likewise, Jessica's friend Alexa, also from Upper Saddle River, notes, "I like how they were able to put so many different genres of music together in a single show."
Flo, 85, from Toms River reveals to us that the music from this Broadway extravaganza — as she puts it — "just fills me," particularly in response to such stirring performances as those featuring numbers like "Man of La Mancha" and "Some Enchanted Evening."
Flo's daughter Karen from Brick further adds, "My mom raised me on this music," telling us she frequently takes her mom and other family members to a variety of shows here at the Count Basie Theatre because it's "such a great venue."
Moreover, Stephanie from Wayne neatly sums things up when she says, "This show was amazing!"
In addition to these audience members, we also get a chance to talk with two of the stars of 101 Years of Broadway, Rita Harvey and Neil Berg.
Explains Rita Harvey, "I've been doing this for fifteen years, and I never get tired! Neil really knows how to pace the evening so, as performers, our mantra is to just 'tell the story.'"
Lastly, Neil Berg, the creator of 101 Years of Broadway, takes a moment to chat with us by complimenting his talented wife, stating, "I'm grateful and thankful to be working with a star of that quality. She's the easiest and nicest person to work with — a woman who shares my passion and love. I am truly blessed."
And so are we for getting a chance to experience Neil Berg's 101 Years of Broadway LIVE! at Red Bank's Count Basie Theatre!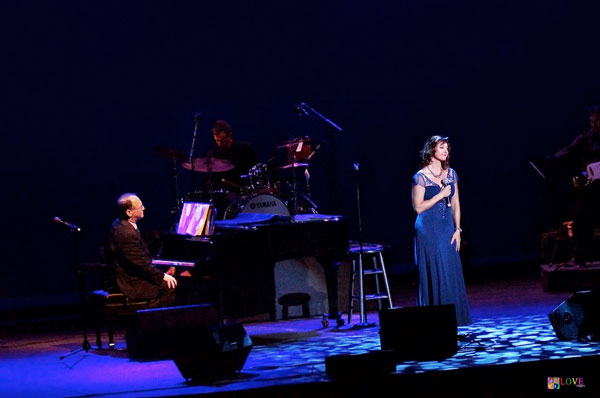 For more information on Neil Berg's 101 Years of Broadway please go to www.neilberg.com. To learn more about Rita Harvey, check out www.ritaharvey.com. For further info on upcoming programs at The Count Basie Theatre — including The Midtown Men: Four Stars from the Original Cast of Jersey Boys on June 2, 2017— please go to www.countbasietheatre.org.
Photos by Love Imagery
Spotlight Central. Your source for Jersey entertainment news and reviews
Love Imagery Fine Art Photography. all you need. peace/love/flower/power