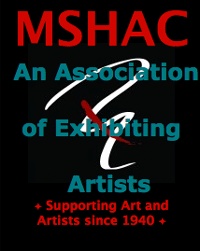 (MORRISTOWN, NJ) -- The Millburn-Short Hills Arts Center (MSHAC) will present a juried exhibition consisting of a variety of fine art works including paintings, drawings, photography, collage and 3D at the Mayo Performing Arts Center Art Upstairs Gallery, December 7, 2016-January 16, 2017.
Featured artists include Peter Alessandria; Kat Block; Denise Cocchiano Cohen; Theresa Cywin; Darlene Hass Decker; Michael E. Dziomba; Michael Fenton; Jeri Greenberg; Nina C Harlan; Kathleen Havens; Anastasia Mancuso; June Fisher Markowitz; Karen Matte; Jinnie May; Grace McDonald; Tammy McEntee; Charles Miller; Carol Nussbaum; Chas Palminteri; Paula Pearl; Isabella Pizzano; Jack Quinn; Diane Revels and Leina'ala Schwartz.
Established in1940, MSHAC is one of the oldest nonprofit, community-based arts organizations in New Jersey. It was founded to promote art education and appreciation, while encouraging the talent and work of members and other artists. MSHAC provides many opportunities for growth and advancement of local artists, and sponsors art training and education programs for members and the community.
All pieces in the show will be available for sale. Original works of fine art make great holiday gifts and sales from this show will benefit both MPAC and the individual artists.
Please visit the MSHAC website at www.mshac.org for more information.
---
The Gallery is open Tuesdays from 3 - 5 and Wednesday from 10 - 1, as well two hours prior to performances for ticket holders and by appointment. To schedule an appointment, call 973-539-0345, X 6506. The Art Upstairs Gallery is a gift of the John and Margaret Post Foundation.

Mayo Performing Arts Center is located at 100 South Street in Morristown, NJ.