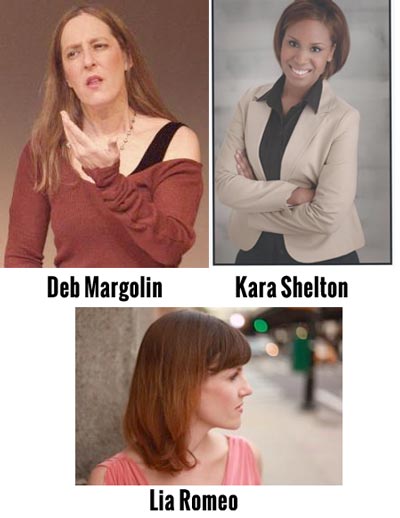 (HOBOKEN, NJ) -- Mile Square Theatre is launching the MST Playground Reading Series as part of a collaboration with Writers Theatre of NJ and its New Plays New Jersey concert reading series. In February MST Playground Reading Series presents Readings of NJ Women Playwrights. The featured writers are Lia Romeo (February 4), Deb Margolin (February 12), and Kara Shelton (February 19). Admission is free.
Joseph Gallo, Mile Square Theatre's playwright in residence says, "MST is committing time and energy now to nurture and develop playwrights as part of our mission. My latest play Long Gone Daddy was given a full development process, and then was produced as part of the company's mainstage season in 2016. This year we are teaming up with John Pietrowski of Writers Theatre of NJ by hosting the New Plays New Jersey series. We plan to continue offering readings to our audiences and giving playwrights a platform for their work in development. We are also premiering Erin Mallon's play The Net Will Appear in our Mainstage season in 2017. It's exciting to see so much work being launched from our new space."
MST Playground: Readings of NJ Women Playwrights Schedule:
February 4 @ 8:30pm

Ghost Story by Lia Romeo
February 12 @ 6pm

What Difference Does It Make? By Deb Margolin
---
February 19 @ 6pm

The Prodigal by Kara Shelton
All readings are held at Mile Square Theatre • 1400 Clinton • Hoboken, NJ
ABOUT THE PLAYS
Ghost Story by Lia Romeo
Lydia just wants a one-night stand, so she's met a guy at a bar and brought him back to her new apartment.  But now things keep getting in the way.  Like the fact that they could hardly be more different – she's forty, he's twenty-eight; she's black, he's white; she's a New Yorker and he's from the Midwest. And the fact that he's actually hoping for something more. And the fact that her new apartment might very well be haunted. A play about ghosts— both literal and metaphorical —and the ways we try to move forward.
What Difference Does It Make? by Deb Margolin
Myrtle Schmidt is a top-notch attorney and pastry chef, solving cases on the phone while whipping up exotic confections in the Telephonocracy of Ding A Ling A Ling Land. Her long-suffering husband, Arnold, will do anything—anything—for just a moment of her precious time.  But Myrtle is so worried about being forgotten by the author who gives her life, she cannot pull away from her various pursuits, or her favorite Soap Opera—Marion's Mistake, sponsored by KORO Feminine Deodorant-- until it may be too late.
The Prodigal by Kara Shelton
Two brothers raised in the inner city, Glen and Walter, could not be further apart.  Glen, a carpenter, stayed close to his roots, never leaving the city, or the mindset that often comes along with it.  Walter, on the other hand, leaves home the moment he's able, never looking back, and starts a new "white-washed" kind of life, complete with his new white wife Grace.  The only thing that could ever bring him back home is the death of his father.   When this happens, the collision of these two brothers and these two worlds, causes an impact that no one was prepared for.  Views are challenged on both sides, lives are altered, and everyone is permanently changed.
---
Mile Square Theatre is supported by the Geraldine R. Dodge Foundation.
This program is made possible in part by funds from the New Jersey Council on the Arts/Department of state, a partner agency of the National endowment for the arts and by funds from the national endowment for the arts, administered by the Hudson county office of cultural & heritage affairs, Thomas A. Degise, County Executive, and the Board of Chosen Freeholders.