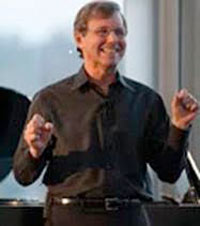 (WEST WINDSOR, NJ) -- WWFM The Classical Network, located on the campus of Mercer County Community College (MCCC), will highlight the talents of select young musicians from three area youth orchestras during an upcoming performance and live broadcast from Princeton High School, featuring acclaimed conductor, composer, author and commentator Rob Kapilow. The performance takes place on on Monday, May 8 at 8:00pm.
The All-Area All-Star Youth Orchestra will perform Franz Schubert's Symphony No. 8 in B minor, "Unfinished," as part The Classical Network's next What Makes It Great broadcast on Monday, May 8 at 8:00pm at Princeton High School, 151 Moore Street, Princeton.
The concert will feature musicians from the Youth Orchestra of Central New Jersey, Greater Princeton Youth Orchestra, and the Youth Orchestra of Bucks County (Pa.). Kapilow will discuss what makes this symphony by Schubert "great," including demonstrations of passages by the orchestra. The orchestra will also perform the symphony in its entirety.
A question and answer session will follow the performance, which will also be broadcast live on WWFM The Classical Network. This concert is the latest in the series of local presentations of Kapilow's What Makes It Great, a popular series based at the Kaufman Music Center's Merkin Concert Hall in New York City. The series is also presented coast-to-coast in Boston, Washington, D.C., Toronto and California.
The concert is free and open to the public. Due to the live broadcast nature of this concert, the audience is requested to be in their seats no later than 7:50 p.m.
---
The broadcast can be heard locally on 89.1 FM, 89.1 HD1, and other stations throughout New Jersey and the Philadelphia region. For a full listing of stations or to listen worldwide via live streaming, visit wwfm.org.
WWFM The Classical Network, operating from MCCC's West Windsor Campus, began broadcasting in 1982 and grew quickly into a full-time classical music network serving New Jersey, eastern Pennsylvania and portions of Delaware and Maryland, and in the Philadelphia market via HD radio.
Photo of Rob Kapilow