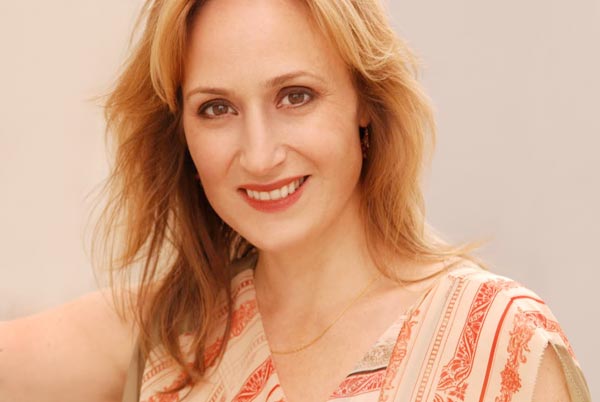 (PRINCETON, NJ) -- Award-winning Iraqi-American playwright and performer Heather Raffo (9 Parts of Desire) teams up with director Joanna Settle to examine the issue of fractured American identity in this timely re-imagining of Ibsen's iconic A Doll's House called Noura.

This Spotlight Production, under the umbrella of McCarter's LAB – takes place in the intimate rehearsal room-turned-Performance Studio within McCarter Theatre Center's Roger S. Berlind Theatre at 91 University Place, Princeton, NJ. Noura runs Jan. 29 – Feb. 4, 2017.
Searing and urgent, Noura is a passionate reflection of a major dilemma facing modern America: do welive for each other or for ourselves? Raffo's play examines the story of an Iraqi refugee family living in New York City, and a woman's search for meaningful identity in a new world. The challenges faced by Noura and her family speak directly to cultural and societal pressures within a modern marriage, and tackle our notions of shame,  assimilation, exile, and love.
Ms. Raffo will appear in the title role, with design elements by scenic designer Andrew Lieberman (recently represented by Othello at NYTW; and the 2017 Broadway revival of The Glass Menagerie) and sound designer Obadiah Eaves (The original Broadway production of The Lieutenant of Inishmore and many more). Casting to be announced.
Noura was crafted from years of research in Arab-American communities of New York City, where Raffo worked with Middle Eastern women reading Henrik Ibsen's A Doll's House and sharing personal stories about the resonance the play had with their own lives. Subsequent refining of the work followed, with a Georgetown University workshop with Middle East and refugee policy experts and members of the State Department and Iraqi Embassy, followed by a reading during McCarter's 2016 summer writer's retreat and a fall workshop at the Arab American National Museum in Detroit.

About Spotlight
The annual Spotlight production is a signature feature of McCarter's LAB, and is dedicated to original plays by emerging and established writers. In a laboratory environment supported by McCarter's artistic and production staff, artists rehearse and explore a work for a full month. More than a reading, this mid-phase workshop production affords playwrights and directors working on brand new project, the important opportunity to deepen their experience of exploring collaboratively on an original play or musical, over an extended rehearsal period - incorporating basic design elements, and seeing the work staged in front of an audience.
Ticketing Information

Noura will be performed in the Performance Studio inside McCarter's Berlind Theatre. Tickets are $20.00, and will be available for subscribers on January 3, 2017. Single tickets will go on sale January 5th, available online at www.mccarter.org, by calling 609-258-2787, or in person at the McCarter Theatre Center Ticket Office. Availability is limited.
---
About the McCarter Lab

The McCarter LAB is a year-round creative incubator that provides key support to writers at all stages of their careers - cultivating meaningful artistic relationships and original works for McCarter's main stages and future co-productions. Fostering the development of new plays, adaptations, musicals and investigations into the  classics, the LAB consists of: readings, workshops, the Sallie B. Goodman Artist Retreat, commissions, and the annual Spotlight Production. It also provides McCarter's audiences with an exclusive window into the creative process.
The LAB allows McCarter to take artistic risks, whether giving a first production to an emerging script, or allowing an experienced playwright to return to his/her creative roots. Each LAB project receives financial and artistic support, tailored to the specific needs of the collaborating writers, composers, directors, designers, and performers. Most LAB programs take place in the intimate and flexible 70-90 seat performance studio/rehearsal room located within the Roger S. Berlind Theatre.