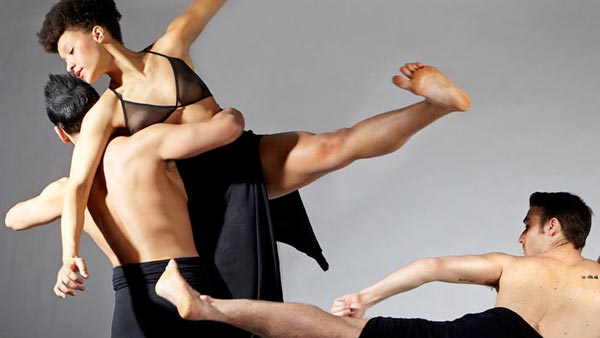 (JERSEY CITY, NJ) -- In an email letter sent on May 18, Samuel Pott, Artistic Director for Nimbus Dance Works reached out to fans of the arts for help. His company is losing their studio space at the end of August.  While that obviously weighs heavily on Sam's mind, the rise and affect of gentrification in Jersey City does too.  Sam has had a front row seat to watch the arts help revitalize many parts of the city.  Unfortunately, arts history has a way of repeating.  Virtually every city that rebounds due to the arts eventually loses much of the arts due to higher rents and the loss of spaces for art usage.  And that appears to be where Jersey City is heading.
We are reprinting his letter here and hope you sign the petition at change.org found later in the article.
---
For years Jersey City has been known as a focal point of creativity. Like areas of Brooklyn and Queens, artists have sought low cost space to create, to paint, to make music and to perform in Jersey City's former industrial spaces and warehouses. Arts are at the heart of the appeal of Jersey City - "Chilltown": here is a place to let your guard down, be who you are, and express it.
Sadly, the forces of Gentrification, documented all too frequently, have laid seige to our city. Developers extoll the character and diversity of our neighborhoods, while building pricey luxury rental apartments disconnected from the community, pricing out artists and long-time residents who gave Jersey City its cache.

Dark Times: Nimbus Dance Works will lose our studio space on 3rd Street on August 31, 2017.  We lack the resources to pay for a similar space and for the build-out. In order for our organization to continue we will need a concerted effort from Jersey City government, local businesses and individuals to support our organization.

Light at the End of the Tunnel: Nimbus is working with a developer to build a new state of the art facility to house our company, school and offices. This ambitious project will include a 150-seat black box theater and additional space to house arts groups. But: a project of this magnitude will require a new approach to arts funding and advocacy from Jersey City.  

 The Jersey City government has spoken widely about the imortance of the arts; but there has been no substantive discussion or policy about how to sustain professional arts organizations locally.  

If there is a future for the arts in Jersey City, the time to act is now. Jersey City artists and arts organizations have published a letter to Mayor Steve Fulop with a list of policy items to support the arts; and arts advocacy events are planned. 
Please support the arts in Jersey City:


Sign the petition at change.org to express your support for dedicated arts funding.    



Write or call Mayor Steven Fulop and City Council Members to let them know that you value the arts and organizations like Nimbus Dance Works and expect the city to take action immediately



  On Wednesday June 14th, 6pm, join artists and community members at the Jersey City Hall to assert our voices.


---
---
Nimbus Dance Works's 2016-17 Season is made possible by: The Geraldine R. Dodge Foundation, New Music USA/Live Music for Dance, Goldman Sachs, US Trust/Bank of America, Dance New Jersey, the City of Jersey City, the New Jersey State Council on the Arts/Department of State, A Partner Agency of the National Endowment for the Arts; administered by the Hudson County Office of Cultural & Heritage Affairs/Tourism Development, and by the County of Hudson, Thomas A. DeGise, Hudson County Executive, and the Hudson County Board of Chosen Freeholders, and by generous donors and sponsors.