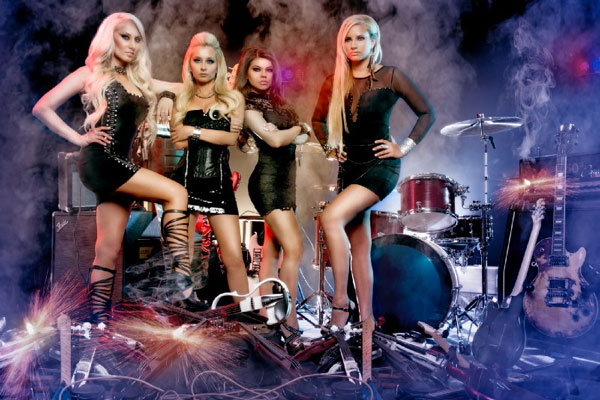 Watch out! Bella Electric Strings is a string ensemble with attitude… and they are comin' to Jersey on Saturday, July 29, 2017!
Led by violinist and arranger, Nina DiGregorio, Bella Electric Strings consists of approximately 30 talented musicians based in several US cities who tour as electronic string quartets in a variety of different productions.
As individual musicians, the violinists, viola players, and cellists of Bella Electric Strings have performed with some of the biggest names in music including Beyonce, Rod Stewart, Stevie Wonder, Andrea Bocelli, Michael McDonald, Earth Wind & Fire, and many more!
Recently, 20 of the Bella musicians even appeared together on a television special starring Richard Marx and Kenny Loggins.
Like theater's Blue Man Group and Irish dance's Lord of the Dance, Bella Electric Strings has multiple casts who perform in multiple cities, all under the direction of founder Nina DiGregorio.
---
Currently based in Las Vegas, Los Angeles, and Orlando, the group will soon make its way to New York City, with plans to expand internationally to Europe and Asia within the next few years.
Altogether, Bella Electric Strings currently offers several different shows, all developed by Ms. DiGregorio — a disco show entitled Bella Bottoms, a holiday show called Jingle Bellas, and a high-energy rock show named Violin Femmes, which will take the stage at Union County Performing Arts Center in Rahway, NJ on July 29, 2017 at 8pm!
Spotlight Central recently had a chance to catch up with Ms. DiGregorio and chat with her about her work with Bella Electric Strings, her life as a professional musician, and about her Violin Femmes show which is coming to the Garden State at UCPAC.
Spotlight Central: Can you tell us about some of your childhood musical influences?
Nina DiGregorio: Definitely. It started when I was under a year old. My mother played some basic piano. She would practice at the house, and I would always push her out of the way and start picking out tunes on the piano — so by the time I was two or three, I could already do that on my own, by ear. And by the time I reached Kindergarten, I was asking for piano lessons, and I actually started taking them at age six.
I picked up the violin at age nine. Then, when I turned thirteen, I begged my parents for an electric violin, which they got me cheaply on eBay. I took one of my father's old Marshall amps he had in the house — this was right around the time when Woodstock '94 was happening and they were showing all the old footage of the original Woodstock on television. And I happened to see Jimi Hendrix doing "The Star-Spangled Banner" on television, so I plugged my violin into my dad's amp when I got home from school one day, and I messed with the sounds. And when my parents came home from work, I said, "Look! I can play just like Jimi Hendrix!" And I played Hendrix-style for them and (laughs) it kind of all went down hill from there!
Spotlight Central: (Laughs) So other than Jimi Hendrix — obviously, a guitarist — as a violinist, were there any other performers who inspired you when you were growing up?
Nina DiGregorio: Yes, but in very different categories. I actually have a master's degree in classical violin and I grew up with Jascha Heifetz and Itzhak Perlman as two of my biggest influences in classical music. In terms of rock music, however, I loved a lot of guitar players. Jeff Beck, Terry Kath from Chicago, Eric Clapton, and Jimmy Page were some of my biggest influences — and, of course, Jimi Hendrix.
Spotlight Central: Now that you're an adult, what kind of music do you listen to? Classical? Rock? Or something else?
Nina DiGregorio: You know, it's funny, but when you study something really intensely, you almost don't appreciate it for pleasure until you're kind of out of it a little bit. So when I was studying classical music intently — like eight hours a day — I didn't really listen to it for pleasure. And then as I became older — and now that I'm mostly playing rock music — I actually much prefer to sit down with a symphony and listen to it rather than listening to the music I work on all day long. So when I take a break from rock music and I'm practicing classical again is the time I'll enjoy listening to rock music. It seems that it's whatever I'm not working on during the day that I like to listen to at night!
Spotlight Central: And are there any particular artists you enjoy listening to these days?
Nina DiGregorio: My go-to album is The Beach Boys' Pet Sounds. I'm a Brian Wilson fan and no matter what kind of mood I'm in or how I'm feeling, Pet Sounds is a magical album with masterful arrangements — it's really innovative — and it always makes me feel good.
Spotlight Central: Definitely! So what gave you the idea to create your group, Bella Electric Strings?
Nina DiGregorio: That started kind of early. When I was in middle school, I decided I wanted to start trying to write pop music arrangements for a string quartet. I couldn't afford computer software or anything back then — I was just a kid — so I would take regular sheets of paper and draw staff lines on them myself.
And I would transcribe tunes for us like Aerosmith's "I Don't Want to Miss a Thing" — which was one of the first ones I did — and "25 or 6 to 4" by Chicago. I would write arrangements of these songs to be played by a little quartet I had with my friends in school, where our parents would drive us around so we could do weddings and play at restaurants and things like that.
When I got into college, I continued to maintain my quartet. And, then, when I graduated and moved to Las Vegas, I ended up getting a Yamaha endorsement and I was able to get all electric instruments for the group. At that time, we started Bella Electric Strings — it must have been around 2004 — and we mostly did corporate events for the first ten years we performed.
One day, I got a call from a guy who owned a theater and he said, "I think you guys would be great in our theater. Do you have a ninety-minute stage show you can do?" I said, "Of course we do! That will be wonderful! Book us in!" I hung up the phone and I said, "Oh no — I guess I gotta go write a show, and I've got about three months to do it!" So that's how you get your best work done — say "yes," and figure it out later!
At that point, I wrote all new arrangements — really virtuoso arrangements — and we added choreography and created video content for the background, and, over time, it's gotten progressively better — this was about two years ago when that happened. And as of January of this year, we started our first official tour. It's taken off quickly and we've been doing really well, especially in the Northeast, whenever we perform this type of music.
Spotlight Central: So tell us more about your Violin Femmes show that you're going to be doing at UCPAC in Rahway on July 29? What can people expect to see and hear at this show?
Nina DiGregorio: I think it's a little confusing for people when they first see our poster and hear our name and they're wondering, "What should we expect?" Some people go in thinking they're going to hear Beethoven and Mozart, but what they are going to hear is violins that sound nothing like what they expect a violin to sound like! It is a hard-hitting, heavy rock show with violins that sound just like guitars — and we're taking all these really crazy solos and things like that. So what people can expect is to hear is their favorite classic rock tunes redone with all original arrangements played by violins.
Spotlight Central: We're looking forward to that! We read that you consider the statement, "Imagine if Hendrix played violin…," as a sort of a guiding principle for your work. How does that help you with the musical arrangements that you write for the group?
Nina DiGregorio: I've always tried to think like a guitar player. It's very different. When you grow up learning classical music, you are reading music the whole time, and you don't really learn how to improvise at all. In my adult life, I spent a long time learning how to improvise and thinking like a guitar player. So I really studied guitar players like Hendrix to see what they do and to see how it all works — and it's really helped to inspire me to become a better arranger and a better soloist.
Spotlight Central: Didn't you also have to learn about various effects units which electric guitar players use like distortion, digital delay, and that sort of thing?
Nina DiGregorio: Yes. I've been through, probably, twenty different effects pedal boards since the time I was thirteen, always trying to achieve that perfect sound. And, to me, the perfect sound is Eric Clapton's "Woman" tone that he uses when he solos with Cream. So, finally, years later, I've achieved that tone on a violin! It's very hard to put a violin through an effects pedal board and have it not sound like bees buzzing. It took me many years of experimenting and I've finally achieved that tone, so you'll get to hear it.
Spotlight Central: Great! And how do you go about choosing the various songs you want to arrange?
Nina DiGregorio: I'd like to say I pick the songs that I really like, but a lot of the songs I really like don't translate to violins really well. Because you figure that when someone is singing a lyric — if you have a really repetitive-type rhythm — it doesn't really matter when the words are changing. But when you don't have somebody singing, you just can't pick things that are very repetitive — they have to be melodic and they have to make sense. So I try to pick songs that have really great guitar solos in them — like material by Pink Floyd and Led Zeppelin and Jimi Hendrix — because that's where we really shine, and that's what we want the audience to see.
Spotlight Central: So what's your favorite thing about performing for live audiences with Bella Electric Strings and, specifically, with your Violin Femmes show?
Nina DiGregorio: I think my favorite thing has to be the "meet and greet" after each show when people have finally seen what we're all about — and they're always super surprised! We get a lot of students who come to our shows and they're so excited to meet us. Then, they can't wait to get home and practice their instruments, because they had no idea their instruments could sound like that!
And a lot of these are kids, maybe, who were thinking about quitting, because they're getting a little older and feel it's not cool to play violin anymore. So any kids we can inspire to stick with their music lessons and continue playing are audience members we are especially happy to meet and greet after the show!
Spotlight Central: Absolutely! So is there anything else you'd like to add?
Nina DiGregorio: Well, I'd just like to let everybody know that this is going to be a rock show — just so they know what to expect — and something they've never quite heard the likes of before!
To learn more about Bella Strings' production of Violin Femmes, please go to femmesofrock.com. For tickets to Bella Strings' upcoming performance of Violin Femmes on Sat. July 29, 2017 at 8pm at UCPAC — located at 1601 Irving Street, in Rahway, NJ — please click on www.ucpac.org.
Spotlight Central. Your source for Jersey entertainment news and reviews