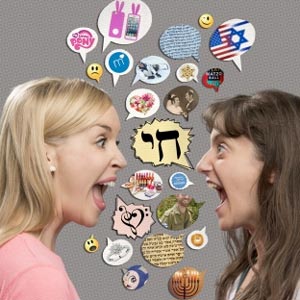 (NEW BRUNSWICK, N.J.) An appreciative critic referred to the humor in Joshua Harmon's play Bad Jews as "savage."
But Maddie Jo Landers, who will be in the cast when the play begins previews at the George Street Playhouse on Tuesday, has a different take.
She thinks of the play not as savage, but as "passionate."
Both terms arise from Harmon's subject matter: a heated confrontation within an American Jewish family over which of two cousins will inherit their grandfather's "chai" necklace—a treasure he brazenly hid from his guards in a Nazi concentration camp. "Chai" is a two-letter Hebrew word meaning "life."
---
The protagonists in this conflict are the brothers Jonah and Liam Haber (Amos VanderPoel and Alec Silberblatt), their cousin Daphna Feygenbaum (Laura Lapidus), and Liam's "shiksa" girlfriend, Melody (Landers).
The heroic grandfather has died, and Daphna—she prefers the Hebrew to her given name, Diana—has been staying with Jonah in his upper West Side apartment.
Liam—he prefers that to his Hebrew name, Schlomo—arrives for shiva, with Melody in tow, having missed the funeral because he dropped his cell phone from a ski lift in Aspen.
Daphna, who is immersed in Judaism and intolerant of Jews who aren't, is furious at her secular cousin for missing the funeral, scandalized by his excuse, and disgusted by his Gentile companion.
In her conversations with Jonah, who doesn't want to get involved, Daphna has expressed her conviction that her grandfather wanted her to have the chai, and she is unaware that Liam not only wants the necklace but plans to put it to a use that is not, shall we say, kosher.
This disagreement, magnified by festering resentments, leads to a battle royal between the cousins while Jonah and Melody fruitlessly try to avoid the shrapnel.
Although the immediate bone of contention and much of the dialogue in the play have to do with Judaism and Jewishness, Landers said, the overarching theme can resonate with people of any background.
"It's about family," she said, "and what your family culture is. It's about how we relate to our family and be in our tribe."
If the confrontation between Daphna and Liam spins out of control, Landers said, it's not because of savagery.
"That's not a word I would use," she said. "You have to remember that these people are young. This is all about privileged kids who have a lot of great ideas. All four are right in what they're saying and thinking, and they're all wrong.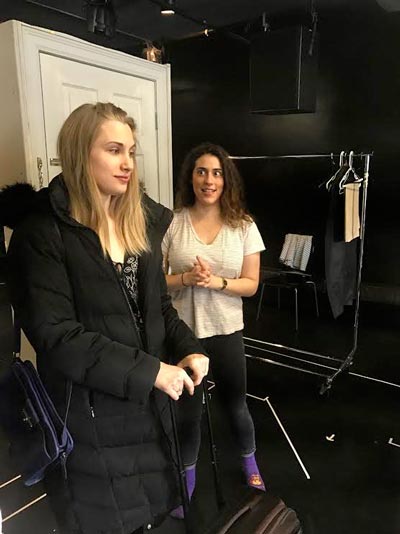 "We are all coming from a place in which we think we are right."
If Daphna, for example, is strident as she measures everyone by how far they fall short of her Jewish ideals, well, Landers says, "She's just saying what she believes in her heart.''
But in the end, the actress said, "You see what happens when you don't listen to each other or don't respect each other's intellectual integrity.''
Landers' character sees the epic struggle from a unique perspective, because she is not a member of the family, she doesn't know Daphna and Jonah at all, and she is not Jewish.
One reviewer described Melody as "daffy," and others have used similar terms, but Landers doesn't see the character that way.
"For most of the play," Landers said, "Melody feels that she should not be involved in this conversation. She feels very uncomfortable. I don't think she comes from a family that talks to each other quite like these people do.
"I think it's easy to read her on a page and think that she is not as smart as the other characters, that she's thick. But the words that come to me are 'simple' and 'uncomplicated.'
"That doesn't mean she's not smart. She's educated. But she doesn't have ulterior motives or an intertwining agenda.''
"Bad Jews" premiered Off-Broadway in October 2012 at the Roundabout Theatre Company's Black Box Theatre and was well received. In October 2013, it moved to the Laura Pels Theatre where it played until December 29.
When this play was mounted in 2015 at the 38-year-old Studio Theatre in Washington, D.C.in 2015 –with Lapidus playing Daphna—it set the house record for sales.
Landers thinks she understands its popularity:
"It resonates with a lot of different people. You go to the theater because you can say, 'Thank God I'm not the only one who struggles with these thoughts or argues with my family.'­­­
"Besides," she added with a laugh, "people like to watch other people fight. If you see two people fighting on a train, you don't turn away."
"Bad Jews," directed by Jessica Stone, will be at George Street through April 9.
---
The writer blogs at charlespaolino.com
---
PHOTO: (L to R:) Maddie Jo Landers (Melody) and Laura Lapidus (Daphna) rehearse for Joshua Harmon's comedy "Bad Jews," directed by Jessica Stone, at George Street Playhouse, March 21-April 9. (Photo by Rick Engler/George Street Playhouse)