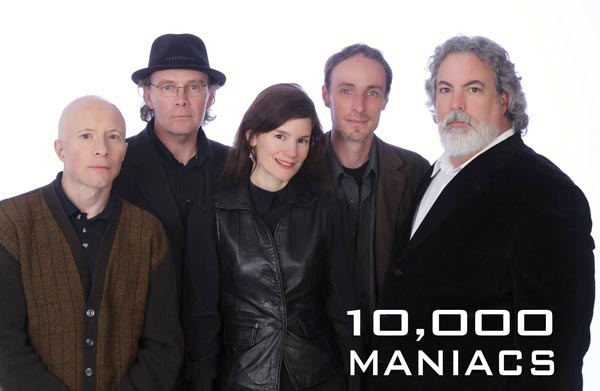 (NEWTON, NJ) -- 80s legends, 10,000 Maniacs are coming to The Newton Theatre on Saturday, May 6 at 8:00pm.  One of the most critically acclaimed bands of the last three decades, 10,000 Maniacs was founded by Robert Buck, Dennis Drew, Steven Gustafson, John Lombardo and Natalie Merchant in the fall of 1981. Jerry Augustyniak joined in 1983. Together with artists like R.E.M. they defined college rock and led the first wave of alternative rock bands and created what became known as the alternative rock format on FM radio.
Writing and performing powerful, danceable and socially conscious original material in and around their hometown of Jamestown, New York the group toured extensively and produced two independently released records, Human Conflict Number Five ('82) and Secrets of the I Ching ('83) on their own Christian Burial Music label.
By producing, manufacturing and marketing their own recordings 10,000 Maniacs were one of the original "indie" bands before signing with Elektra Records. After touring extensively John Lombardo left the band in 1986 and the band continued as a 5 piece.
In 1987 the Maniacs recorded and released In My Tribe, which broke into the charts where it stayed 77 weeks, and selling over two million copies. It was voted one of the 100 most important releases of the decade by Rolling Stone Magazine. The band debuted on national television with appearances on The Tonight Show, Late Night with David Letterman and Saturday Night Live.
Following releases included Blind Man's Zoo, which went platinum and featured hit singles, Trouble Me and Eat For Two. Our Time in Eden was released in 1992, and featured hit singles, Candy Everybody Wants and These Are Days selling more than three million copies.
---
A second Saturday Night Live appearance on Halloween '92, preceded the Maniacs memorable performance at Bill Clinton's MTV Inaugural Ball where host Dennis Miller famously referred to them as "Chelsea Clinton's favorite band".
10,000 Maniacs has the added distinction of launching the career of singer/songwriter Natalie Merchant, best known for her successful 1995 solo album Tigerlily. 10,000 Maniacs continued without Merchant, bringing back John Lombardo and adding Mary Ramsey in 1994.
The new lineup released Love Among the Ruins in 1997, featuring a cover of Roxy Music's More Than This, which went to #24 on the Billboard charts, the highest-charting single in the band's history.
In December of 2000 founding member Robert Buck died at the age of 42. After a three-year hiatus the Maniacs returned in 2003 with long time friend and former guitar tech Jeff Erickson on lead guitar. In 2013 10,000 Maniacs released their first full-length album in 13 years. Music From The Motion Picture, was hailed as a beautiful affirmation of the band's classic poetic lyrics and dreamy Americana blend.
Tickets for 10,000 Maniacs range from $34 to $49. Purchase tickets by visiting www.thenewtontheatre.com or contact the Box Office at 973-383-3700.
The historic Newton Theatre, located at 234 Spring Street in Newton, NJ, was founded in 1924. Revitalized and fully renovated, Sussex County's premier entertainment venue reopened in 2011 as a 605 seat capacity live performing arts center. With it's rich history and diverse programming The Newton Theatre is essential to the buoyancy of New Jersey's Skylands region. 
Skylands Performing Arts Center, a 501(c)3 corporation, is dedicated to providing programs that educate, entertain and inspire all audiences regardless of ethnicity, age or income level.