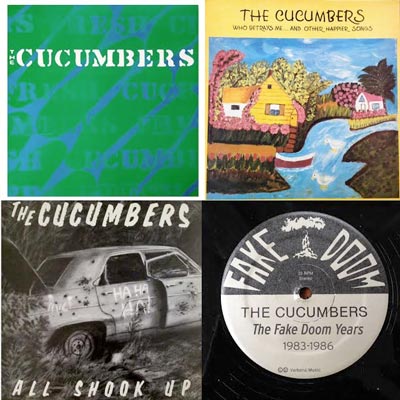 (HOBOKEN, NJ) -- Early recordings by the Cucumbers, the beloved NJ indie pop band, have been restored and remastered and are now available for the new century in digital format. The Fake Doom Years (1983-1986), to be released on March 27, 2016, features the band's first EP, The Cucumbers (1983), first LP, Who Betrays Me & Other Happier Songs (1985), and first 12-inch single, All Shook Up (1986). The compilation also includes two previously unreleased songs, a studio recording of "Keep Your Cool" and a live recording of "The Body Groove."
Jon Fried and Deena Shoshkes started the Cucumbers and found a home in the 80's indie pop scene in Hoboken, NJ. Fake Doom Records presented the band's first official release in 1983, which received rave reviews and college radio airplay and launched the band into several high-spirited years of touring and recording.
In celebration of the digital release of The Fake Doom Years, the mid-80s configuration of the Cucumbers will re-form for one show only. The reunion performance, featuring Jon Fried and Deena Shoshkes on guitars and lead vocals, John Williams on bass and Yuergen Renner on drums, is set for Friday, May 13 at the Rent Party at the Woodland, 60 Woodland Road, Maplewood, NJ. This was the band lineup that toured nationally and went on to record for Profile Records and Zero Hour Records.
Now available for download and streaming on iTunes, Youtube, Spotify, and more, the out-of-print early recordings, released only on vinyl, are now available to a new generation of indie pop fans. "Ever off the trend, instead of releasing new music on vinyl, we are making old vinyl-only releases available in the digital format," says Shoshkes.
Bonus track "Keep Your Cool" was recorded when the band won recording studio time by taking first prize in a battle of the bands contest sponsored by New Jersey radio station WDHA in 1985. The second bonus track, "The Body Groove" was recorded live at Ziggy's nightclub in Winston-Salem, NC, in September 1985 by club soundman Dan Griffin. Griffin later became a great friend to the band and travelled with The Cucumbers as road manager for several tours.
---
The New Jersey-based Fake Doom Records was launched in 1981 by Steve Neighoff and Nels Johnson. The Cucumbers' label-mates included The Delphobics, The Gyros, The Whyos, Joe Burdette and The New West, The Or Roy Combo and Life In A Blender.
For liner notes, credits and a detailed history of the band, visit www.thecucumbers.net