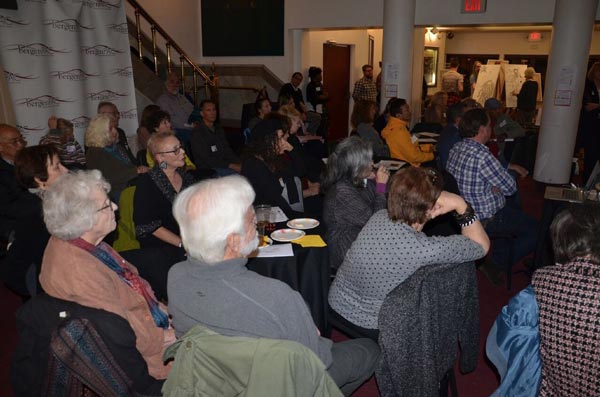 (Bergen County, NJ -- The Northern New Jersey Community Foundation's (NNJCF) ArtsBergen quarterly networking meeting, Connecting the Dots through Marketing: Engaging Our Communities Through the Arts, will be held on Tuesday, January 19, 2016 at Fairleigh Dickinson University's Student Union Building, located at 1000 River Road in Teaneck, New Jersey.  The event will take place in the Rutherford Room from 6:00-8:00 p.m.  Connecting the Dots is free and open to artists, writers, arts administrators, educators, municipal and community leaders, business owners, and arts supporters living or working in Bergen County.
Speakers will discuss how they engage communities through marketing and outreach, present marketing tactics and tools to use, and share success stories.  Confirmed speakers are award-winning visual artist Andrea Arroyo from New York City and Evonne Davis, Artistic Director of Gallery Aferro in Newark, New Jersey.   Featured guest performer, Howdy Stranger, a professional improvisation comedy group based in Hackensack, will entertain the audience with interactive games and skits.
During 2016, the Connect the Dots series will explore creative placemaking, the practice of integrating arts and culture into the fabric of a region, town, or city block.  A goal of the series is to create an environment to stimulate conversation about creative placemaking and encourage partnerships that can initiate projects across Bergen County. 
 "We're building community by presenting the arts in new social and economic roles: bridging diversity and boosting local economies," said Michael Shannon, NNJCF President.
---
Bring a Can of Soup for Center for Food Action
As part of the NNJCF's ongoing work to promote collaboration and civic engagement in the community, people are asked to bring to the meeting a non-perishable can of hearty soup to contribute to the nonprofit Center for Food Action (CFA).  The food donation will help keep neighbors in the region warm and nourished during the winter months. 
"We are grateful for the NNJCF's support of the Center for Food Action to help local families in need.  We are all in this together," said Jennifer A. Johnson, Director of Communications and Director Relations, CFA.
Space is limited.  Pre-registration is required and may be done online at http://www.nnjcf.org/connect-the-dots-registration-form/.  For further information, call 201-568-5608.
About NNJCF

The Northern New Jersey Community Foundation (NNJCF), a not-for-profit 501(c)3 organization based in Englewood, New Jersey, focuses primarily on the arts, civic engagement, education, and public health.  NNJCF works with local governments, school districts, businesses, non-profit organizations, and citizen groups in Northern New Jersey to improve community life.  Foundation partners identify and resolve regional problems and opportunities by talking and learning from each other, by sharing ideas, best practices, services, and resources. 
For more information, visit http://www.nnjcf.org, send an email to nnjcf@nnjcf.org, or call (201) 568-5608.  Follow the NNJCF on Facebook at Northern NJ Community Foundation/ArtsBergen and Twitter @NNJCF.
About ArtsBergen
ArtsBergen, an initiative of the Northern New Jersey Community Foundation, is an emerging arts alliance in Bergen County, New Jersey that supports and encourages creative placemaking, the practice of integrating arts and culture into a neighborhood, town, or region to build community and livability and boost local economy.  The initiative's mission is to energize and unify artists and arts organizations and connect the Bergen County community to the arts.