CANCELLED!! The Famed Kenny Vance & the Planotones Coming to The Newton Theatre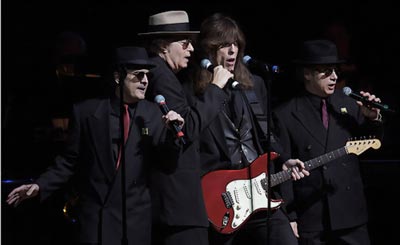 Note: This show has been cancelled due to illness
(Newton, NJ) -- Kenny Vance & the Planotones will perform at the Newton Theatre on Saturday, January 18th, 2014. Growing up in New York, Kenny Vance was captivated by the magic of rock 'n' roll. At 15, he was hanging around the Brill Building meeting other singers and songwriters, and eventually formed the successful group Jay and The Americans. They went on to record 15 albums and tour extensively, opening for the Beatles' and Rolling Stones' first U.S. Appearances.
Kenny remained with Jay and The Americans throughout their entire 11-year career. In the years that followed, Kenny launched an expansive new chapter in his own career, kicking off by producing the first recordings for Walter Becker and Donald Fagen — Steely Dan. Kenny went on to compose, supervise and produce a long list of scores and soundtracks for feature films and television. He gave musical life to American Hot Wax, the definitive big screen story of pioneering rock 'n' roll deejay Alan Freed, by recreating the groups of the '50s and early '60s for the film. The Planotones were formed as a fictional group specifically for the movie, and were reformed 14 years later, jumping from the movies to the world's concert stages with an illustrious career that's been going strong since 1992.
Kenny also was music director for NBC's Saturday Night Live and music supervisor for such Hollywood hits as Animal House, Eddie and the Cruisers, and a number of other films, including Hairspray and Streets of Fire. More recently, Kenny was music supervisor, producer and composer of the original score for Looking For An Echo, starring Armand Assante (Vance and The Planotones also performed all the music).
Among today's great vocal pop musicians, Kenny's voice has an original and inviting dimension. His material is influenced by the music of the '50s and '60s, but he consistently brings a unique and musically sophisticated point of view. In this sense Kenny is a classicist, opening the eyes of a new generation to a rich historical musical style. With his cool and sultry approach, filtered through a soulful Brooklyn vibe, Kenny gives a gift to those who are discovering him for the first time.
In 2002, Kenny Vance was inducted into the Vocal Group Hall Of Fame. In 2007, he was inducted into the Long Island Music Hall Of Fame in conjunction with the release of Countdown to Love.
Tickets for Kenny Vance & the Planotones are $49.00 for Premium seating, $39.00 for the Orchestra and $29.00 for the Balcony. Tickets for this performance will go on sale on Friday, October 11th at 11:00 am. Purchase tickets by visiting www.thenewtontheatre.com or contact the Box Office at 973-383-3700.
The historic Newton Theatre, located at 234 Spring Street in Newton, NJ, was founded in 1924. Revitalized and fully renovated, Sussex County's premier entertainment venue reopened in 2011 as a 605 seat capacity live performing arts center. With it's rich history and diverse programming The Newton Theatre is essential to the buoyancy of New Jersey's Skylands region. More information about The Newton Theatre may be found by calling 973-383-3700 or by visiting its website at www.TheNewtonTheatre.com .

originally published: 2013-10-08 20:30:16
---
Latest articles In music
Astana Opera Company Makes US Debut at Carnegie Hall




(New York, NY) -- The Astana Opera will debut in New York City on Monday, October 27th at 8:00 PM in the Stern Auditorium/Perelman Stage at Carnegie Hall. The program entitled "Voice of Asia" will include a special selection of Kazakh folk songs, solos from operas by Kazakh composers Zhubanov-Khamidi, Rakhmadiev and Mukhamejanov, arias from operas by Rossini, Verdi, Bernstein, Offenbach, and Borodin, and the Tchaikovsky Violin Concerto featuring brilliant young violinist Erzhan Kulibaev. The evening's Conductor is Abzal Mulhitdinov. Tickets are $10-$65 and can be purchased by visiting www.carnegiehall.org, calling CarnegieCharge 212.247.7800 or at the box office. --

click here for more...
Street Corner Symphony Comes To Gene & Shelley Enlow Recital Hall




(UNION, NJ) -- Gene & Shelley Enlow Recital Hall presents Street Corner Symphony on Sunday, October 5 at 3pm. Gaining international recognition on the NBC competition show The Sing-Off, Street Corner Symphony is an a cappella group based out of Nashville, Tennessee. Since their success on The Sing-Off, Street Corner Symphony has made their mark on the music world, recording albums and touring with Ben Folds. Their repertoire covers a wide range, from gospel and barbershop to rock and pop, delighting audiences of all ages. --

click here for more...
Walter Mitty And His Makeshift Orchestra Announce Full US Tour




(PORTLAND, OR) -- Walter Mitty and His Makeshift Orchestra will be heading out on a two month, full US tour starting October 3rd. The band will be bringing their unique up beat acoustic punk rock across the county in support of their new record "Well Soon," released through Lauren Records and Make New Enemies earlier this year. The tour includes a stop in Montclair, NJ on October 22 and Brooklyn, the night before. --

click here for more...
THE OUTLAWS Return to The Newton Theatre In January




(NEWTON, NJ) -- The Outlaws, with their undeniable sound and classic songs like Green Grass & High Tides, Ghost Riders in the Sky and There Goes Another Love Song, return to The Newton Theatre on Friday, January 16, 2015 at 8:00 pm. For 40 years, the Southern Rock legends have remained one of the most influential and best-loved bands of the genre. Now the Outlaws return with new music, new focus and an uncompromising new mission: It's about a band of brothers bound together by history, harmony and the road. It's about a group that respects its own legacy while refusing to be defined by its past. --

click here for more...