---
Tune into Radio Jersey with Lee Mrowicki every Monday through Friday from 6pm to 8pm
Broadcast on Asbury Music!
---
Two River Theater To Host "The New One"
by Mike Birbiglia In July
originally published: 05/16/2018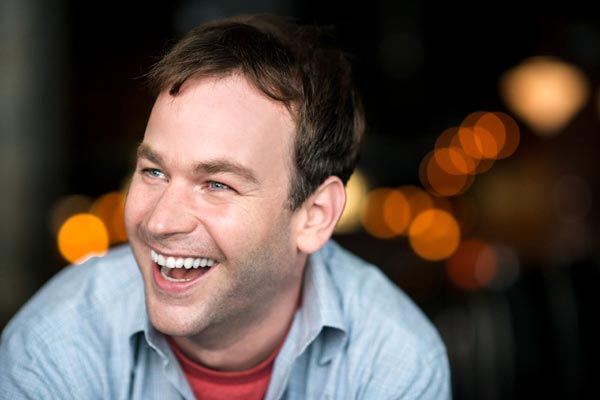 (RED BANK, NJ) -- Two River Theater, under the leadership of Artistic Director John Dias and Managing Director Michael Hurst, announces a special summer event: six performances of The New One, written and performed by Mike Birbiglia, prior to its New York premiere. Performances run July 18 through July 22.
Mike Birbiglia is a comedian and storyteller who has performed in front of audiences worldwide, from the Sydney Opera House to Carnegie Hall. His most recent shows, My Girlfriend's Boyfriend and Thank God for Jokes, were both filmed for Netflix. Mike has released four albums for Comedy Central Records, including My Secret Public Journal Live, which was named one of the "Best Comedy Albums of the Decade" by The Onion AV Club.
In addition to performing live, Birbiglia is an author and filmmaker who wrote, directed, and starred in the acclaimed films Sleepwalk with Me and Don't Think Twice. His book, Sleepwalk with Me and Other Painfully True Stories, was a New York Times bestseller and a finalist for the Thurber Prize for American Humor. As an actor, Birbiglia has appeared on Orange Is the New Black, Inside Amy Schumer and Girls, as well as in the films Trainwreck, The Fault in Our Stars and Popstar. Birbiglia currently lives in Brooklyn with his wife Jen.
Neil Genzlinger of The New York Times called Birbiglia's recent show Thank God for Jokes "the best night I've spent in a theater in a very long time." In The New One, the award-winning comedian approaches an entirely new subject in a new way with the same heart and humor we've come to expect. Do not miss the new one. It may be the best one.
The New One has toured to more than 40 cities around the country, with numerous sold-out shows. The run time of The New One is 70 minutes. Patrons must be 16 and up to attend performances.
---
The article continues after this ad
---
---
Performances will be in Two River's Rechnitz Theater on Wednesday, July 18 at 7:00pm; Thursday, July 19 at 7:00pm; Friday, July 20 at 9:00pm; Saturday, July 21 at 6:30pm and 9:00pm; and Sunday, July 22 at 3:00pm.
Two River Theater is located at 21 Bridge Avenue in Red Bank, New Jersey.


East Lynne Theater Company Receives $12,600 Travel and Tourism grant
(CAPE MAY, NJ) -- The award-winning Equity professional East Lynne Theater Company is receiving $12,600.00 from the Cooperative Marketing Grant sponsored by the New Jersey Department of State: Division of Travel and Tourism. The award was given based on the scores of an independent evaluation and funding review committee that studied ELTC's application and marketing plan.
---
Writers Theatre of New Jersey Presents 2019 Soundings Reading Series
(MADISON, NJ) -- The Writer's Theatre of New Jersey is kicking off their 2019 season with a series of new play readings in the new Madison Community Arts Center venue. This Winter Madison will be filled with writers eager to hear their pages come to life in front of an audience. Starting on January 3rd and going straight through until January 17th there will be 15 plays in 15 days.
---
Pixie Dust Players Presents Home for the Holidays at UCPAC
(RAHWAY, NJ) -- To celebrate the 10th Anniversary of the Pixie Dust Players, Union County Performing Arts Center is happy to present Home for the Holidays on Friday, December 21, 2018 at 7:30pm. The event consists of a gala and a benefit concert featuring over 150 performers and music from 24 different shows, all from the past ten years of Pixie Dust Productions. Prior to the concert, there will be a gala with light fare, a magician, and more. Not only is this a fundraiser for UCPAC's Youth Programming, but also a celebration supporting the continuance of this exciting partnership.
---
Grunin Center Hosts Lightwire Theater's "A Very Electric Christmas"
(TOMS RIVER, NJ) -- Lightwire Theater is traveling north from the members' New Orleans home base to present "A Very Electric Christmas" at the Jay and Linda Grunin Center for the Arts on Sunday, December 23 at 3:00pm and 6:00pm. Lightwire Theater is known for its signature brand of dazzling visuals, poignant storytelling, and music designed to evoke imagery. The group debuted their first "A Very Electric Christmas" in New Orleans in December 2013, and now takes this captivating and magical tale of adventure, friendship, and love – centered on a young bird named Max – throughout the country and around the world. This show brings a whole new meaning to "home for the holidays."
---
'Nutcracker' Ballet and 'Snow Day' Brighten Holiday Season at MCCC's Kelsey Theatre
(WEST WINDSOR, NJ) -- Holiday fun is on the schedule at Mercer County Community College's (MCCC's) Kelsey Theatre with two special events in December: Dance Connection's family version of "The Nutcracker" ballet December 14 to 16 and an interactive live radio show, "Snow Day," presented by MPOnstage December 22.
---


PHOTOS from "The Winter's Tale" at Shakespeare Theatre of New Jersey
(MADISON, NJ) -- The Shakespeare Theatre of New Jersey's concludes its 56th season with its sixth and final Main Stage production, The Winter's Tale. Last seen at The Shakespeare Theatre in 2008, Artistic Director Bonnie J. Monte directs this production of Shakespeare's tragicomedic romance. Veteran company members Jacqueline Antaramian, Jon Barker, Erin Partin, John Keabler, Raphael Nash Thompson,Seamus Mulcahy, Patrick Toon, and Ames Adamson are among a cast of 20 actors. Performances run now through December 30. 
---
REVIEW: "It's A Wonderful Life" At Mile Square Theatre
Nestled in a corner of Hoboken, on the second floor, lies the studios of radio station WMST.  It's a wonderful art deco studio, replete with fine wooden walls, embedded with colorful lights an applause sign.  On stage, we've got a few chairs, several microphones and a whole corner wedged with all the necessary props – piano, men's shoes, sheet metal – to create the audio effects for the production of "It's a Wonderful Life."
---
Betsy Aidem Puts A Woman's Touch On George Street Playhouse's "A Doll's House, Part 2"
Betsy Aidem is a veteran actress you might have seen on Broadway. Or maybe on an episode of "Law & Order: SVU." Or maybe on the big screen last year in "The Greatest Showman." But over the next few weeks in New Brunswick, Aidem is adding a brand-new section to her résumé — by helming a sequel (of sorts) to a classic play that's more than 100 years old.
---
REVIEW: "Irving Berlin's Holiday Inn" at Paper Mill Playhouse
One man's ambition is comfortable yet to another it is anathema.  This is the simplest way to convey the central theme of Irving Berlin's Holiday Inn – now playing at Papermill Playhouse.  The show is a rich, effervescent, beautiful, fun, musical that is well worth booking tickets for.  It enthralled my phone addicted 13 year-old and earned a shout out on Instagram - high praise in and of itself.
---
REVIEW: "A Doll's House, Part 2" at George Street Playhouse
For well over a century the world has been wondering what ever happened to Nora Helmer from Henrik Ibsen's classic play A Doll's House.  Nora was a woman during the 19th century in male dominated Norway when women could not sign contracts without their husband's permission.  She challenged this law, essentially committing forgery.  And, even though she committed a crime for the purpose of saving her husband's life, her actions wound up destroying her marriage when someone tried to blackmail her. 
---
Event calendar
Saturday, Dec 15, 2018
---
MUSIC

---
---
---
JOHNNY O

@ Lobby Bar at Hard Rock Hotel and Casino Atlantic City, Atlantic City - 10:00pm
---
WEIRD SCIENCE

@ Hard Rock Cafe at Hard Rock Hotel and Casino Atlantic City, Atlantic City - 10:00pm
---
---
---
---
Holiday POPS!

@ Richardson Auditorium in Alexander Hall, Princeton - 3:00pm and 6:00pm
---
---
---
---
---
---
THEATRE

---
Elf, The Musical

@ Surflight Theatre, Beach Haven - 2:00pm and 7:00pm and 7:30pm
---
---
---
---
Peter Pan

@ Axelrod Performing Arts Center, Deal Park - 7:30pm
---
---
---
---
---
---
---
---
COMEDY

---
Louie Anderson

@ Mainstage @ Union County Performing Arts Center (UCPAC), Rahway - 8:00pm
---
DANCE

---
---
---
FILM

---
---
View all events
---