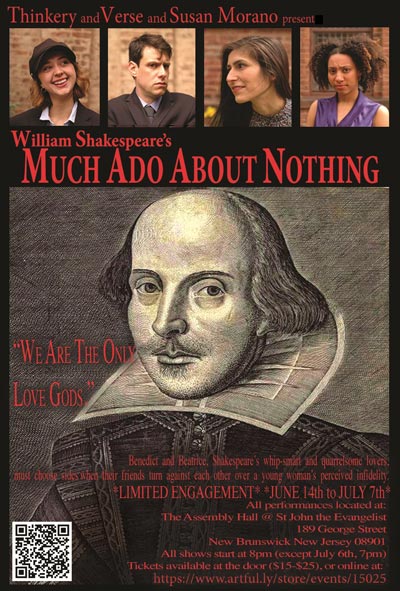 (NEW BRUNSWICK, NJ) -- Thinkery & Verse presents William Shakespeare's Much Ado About Nothing from June 14 through July 7th at Assembly Hall at St John the Evangelist in New Brunswick. In the play, Benedict and Beatrice, Shakespeare's whip-smart and quarrelsome lovers, must choose sides when their friends against each other over a young woman's perceived infidelity. They are presenting this classic play with a modern edge in a historic building. Following this run, the play will then tour throughout the tri-state region.
The production will be directed by J. M. Meyer with a tight-knit cast of just three other actors, all of whom just graduated from the acting conservatory at Rutgers Mason Gross: Hannah Hale (Benedict / Verges / Conrade / Margaret), Regan Sims (Beatrice / Dogberry / Balthasar / Antonio/Friar), and Karen Alvarado (Claudio / Hero / Don John / Sexton). Ashley Basile (BFA Rutgers '18) created the props, posters, and set design for the performance, reprising the same position she held for Thinkery & Verse's workshop production of Bride of the Gulf in February and March. 
According to Karen Alvarado, "We have it in our power to make the art we want to make right here, right now--we don't need to wait on New York. We also have the opportunity to embrace a truly theatrical style. We're not pursuing perfection, we're pursuing an art that feels dynamic, more immediate, more alive, more passionate." 
"It's a gloriously rough and tumble Much Ado," Meyer adds. "I've never had this much fun in the rehearsal room. With only four actors, the collaboration is quite tight, earnest, and honest. It helps that Regan Sims and Hannah Hale came straight out of Mason Gross. Their training lends them a professional focus and confidence that let's us focus solely on the work."  
Throughout the process, the four artists have been accompanied by the steady coming and goings of the congregation at St. John the Evangelists, local artists invited to "crash" the rehearsals, and Karen and John's eight month-old baby, Matthew "Mateo" Marlowe. 
---
The article continues after this ad
---
---
"Mateo sets the energy level in the room," Alvarado says. "He lets us know when we need a break, when we need a snack, or when the play gets a little too scary. He can sit up, but he can't crawl yet: he's the very definition of a focused (if captive) audience member." 
The four person casts induces some zaniness. At one point, the whole cast turns into a pack of dogs to chase down the villains of the play. During a climactic wedding scene, the actors change characters with a breathless pace, but aim for drama, not just slapstick. 
Tickets are available online.  St John the Evangelist is located at 189 George Street in New Brunswick, New Jersey.