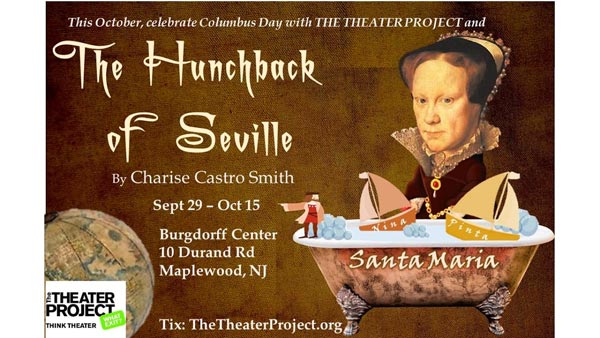 (MAPLEWOOD, NJ) --  The Theater Project presents The Hunchback of Seville from September 29 through October 15. Called "a zany trip back in time," The Hunchback of Seville tells the backstory of Spain's stumbling on to the new world.  Charise Castro Smith's wild new comedy about the "discovery" of the new world and the powerful women standing over Christopher Columbus' shoulder skewers history while satirizing the personality politics of the 21stcentury.
At the turn of the 16th century, Christopher Columbus has just returned with gold in his pockets and blood on his hands. Maxima Terriblé Segunda, the brilliant adopted sister of her dying Royal Highness Queen Isabella, is living out her life locked away in a tower, until it is decided that the future of the country is in her nerdy, reclusive hands. In a bitingly funny and madcap take on the past, Maxima weaves her way through mountains of prejudice, politics, religion, and the horrors of history.
Although NJEA members will receive discounts throughout the run of The Hunchback of Seville, all teachers and school staffers are being invited to attend the Friday, September 29 performance at no charge.  There will be a coffee & cake reception with the cast immediately after the THANK YOU, TEACHERS/STAFF performance.
The free tickets are available with school or NJEA ID cards at the box office beginning 7 PM, Friday, September 29, on a first come, first served basis pending availability; free tix may be reserved in advance with a $2 service charge at www.thetheaterproject.org. Please present ID at box office when picking up tickets.
About The Theater Project: Founded in 1994, The Theater Project frequently chooses plays to shine light on social issues of community concern, andhas stimulated New Jersey audiences with award-winning, thought provoking theater. Each year, the company offers 200 opportunities for actors, writers and directors while providing forums to express ideas that spark the imagination.
---
The article continues after this ad
---
---
The Theater Project presents its main stage season at the Burgdorff Cultural Center (10 Durand Road) in Maplewood, New Jersey.  TTP also offers programs for children and showcases for new plays and playwrights in Cranford, Rahway and Union. 
originally published: 2017-08-23 00:00:00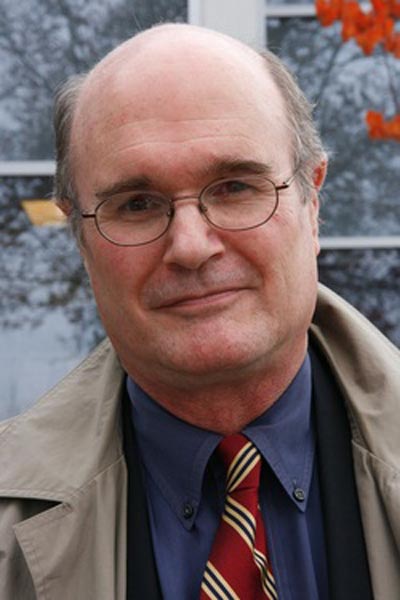 A Look At The 2018-19 Theatre Season At Centenary Stage Company
(HACKETTSTOWN, NJ) -- Theater fills the Lackland Performing Arts Center as Centenary Stage Company announces its 2018/19 professional theater line-up.  This season's main stage professional theater series includes four exciting CSC productions ranging from horror to a world premiere, from a spectacular musical to a timely relevant classical text. The season launches with Bram Stoker's classic horror Dracula adapted and directed by Charles Morey. The season continues with the rolling world premiere of Apples in Winter by Jennifer Fawcett. CSC's Family Holiday Spectacular returns with everyone's favorite orphan in Annie: The Musical. Finally, theatre luminaries Randall Duk Kim and Anne Occhiogrosso return to present John Alan Wyatt's translation of Henrik Ibsen's An Enemy of the People. Centenary Stage Company's Women Playwrights Series also returns and new for 2018/19 season Centenary Stage Company will be presenting the Gates Ferry Series: "What is Truth?" led by guest artists Randall Duk Kim and Anne Occhiogrosso.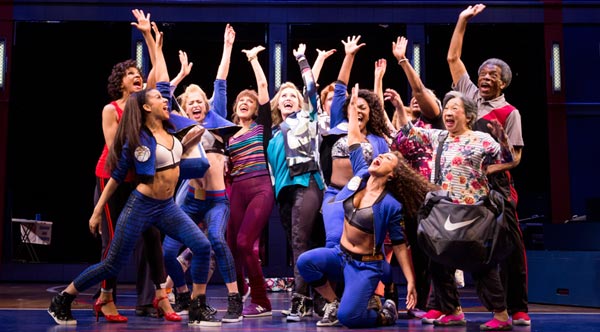 "Half Time" - A New Musical About Not Acting Your Age
Dori Berinstein knew she wanted to tell a story about celebrating life, grabbing opportunities and living life to its fullest. She found that story in Newark, New Jersey.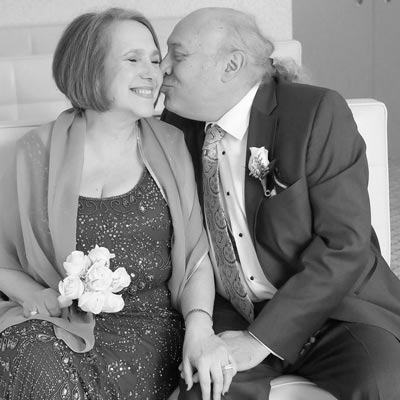 Long Branch Theatrical Couple Uncovered Creative Potential of Artists with Disabilities
In the early 1990s Gabor Barabas, MD, was medical director of the Matheny School and Hospital, a special hospital and school in Peapack, NJ, for children and adults with medically complex developmental disabilities. His wife, SuzAnne, who was director of the Peanut Butter Theatre for children, couldn't help wondering about the creative potential that might reside inside the minds of her husband's patients if they were given the opportunity to express themselves.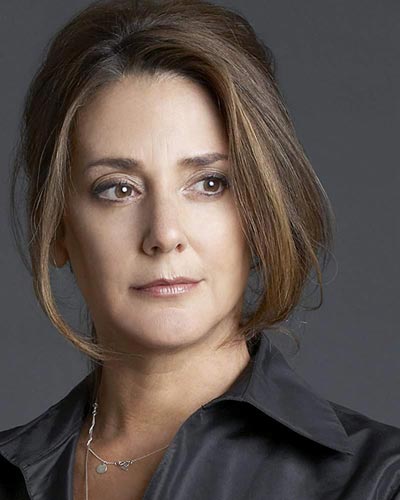 Talia Balsam Talks About Her Career And Upcoming Reading At George Street Playhouse
If acting were to come naturally to anyone, it would come to Talia Balsam. Balsam, who will appear in a reading of Eugene Pack's play "Night with Oscar" on June 8 at the George Street Playhouse in New Brunswick, is the daughter of two very successful actors—the late Oscar winner Martin Balsam and Joyce Van Patten.