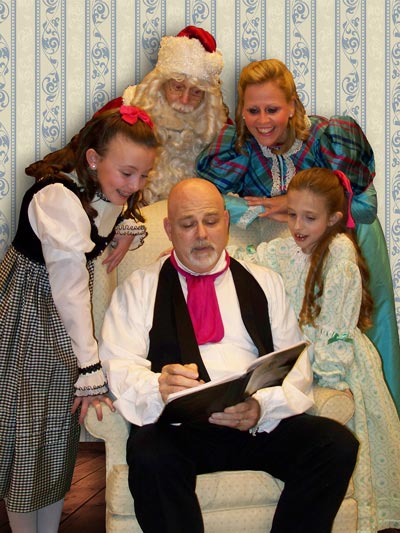 (WEST WINDSOR, NJ) -- Mercer County Community College's (MCCC's) Kelsey Theatre continues its holiday offerings with what has become a Kelsey tradition. The Kelsey Players present "Twas the Night Before Christmas" from December 8-10.  Based on the classic poem that Clement Moore penned as a Christmas present for his children, the show embraces the anticipation and joy of the long-awaited midnight visit by a very special guest.
This musical adaptation features Santa, his eight tiny reindeer, some remarkably talented sugar plums, and the cutest mouse in New York City. The Moore family and their neighbors will create a magical winter wonderland circa 1822 New York for audiences of all ages to enjoy.
Reprising their roles as Clement and Eliza Moore are Ken Ambs of Newtown, Pa., and Diane Wargo of Ewing; John Costello of Hamilton Square is Mr. Kringle. Featured as the Moore children are Sedona Raphael of Cranbury as Margaret and Katie Greendorfer of Lambertville as Charity.
The ensemble includes Aimee Clark and Hayden Clark of Lawrenceville; Chase Corallo of Mercerville; Cathy Coryat of Cream Ridge; Kelsey Egan, Freddie Iezzo, Luddy A. Iezzo II, Marla Mangione Iezzo and Mateo Iezzo, all of Hamilton; Makenzie Ivey and Peyton Ivey of Lawrenceville; Xavier Knowles and Sekai Marshall of Trenton; Zach McDevivtt of Lawrenceville, Cameron Miller and Chandler Miller of Trenton; Samanatha Otto of Langhorne, Pa.; Cody Rakow of Jackson; Sydney Regen of Robbinsville; Leo Sanders of Trenton, Shreya Savur of Robbinsville; Suzanne Smith of Newtown, Pa., Jonathan Stanley of East Windsor; Caitlin Treacy of Fairless Hills, Pa.; Isabel Urban, Tobias Urban and Zachary Urban of West Windsor; Alexandra Williams and Alison Williams of Trenton, and Kaitlyn Young of Robbinsville.
The production team includes Director Diane Wargo, Music Director Pat Masterson, Choreographer Kristyn Chiarello, Sound Designer Bernie McGowen , Stage Manager Ginny McGowen, Assistant Stage Manager Danielle Miller-Winrow, and Costumer Kate Pinner.
---
The article continues after this ad
---
---
Performances take place Friday, December 8 at 7:00pm.; Saturday, December 9 at 2:00pm and 4:00pm; and Sunday, December 10 at 2:00pm and 4:00pm. Tickets are $12 for adults, and $10 for seniors and children.
Kelsey Theatre is located on the college's West Windsor Campus, 1200 Old Trenton Road. The theater is collecting new, unwrapped toys, along with new hats, scarves and gloves, during all performances of 'Twas" for donation to a local charity. (The Marines Toys for Tots holiday drive ends Dec. 7.) A collection box is located in the Kelsey Theatre lobby.
Closing out the Kelsey holiday season is "The Nutcracker," an abridged family version presented by Dance Connection of Hillsborough (formerly known as New Jersey Youth Ballet). This narrated, one-hour version of the classic Tchaikovsky ballet will be performed Friday, Dec. 15 at 7 p.m.; Saturday, Dec. 16 at 1 p.m. and 4 p.m.; and Sunday, Dec. 17 at 1 p.m. and 4 p.m. Tickets are $16 for adults, and $14 for seniors and children.
Kelsey Theatre is wheelchair accessible, with free parking next to the theater.  For a complete listing of adult and children's events, visit the Kelsey website or call the box office for a brochure.
Tickets for all shows may be purchased by calling the Kelsey Box Office at 609-570-3333 or online at www.kelseytheatre.net  Kelsey Theatre is wheelchair accessible. Free parking is available next to the theater.