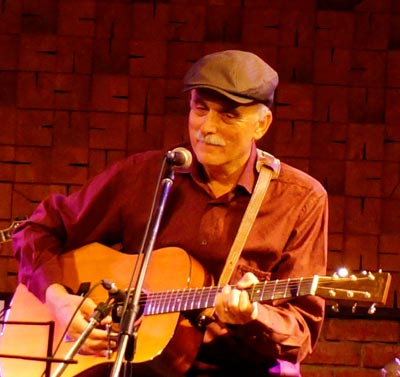 (MORRISTOWN, NJ) -- Jim Kweskin will headline at the Minstrel Acoustic Concert Series on Friday, May 18 at 7:30pm at the Morristown Unitarian Fellowship, 21 Normandy Heights Rd, Morristown. Jerry Krantman & the Durn Tootin' String Band will open.
The event is part of the Minstrel Acoustic Concert Series, sponsored by The Folk Project each Friday evening at the Fellowship. Admission is $10.00 per adult at the door.  Children 12 and under are free. For further information, call 973-335-9489, or visit www.folkproject.org. The Folk Project website also offers music samples of Minstrel performers: www.Minstrel.folkproject.org.
Jim Kweskin is probably best known as a singer and bandleader. He also created one of the bedrock guitar styles of the folk revival, adapting the ragtime-blues fingerpicking of artists like Blind Boy Fuller to the more complex chords of pop and jazz. He has maintained a remarkably consistent musical vision since his jug band days, continuing to explore traditional folk and blues with the sophisticated sensibility of a jazz musician and jazz with the communal simplicity of a folk artist. He has recorded solo ventures, as a member of the U and I band, and with U and I bandmate Samoa Wilson, and continues to perform widely in various formats. In recent years he and Geoff Muldaur have often appeared as a duo, revisiting and expanding on their Jug Band repertoire.
Jerry Krantman is a relatively recent member of the Folk Project and was the featured act at the April Open Stage. He has a large and varied repertoire of songs old and new, and presents them with skilled yet understated guitar accompaniment. The Durn Tootin' String Band is comprised of Dara Diamant (vocals and percussion) and Bill Nixon (fiddle and bass).
The Folk Project is a non-profit 501(c)(3) Corporation whose mission is to present high caliber folk music performances and instructional workshops for the public and members; to encourage development of musicianship and performance skills in the northern New Jersey area; and to provide interesting social and learning activities relating to traditional and participatory folk music and dance.
---
The article continues after this ad
---
---
Funding has been made possible in part by funds from Morris Arts through the New Jersey State Council on the Arts/Department of State, a Partner Agency of the National Endowment for the Arts.