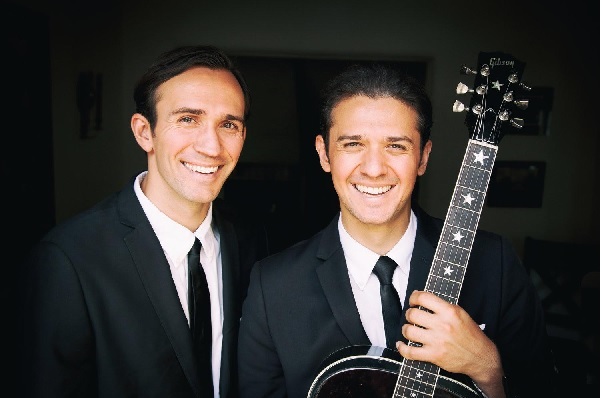 (NEWTON, NJ) -- The Newton Theatre presents The Everly Brothers Experience, featuring the Zmed Brothers, on Friday, May 18, 2018 at 8:00pm. The Zmed Brothers bring a genuine and youthful Everly Brothers Experience to the stage. Zachary and Dylan Zmed celebrate the genetic intimacy so ever present in the harmonies created by Don and Phil Everly. Tickets range from $22 to $37.
When the guitar became electric, the Everly Brothers bridged the gap between Country and R&B, creating Rock n' Roll that had never been heard before. With countless hits and classics, the Everly Brothers inspired artists like The Beatles, Bob Dylan, The Rolling Stones, Simon and Garfunkel, The Kinks, and many groups that utilize the blend of two part harmony. Their career spanned three decades and they continue to influence artists around the world. The Everly Brothers' songs, like Bye Bye Love, Wake Up Little Susie and All I Have To Do Is Dream, will live on for generations to come.

In January of 2016, brothers Zachary and Dylan Zmed (acoustic guitars/vocals) and their partner, drummer Burleigh Drummond, began developing The Everly Brothers Experience show. Since then they have celebrated the pivotal sounds of The Everly Brothers music with enthusiastic crowds all across the US and over seas in iconic clubs, theaters, performing arts centers, casinos, ballrooms, and coliseums. The Zmeds say, " We are not impersonators, Our aim is to honor the aesthetics of their iconic sound and honor their unique place in music history all while having a little fun telling our own personal story," and they do just that. 

Growing up with father, Adrian Zmed, a traveling singer/dancer/actor (Grease 2, Bachelor Party, T.J. Hooker), and mother Barbara, a second grade teacher in a suburb of Los Angeles, the Zmed Brothers continually strive to pay homage to their roots by always infusing an instinctual blend of entertainment (a la Smothers Brothers) and contextual education in their performance. 

Their five piece band includes drummer Drummond, the two singing brothers Zachary and Dylan Zmed, up front with the signature Everly acoustic guitars, plus an electric guitarist, and bass player.

The whole group is absolutely thrilled to be supporting the recognition and preservation of the intimate origins of America's greatest Rock n' Roll singing sibling duo. 

The historic Newton Theatre is located at 234 Spring Street in Newton, NJ.  Additional information may be found at www.TheNewtonTheatre.com or by calling 973-940-NEWT.  

   

Skylands Performing Arts Center, a 501(c)3 corporation, is dedicated to providing programs that educate, entertain and inspire all audiences regardless of ethnicity, age or income level.
---