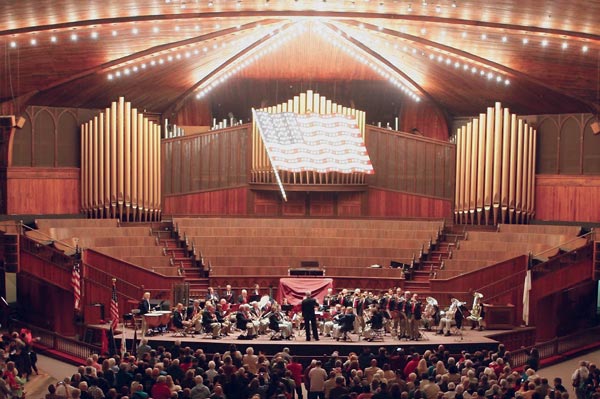 (OCEAN GROVE, NJ) -- In the spirit of the Memorial Day holiday, the Ocean Grove Camp Meeting Association (OGCMA) will kick off its 150th summer season with a free concert by the Atlantic Wind Ensemble on Saturday, May 25, 2019 at 8:00pm in the Great Auditorium. 
Founded by Director Emeritus Harry D. Eichhorn in 1990 and under the Direction of Dennis T. Eschbach for the past several years, the Atlantic Wind Ensemble is a 40-piece collective of volunteer musicians carrying on the Concert Band tradition of the Jersey Shore for the sheer joy of performance and entertaining others.
The program will include:
Presentation of the American Flag                         American Legion Post 432
National Emblem March Trio                                  Spring Lake, NJ
---
The article continues after this ad
---
---
Star Spangled Banner                                            Francis Scott Key/ arr. Williams
Brooke's Chicago Marine Band March                   Roland Seitz
Themes from an Outdoor Overture                        Aaron Copeland/ arr. Curnow                                                                               
Concerto for Trombone and Concert Band            Korsakov/ arr. McAlistar, Geoff Greice, soloist
The Lion King                                                        arr. Higgins, Eliot Prowse, Conductor                                                                            
 America the Beautiful                                            Samuel Ward/ arr. Swearingen
 A Celebration of Taps                                           Daniel Butterfield/ arr. Brubaker, Kate Freeman, soloist                                                                              
 Armed Forces Salute                                            arr. Bob Lowden
Intermission
 Americans We                                                       Henry Fillmore
 Alan Silvestri: A Night at the Movies                      arr. Brown, Eliot Prowse, Conductor
 God Bless America                                                arr. Jennings
 Pop and Rock Legends: Chicago                          arr. Wasson
 Kentucky 1800                                                       Clare Grundman
 The Blue and the Grey- A Civil War Suite             Clare Grundman, Eliot Prowse Conductor                                                                                    Stars and Stripes Forever                                      Sousa/ arr. Brion- Schlissel
Stars & Stripes Forever                                          John Philip Sousa
The Great Auditorium is located at Pilgrim and Ocean Pathways. The Great Auditorium is handicapped accessible. For more info, visit www.oceangrove.org.