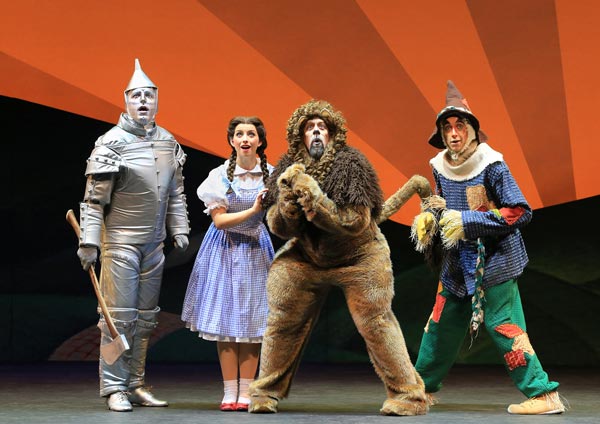 (NEW BRUNSWICK, NJ) -- State Theatre New Jersey presents The Wizard of Oz for three performances on Friday, May 4, 2018 at 7:30pm and Saturday, May 5, 2018 at 2:00pm and 7:30pm. Featuring the classic songs, as composed by Harold Arlen, "Over the Rainbow," "Ding Dong the Witch is Dead," and "If I Only Had A Brain." Tickets range from $35-$98.
Leading the Wizard of Oz cast as Dorothy is Kalie Kaimann. She previously played this role for the Children's Theatre of Cincinnati. She has also performed as Bonnie in Anything Goes, Logainne in 25th Annual Putnam County Spelling Bee, Ulla in The Producers, Millie Dilmount in Thoroughly Modern Millie, Belle in Disney's Beauty and the Beast, and Minnie Fay in Hello Dolly!
Chris Duir will play the role of Scarecrow/Hunk. For Prather Entertainment Group he played the role of Bert in Mary Poppins and Eugene in the national tour of Grease. Regional credits include Crazy For You (Bobby Child), Damn Yankees (Smokey), The Drowsy Chaperone (George), and Singin' in the Rain (Production Tenor).
Christopher Russell will portray Tinman/Hickory. He performed as Avram/Perchik understudy in the national tour of Fiddler on the Roof. Regionally he has performed in Funny Girl (Eddie Ryan), The Producers (Leo Bloom), The Full Monty (Jerry Lukowski), Lend Me A Tenor (Max), Steppin' Out (Geoffrey), Dirty Rotten Scoundrels (Freddy Benson), and Second Chances: The Thrift Shop Musical (Wally), for which he also composed the original score.
Victor Legarreta will portray the Lion/Zeke. He has performed professionally in over 150 productions nationally, internationally, and on cruise ships including the recent roles of the Cop in the hilarious comedy Shear Madness, Public Enemy #1 in Anything Goes and numerous comedies for Prather Entertainment Group.
---
The article continues after this ad
---
---
The other leading roles will be played by: Emily Perzan (Miss Gulch/Wicked Witch of the West) Regional: Velma (Chicago), Cassie (A Chorus Line), Vivian (Legally Blonde), Maureen (Rent), Rutledge (1776). Kirk Lawrence (Professor Marvel/The Wizard of Oz) Regional credits include: Clue: The Musical (Colonel Mustard), Oklahoma (Mr. Carnes), A Wonderful Life (Mr. Potter), and Sweeney Todd (Todd). He toured internationally with Julie Taymor, Steve Reich, and Penny Arcade. Ashleigh Thompson (Aunt Em/Glinda) Regional: 9 to 5 (Judy), Jenny Wiley Theatre; Company (Kathy) Heritage Theatre Festival; and Oliver (Nancy), Festival 56. Michael Weaver (Uncle Henry/Gatekeeper) National Tours: Fiddler on the Roof, Seven Brides for Seven Brothers. Regional: Shear Madness, Camelot, Sister Act, Greater Tuna, and Christmas Story.
And of course everyone wants to know who will play Toto. His name is Murphy and he is a white Brussels Griffon/Cairn Terrier mix with scruffy fur and an adorable underbite. Murphy was rescued on February 5th, 2016 from the ASPCA in Chandler, AZ by Lizzie Webb (music director for The Wizard of Oz tour) and was immediately welcomed into the theatre world. He has been a trusty backstage companion and within a few months of adoption he was onstage as Willoughby in Mary Poppins. This will be his second time playing Toto.
Dean Sobon will serve as the Director and previously created the national tours of Fiddler on the Roof and Seven Brides for Seven Brothers. Other directing credits include: Clue, the Musical, West Side Story, Oklahoma, Crazy For You, A Christmas Carol, How To Succeed In Business, A Closer Walk with Patsy Cline, Big River, The Sound of Music, and Guys & Dolls. Amy McCleary will create the magical choreography and she was the Director/Choreographer of the national tour of Memphis, the Musical and the choreographer of the national tour of The Wedding Singer.
STATE THEATRE NEW JERSEY is located at 15 Livingston Ave in New Brunswick, New Jersey.