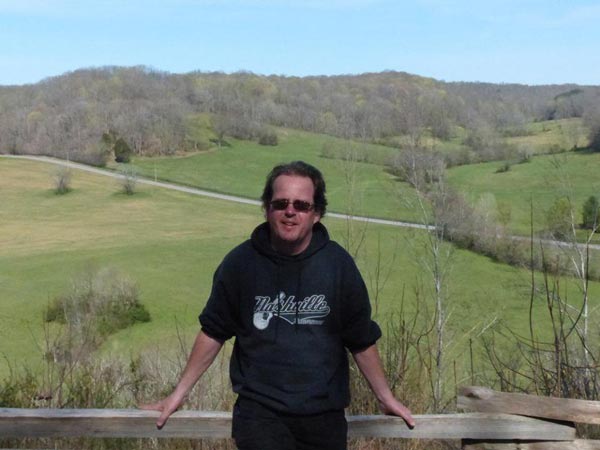 Jersey native turned Nashville Indie rocker Rich Lynch has released a new single called "Those Days" which takes a look back to his days as a teenager when he would drive his car and be often seen "screaming from the top of his lungs" while sitting behind the wheel.
"This one started off as an attempt to form a co-writing partnership with some friends in town," Lynch said. "I had a great opening verse that sparked an idea. I wanted my bandmates to also recall the days of their youth and early musical pursuits. But, their reply to me was 'no one cares about us' so I had to go back to the drawing board."
The song began when Lynch sat down with a guitar, started strumming, and the first lyrics that came to him were "Gonna rock you in the cradle of love all night long as we listen to radar love". He realized that those words referenced three songs from 1973, 1983 and 1990. So, that offered an interesting parameter.
"That time period happened to coincide with my days of youth and first exposure to rock and roll and that historical time when record sales were king, so I knew what to do next," Lynch said providing further explanation into his songwriting process. "Armed with a direction the track became an homage to acts that I loved from each of those three decades - the 70s, 80s and 90s - a period in history when emerging artists had more opportunity thanks to the legion of record buyers who would make many of them stars in their time and beyond."
"As a radio host I've spoken to many of the people I idolized as a kid, and there's one irrefutable fact that unites the group," Lynch suggested. "Many of them still have careers today thanks to the boost from record sales and widespread exposure from media outlets like MTV when fans still purchased music."
---
The article continues after this ad
---
---
"I'm proud of the completed product and once again producer Jay Pounders did a fine job of helping us cross the finish line," Lynch concluded. "It's probably the only song that name checks Springsteen, Little Steven, Jackson Browne, KISS, POCO, Kurt Cobain and several other prominent rockers at the same time. So, it looks like we've made history once again in Nashville."
When the song was complete Lynch realized it was also as much about the era and times the music was made as much as the musicians themselves. It is a love song to the music and artists that inspired him growing up but one that also asks if there can ever be another age as musically rich as that thirty to forty year period was.
"Well, this week there were stunning announcements made from some of the nation's largest retailers that they will be will be scaling back or completely eliminating sales of CDs in their brick and mortar stores," Lynch recalled. "As if it wasn't hard enough for musicians to make it today it makes you wonder how a new generation of influential stars will ever be able to emerge from the shrinking marketplace."
"Those Days" is a four-minute song that is modern yet a bit retro as it attempts to create a hybrid of that 70's and 80's California sound with a dream-like undertone and is the first release from Rich Lynch under his "new deal" with his fans announced earlier this year.
"Essentially, the deal is you buy my songs, I'll continue to make music," Lynch says. "When I gave that plan some thought I realized it needed a little more."
The added extra ingredient was to build an easy to use sales platform where fans could easily purchase his songs from all the top online retailers - hence, OneMillionDownloads.com was born.
"In some ways it pays homage to Alex Tew and his Million Dollar Home Page of 2005," the musician continued. "But, not really. We plan on achieving a similar success sales wise but my goal is to prove that there still is an active audience that will buy music online - especially when the songs are quality and the story is good."
Lynch created OneMillionDownloads.com in early 2018 as an easy to use song selling platform for his complete catalogue of digital music. Updates and breaking news will be published on the website throughout the year as it happens.
With easy access to Music City Lynch has attended a lot of conferences and he has spoken to many business executives in Music City and many of them - according to Rich - are starting to say the same thing and that is: (1) Fans still have control to determine who will become the voices of their generation, and, (2) It is now important and imperative for artists to take their music directly to their fan bases.
"I'll gladly throw my hat in that ring and be the poster boy for a new musical revolution," Lynch concluded. "What better place to launch that from than Music City? Power to the People!"