---
Did you know NJ Stage offers FREE Event Listings? Nearly 100,000 listings were viewed in January. Be sure to add your events to our calendar and get your shows noticed!
---
Popular Culture and the American Theatre: past, present, and New Jersey's future
originally published: 03/09/2018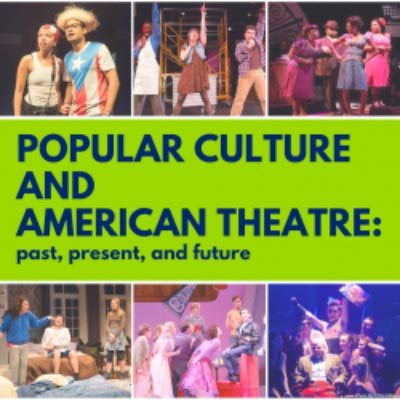 (PRINCETON, NJ) -- The Lewis Center for the Arts hosts Popular Culture and American Theatre: past, present, and future on Tuesday, March 20 at 7:00pm.  This is a panel discussion featuring leadership from four of the state's top professional theatres: The Shakespeare Theatre of New Jersey, Two River Theater, Passage Theatre, and Paper Mill Playhouse. The panel  will explore the tension and the harmony between theatre and pop culture. The event is free admission but reservations are recommended.
While sometimes overshadowed by popular culture—in the way that movies, television, sports, digital media, fashion, and politics are in the immediate frenetic moment—theatre has nonetheless lasted the march of history and both infiltrated and been infiltrated by popular culture's force. Bonnie Monte, Artistic Director at The Shakespeare Theatre of New Jersey in Madison, brings the perspective of classic theatre—a genre that, unlike the fleeting nature of pop culture, has persisted in interest and relevance through the centuries. John Dias, Artistic Director at Two River Theater in Red Bank, has been championing new work targeting younger audiences, and will speak to how he works with and against pop culture to capture their attention. Ryanne Domingues, Artistic Director at Passage Theatre in Trenton, focuses her work on diverse voices that are often excluded from pop culture, and will speak to theatre's efforts to get them heard. Todd Schmidt, Managing Director of Paper Mill Playhouse in Millburn, brings the perspective of a theatre that has successfully developed and produced musicals that have made forays in to popular culture. 
The discussion will be moderated by Paula Alekson, Artistic Engagement Manager at McCarter Theatre in Princeton, and will be opened to audience questions and comments.
Lewis Center for the Arts is located at 122 Alexander Street in Princeton, New Jersey.
This program is presented by NJ Theatre Alliance and hosted by Princeton University's Lewis Center for the Arts and made possible through the generous support of the New Jersey Historical Commission.
---


The Lord Stirling Theater Company Presents "Treasure Island"
(BASKING RIDGE, NJ) -- The Lord Stirling Theater Company will present Treasure Island in the English Barn Theater at the Farmstead Arts Center October 5-7 and October 12-14. Adapted for the stage by award-winning playwright Ken Ludwig (Lend Me a Tenor, Crazy for You) from the classic novel by Robert Louis Stevenson, Treasure Island follows the adventures of a boy named Jim Hawkins who comes into possession of a treasure map.
---
Premiere Stages to Present World Premiere of Liberty Live Commission "Black Tom Island"
(UNION, NJ) -- Premiere Stages at Kean University will present Martin Casella's Black Tom Island from October 11-21 at Liberty Hall Museum (1003 Morris Avenue, Union, N.J.). Originally commissioned over a two-year cycle through Premiere's Liberty Live Commission, Black Tom Island will feature actors Damian Buzzerio, Mason Hensley, Jenna Krasowski and Bart Shatto. Producing artistic director John J. Wooten directs.
---
American Poetry Theater Presents "Gun Love"
(LONG BRANCH, NJ) -- The American Poetry Theater presents Gun Love from October 5-7.  The play, written by cast and community members, runs about one hour and is a collection of monologues and a skit dealing with gun violence in America.  
---
Seuls en Scene 2018 Runs This Week At Lewis Center For The Arts
(PRINCETON, NJ) -- Princeton University's Lewis Center for the Arts, Department of French and Italian, and L'Avant-Scène will present the seventh annual Seuls en ScèneFrench Theater Festival, which will take place from September 21 to 29 at venues across the University's campus. Most performances will be in French with English subtitles; all are free and open to the public.
---
Smugbug Productions presents The Eleventh Hour! at The Raritan River Festival
(NEW BRUNSWICK, NJ) -- The Eleventh Hour!'s Chris Pasi with composer David Seamon for a night of acoustic renditions of songs from the rock musical comedy at the Raritan River Festival at Boyd Park in New Brunswick, NJ on Sunday, September 30 at 1:00pm. 
---


Two River Theater Presents The World Premiere of "Pamela's First Musical"
If anyone ever doubts that New Jersey is home to great theatre, just point them to the world premiere of "Pamela's First Musical" at Two River Theater. The cast and creative behind this show by Wendy Wasserstein and Christopher Durang includes a combined total of more than 25 Tony Award nominations and seven wins. It's a cast that would look impressive at any theatre – Broadway  or otherwise. According to one of the stars, the opportunity to work with the 10-time Tony Award nominee director/choreographer Graciela Daniele and to be part of a new musical was too good to pass up.
---
The Jersey Devil on stage: An interview with playwright Brandon Monokian
Up-and-coming New Jersey native Brandon Monokian has worked as an actor, writer, director, producer, and popcorn sample distributor. He wrote and starred in the film Happy Yummy Chicken and co-founded the production company Love Drunk Life with Katie Frazer. Together they have produced plays, films, books, and, to support their creative work financially, a product line: lovedrunklife.com. Monokian received national attention through Revolutionary Readings (his TEDx talk at Princeton Library), which was used to fight the banning of the book Revolutionary Voices from two New Jersey libraries. 
---
An Interview With Nicole Pandolfo
Nicole Pandolfo is a talented playwright from New Jersey whose work has been produced on four continents along with readings and productions throughout the Garden State. Her play, Brick City, is currently being presented at Premiere Stages at Kean University now through September 23rd. The play was commissioned and developed via the NJPAC Stage Exchange program. Premiere's production features Rafael Benoit, Jacqueline Correa, Madison Ferris and Chris Grant under the direction of Jessi D. Hill.
---
Ritz Opens Season With "Incorruptible"
Fun seems to be the operative word for "Incorruptible," the production that opens the fall season at  the Ritz Theatre Company on Thursday, September 13.
---
"Bright Star" at Surflight Theatre
Steve Martin and Edie Brickell's Broadway musical "Bright Star" has come to Surflight Theatre in Beach Haven. The comedian and the songwriter created the show after collaborating on a Grammy-winning bluegrass album called "Love Has Come For You." "Bright Star" is set in the American South in the 1920s and '40s, and it's on a similar musical wavelength. We recently spoke with Surflight's Artistic Director Steve Steiner, actor Adrianne Hick and director Elizabeth Lucas about bringing "Bright Star" to Long Beach Island.
---
Event calendar
Thursday, Sep 20, 2018
---
MUSIC

---
---
---
---
---
---
Linda Eder

@ Count Basie Center For The Arts, Red Bank - 8:00pm
---
---
---
THEATRE

---
Souvenir

@ Surflight Theatre, Beach Haven - 2:00pm and 8:00pm
---
---
The Shuck

@ Cape May Stage, Cape May - 7:30pm
---
---
---
---
---
Brick City

@ Premiere Stages at Kean University, Union - 8:00pm
---
FILM

---
---
KIDS

---
---
View all events
---