---
Tune into Radio Jersey with Lee Mrowicki every Monday through Friday from 6pm to 8pm
Broadcast on Asbury Music!
---
PODCAST: 2 Guys From Jersey - Episode 28
originally published: 04/12/2018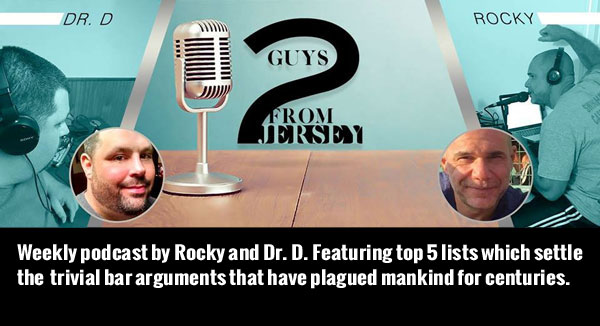 For more on the podcast click here.  Follow the podcast on Facebook and Twitter.
---
If you have a podcast and would like more exposure for your show, email us at info@newjerseystage.com - let us know where the podcast is and we'll check it out.  If we like it, we'll run it on our website and in our magazine!
---


John Mulaney and Pete Davidson To Perform at BergenPAC
(ENGLEWOOD, NJ) --  Bergen Performing Arts Center (bergenPAC) presents comedians John Mulaney and Pete Davidson on Sunday, March 24 at 7:00pm. The tour has been selling out in venues across the state, so don't miss out. There is no age limit for the show, but parental discretion is advised. Tickets are $49.  
---
The Capitol Steps To Perform At Axelrod PAC
(OCEAN TOWNSHIP, NJ) -- What better way to celebrate Presidents Day weekend than with political satire at its best.  The Capitol Steps will visit the Axelrod Performing Arts Center on February 16 at 8:00pm to celebrate American political theater. From Washington, D.C. to Off-Broadway, The Capitol Steps continues to make "Make America Grin Again" in the historical and hysterical Trump era.
---
John Mulaney & Pete Davidson To Perform At Count Basie Center For The Arts
(RED BANK, NJ) -- Comedian John Mulaney and Pete Davidson will perfom at Count Basie Center for The Arts on Sunday, February 17 at 10:00pm. Tickets are $49.
---
Russell Peters To Perform Two Shows at NJPAC
(NEWARK, NJ) -- Emmy and Peabody Award-winning comedian Russell Peters will leave no cultural stereotype unturned when he brings his brand-new Deported World Tour to NJPAC's Prudential Hall on Saturday, February 16.  Due to popular demand, there will be two performances: one at 7:00pm and another at 9:30pm.  Tickets range from $49 to $99.
---
Johnny Peers and the Muttville Comix To Perform at MPAC
(MORRISTOWN, NJ) -- Sit! Stay! Get ready to howl! Johnny Peers and his personality-plus canines are coming to Mayo Performing Arts Center on Sunday, February 3 at 1:30pm and 4:30pm. Johnny Peers and the Muttville Comix is a slapstick comedy act like no other. Johnny leads over a dozen dogs through challenging and hilarious tricks as Johnny plays the straight man role in this wonderful show. This event is for the dog lover in all of us stars mostly animals rescued from shelters or pounds.Tickets are $12-$15.
---


A Look At 2 Guys From Jersey
In issue 50, New Jersey Stage gave readers the opportunity to learn more about the writers who contribute to the magazine and the daily site. We'd like to give you the opportunity to learn more about the two shows that are featured in our magazine each month.  One is a podcast called 2 Guys From Jersey that runs a new episode every Wednesday. It involves Dr. D, Rocky, and Erin (a recent addition to the team) trying to settle trivial bar arguments that have plagued mankind for centuries.
---
"Legal Immigrant" Alan Cumming Brings His Cabaret To State Theatre New Jersey
It was the fall of 2008. Barack Obama had just been elected president. And Scottish-born actor Alan Cumming was sworn in as a citizen of the United States.
---
"Hysterical!" Gallagher LIVE! at The Strand Lakewood
Gallagher is joking with patrons in the lobby of Lakewood, NJ's historic Strand Theater this Thursday, May 24, 2018 evening. In his audacious style, he's grabbing cameras out of the hands of patrons who want to take great selfies with him, while also taking the time to sign T-shirts for stand-up comedy fans waiting for him at the merch table.
---
So You Want To Be A Comedian?
"I feel I have the kind of life where people think I'm making things up all of the time, but weirdness is kind of attracted to me," said Jess Alaimo, a comedian from Monmouth County.  "So, I just go with whatever happens to me."
---
The United States of Russia
Rutgers alum, Ben Rosenfeld released his third comedy album in January.  Entitled, The United States of Russia, the album was released by Comedy Dynamics and continues the Russia born, American raised comedian's style of mixing tales of his immigrant parents and outsider childhood with topics ranging from millennials, terrorism, politics, and adjusting to life as a newlywed.  We caught up with Ben to talk about the album.
---
Event calendar
Tuesday, Jan 22, 2019
Sorry, no events listed for today.
Here are some upcoming events.
---
2019-01-23
Rechnitz Halls DiMattio Gallery, Monmouth University @ 10:00am
West Long Branch
---
2019-01-23
Pollak Theatre @ Monmouth University @ 7:30pm
West Long Branch
---
2019-01-24
New Jersey Repertory Company @ 8:00pm
Long Branch