---
Tune into Radio Jersey with Lee Mrowicki every Monday through Friday from 6pm to 8pm
Broadcast on Asbury Music!
---
NJ Rep Presents World Premiere of Chloe Hung's "Issei, He Say, (Or the Myth of the First)"
originally published: 03/19/2018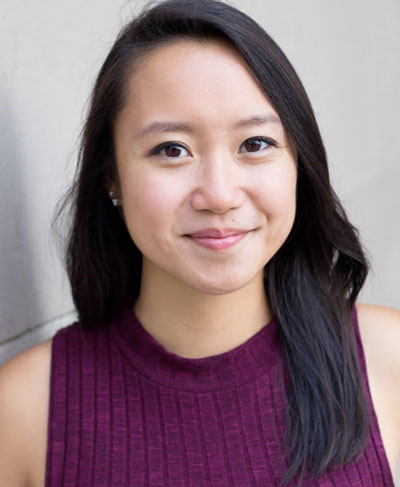 (LONG BRANCH, NJ) -- New Jersey Repertory Company will present the World Premiere of Chloé Hung's Issei, He Say, (Or the Myth of the First) April 19 through May 20, 2018. Winner of an Edgerton New Play award, Issei, He Say will be directed by Lisa James and stars Stan Egi as Mr. Yamamoto, Kathleen Kwan as Mrs. Chu, Fenton Li as Mr. Chu, and Christina Liang as Lucy Chu.
Lucy Chu, the central character, is a thirteen-year-old girl whose family has emigrated from Hong Kong to Ontario in 1969. They wind up living next to Mr. Yamamoto, a Japanese-Canadian, who spent WWII in a Canadian internment camp. Haunted by memories of Japanese atrocities during the siege of Nanking, Lucy's father holds his neighbor personally responsible, and forbids Lucy to speak to Mr. Yamamoto.  But the rebellious teenager reaches out to her kind neighbor, who can relate to her difficulties and help guide her through the struggles she encounters in her day-to-day life. Prejudices and hatred between the two families reach a boiling point and Lucy is caught in the middle. 

Ultimately, Issei, He Say is a story about family, told with humor and pathos. It's about being the first generation in a new country, the ups-and-downs of fitting in, the weight of the history they carry with them, and the prejudices that continue to haunt them.
New Jersey Repertory Company is located at 179 Broadway in Long Branch, New Jersey.

---


Centenary Stage Presents "Apples In Winter" - a National New Play Rolling World Premiere
(HACKETTSTOWN, NJ) -- Centenary Stage Company's 2018 – 19 theatrical season continues with the National New Play Network Rolling World Premiere of Jennifer Fawcett's award winning Apples in Winter. Limited performances will run November 8 through November 18 at the Centenary Stage Company Lackland Performing Arts Center at 715 Grand Ave. Hackettstown, NJ.
---
Trojan Women: JCTC Reinvents Classic Tragedy for Today's Times
(JERSEY CITY, NJ) -- Jersey City Theater Center (JCTC) presents Trojan Women, a multimedia and multilingual adaptation of the classic Greek tragedy reimagined for today's turbulent times. Trojan Women  opens Friday November 2nd for an 11-show run that closes on Sunday November 18 at Merseles Studios, 339 Newark Avenue, Jersey City. Tickets are $25 ($15/ Student and Senior Discount – must show valid ID).
---
Douglas Taurel To Perform "An American Soldier's Journey Home" On Veteran's Day
(HOBOKEN, NJ) -- On November 11, 2018 (Veterans Day), Douglas Taurel, actor and creator of the acclaimed solo show The American Soldier, will perform his new play An American Soldier's Journey Home at the Hoboken Museum in Hoboken, NJ at 4:00pm. The play was commissioned by the Library of Congress Veteran History Project. It was invited to performed at the Library of Congress both on Veterans Day and Memorial Day of 2017. The play will commemorate 100 years when the Great War ended and the last shot was fired.
---
Fair Moon Stages Presents "Wishes & Dreams: A Celebration of the Music that Animates our Lives"
(RAHWAY, NJ) -- Fair Moon Stages presents "Wishes & Dreams: A Celebration of the Music that Animates our Lives" on Sunday, November 4th at 3:00pm, at The Union County Performing Arts Center in Rahway, NJ. A 30-piece orchestra and 20 vocalists performing delightfully familiar songs from animated movies highlight the concert. The event is a benefit for the company, whose mission is to present accessible and professional theater at affordable prices. Their well-received inaugural season included Disney's High School Musical, Legally Blonde and the NJ premier of Mamma Mia.  
---
Menopause The Musical Comes To State Theatre
(NEW BRUNSWICK, NJ) --  GFour Productions, winner of 44 Tony Awards and 54 Drama Desk Awards,  brings the international hit show Menopause The Musical® to State Theatre in New Brunswick for two performances on Saturday, November 10 at 2:00pm and 8:00pm. This a groundbreaking celebration of women who are on the brink of, in the middle of, or have survived "The Change." 
---


Plant Yourself at Exit 82 Theatre Company's Little Shop of Horrors!
Little Shop of Horrors is a smash Broadway and Hollywood sci-fi musical that has devoured the hearts of theatergoers for over 30 years. Now, Toms River, NJ's Exit 82 Theatre Company has developed a unique rendition of the show created by Howard Ashman and Alan Menkin, which is currently running at their new Exit 82 Studio Theatre located on Main Street in downtown Toms River.
---
Playwright Walter Anderson Talks About "The Trial Of Donna Caine"
​​​​​​​The political climate in the United States—with its right and left, red and blue, conservative and liberal—prompts this question: Is reconciliation possible?
---
Assisted Living: The Musical LIVE! at Toms River's Grunin Center
The crowd is making it's way inside Toms River, NJ's Grunin Center of the Arts on this beautiful Saturday, Sept. 22, 2018 afternoon for the first of two sold-out performances of Assisted Living: The Musical!
---
Bram Stoker's Dracula
Long before we had Twilight and True Blood, one vampire ruled them all - Dracula.  Bram Stoker's classic horror novel brought Count Dracula from Transylvania to Victorian London.  In this blood thirsty tale of terror, the city seems helpless against his power, and only one man, Dr. Van Helsing, can stop the carnage.  But to do this, he must uncover the vampire's lair and pierce his heart with a wooden stake.  
---
House On Haunted Hill
House On Haunted Hill is a classic B-movie by William Castle that came out in 1959.  It starred Vincent Price as a millionaire who offers $10,000 to five people who agree to spend the night locked in a house he's rented on Haunted Hill.
---
Event calendar
Sunday, Oct 21, 2018
---
MUSIC

---
---
---
---
---
Suzzanne Douglas

@ South Orange Performing Arts Center (SOPAC), South Orange - 7:30pm
---
THEATRE

---
---
The Shuck

@ Cape May Stage, Cape May - 3:00pm
---
---
---
---
---
Almost, Maine

@ Jay & Linda Grunin Center For The Arts At Ocean County College, Toms River - 2:00pm
---
---
---
---
---
DANCE

---
---
FILM

---
---
KIDS

---
---
POETRY

---
---
MISC

---
---
---
View all events
---