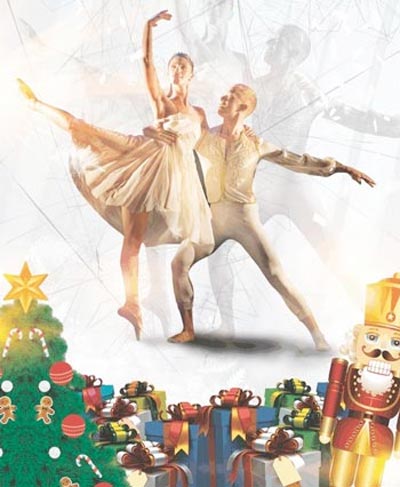 (JERSEY CITY, NJ) -- The holiday season is chock full of performances of The Nutcracker, the classic ballet by Tchaikovsky, throughout December.  But Nimbus Dance Works puts its own twist on the piece with Jersey City Nutcracker.  As they put it, it's the classic ballet re-imagined with Jersey City flavor.  Performances run from December 12-17 at the Frank R. Conwell MS4 Auditorium (107 Bright Street) in Jersey City.   
Jersey City Nutcracker tells the story of two children's urban holiday adventure leading them through fantasy, adversity and celebration and teaching them lessons about friendship and community along the way. Choreographed and directed by Nimbus Artistic Director Samuel Pott, this adaptation of Tchaikovsky's holiday classic is performed by a stand-out cast of professional dancers from Nimbus Dance Works joined by youth and adults from the community as they portray familiar characters such as the Sugar Plum Fairy, the Rat King, the Arabian Princess and Drosselmeyer - all with a Jersey City twist! Amidst colorful sets, costumes, a brightly adorned tree, youth and adults alike are touched by this tale of Christmas spirit.
2017 Jersey City Nutcracker performances will take place at the state-of-the-art auditorium at Frank R. Conwell Middle School #4 and will involve youth performers drawn from schools and dance studios throughout Jersey City including: the School of Nimbus Dance Works, PS3, PS16, Our Lady of Czestochowa School (OLC) and MS4.  Plus: surprise guest-performers make unforgettable cameo appearances.
The performance schedule includes: Friday, December 15 at 7:00pm; Saturday, December 16 at 1:00pm & 5:00pm; and Sunday, December 17 at 1:00pm & 5:00pm.  (School performances take place December 12-14)
Nimbus Dance Works focuses on the intersection between professional dance and innovative ways of involving communities and audiences.  Nimbus presents performances and programs to diverse audiences' across the nation serving present and building future audiences.
---
The article continues after this ad
---
---
For more information on Nimbus Dance Works visit www.nimbusdanceworks.org