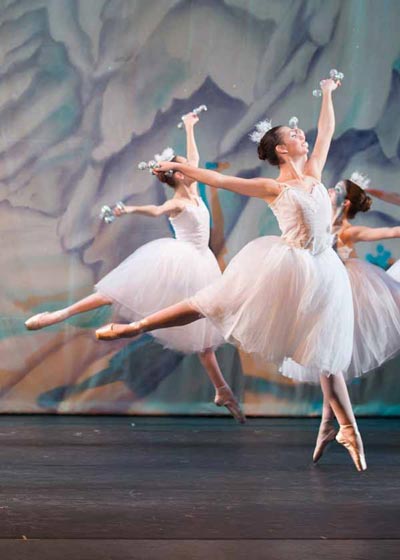 (HACKETTSTOWN, NJ) -- The critically acclaimed New Jersey Civic Youth Ballet returns to Centenary Stage Company's Lackland Performing Arts Center for their charming holiday family favorite The Nutcracker December 15 through 17.  Perfect for ages 4 – 104, the New Jersey Civic Youth ballet features international guest artists.
Your theatre ticket becomes an invitation to Dr. and Mrs. Stahlbaum's Christmas Party.  As the theater darkens, and some of the world's most beautiful music plays and Clara takes you on a storybook adventure. At the family's annual Christmas party, Clara's Godfather, Drosselmeyer, danced by Vitaly Verterich, (former soloist with the Moscow Ballet), presents his magic show of dancing dolls, and marionettes, mesmerizing each quest. He has gifts for all but only one touches Clara's heart, an ugly Nutcracker.  As Clara falls asleep under the Christmas tree the noise of mice wake her. To save Clara, the Nutcracker toy and his army, battle the giant Mouse King. A spell is broken and the ugly Nutcracker turns into a handsome prince. Clara and her prince travel through an enchanted forest to his spectacular palace. Through Clara's narration, young children understand a fanciful fairytale, that this is truly a story of life, love and the holiday spirit.
International and national guest artists in this year's Nutcracker are Sara Seger and her partner Sabatino Verleszza from the Rioult Dance Company, an international performing group based in New York City, and Ilya Kozadayev from Russia and his partner, Cuban born and trained, Milena Garcia. Kozadayev and Garcia will dance the lead roles of Cavalier and the Sugar Plum Fairy. Kozadayev received his training from the Vaganova Ballet Academy in St. Petersburg, Russia and has performed as a soloist with Colorado Ballet, Columbia Classical Ballet, and Houston Ballet.  Garcia, a graduate of the National Ballet School in Cuba in 2010 has performed with the Cincinnati Ballet, Oklahoma City Ballet, and Florida Classical Ballet.
Of course, Nutcracker is never complete without its child dancers. Lead roles of Clara Stahlbaum will be danced by Grace Lazzarotti and Sophia Musal both of Mt. Olive and Natalie D'Alessio from Panther Valley with Maya Papendick from Green Township, share the role of Fritz, Clara's naughty little brother. Gracing the stage again this year, is World Ballet Competition Gold Medalist Emma Crow from Hackettstown dancing as Dew Drop, Sunday matinee.
Tickets for the New Jersey Civic Youth Ballet's The Nutcracker December 15 through 17 are $28.00 for adult orchestra and $25.00 for adult balcony seating.  Children under 12 are $15.00 for all seats.  Tickets are available on – line at centenarystageco.org or by phone at (908) 979 – 0900.  The Centenary Stage Company box office is located in the Lackland Performing Arts Center at 715 Grand Ave. Hackettstown, NJ and is open Mondaythrough Friday from 1 – 5pm and two hours prior to performance time.
---
The article continues after this ad
---
---
The 2017-2018 season of performing arts events at the Centenary Stage Company is made possible through the generous support of the Geraldine R. Dodge Foundation, the NJ State Council on the Arts, the Shubert Foundation, the Blanche and Irving Laurie Foundation, the Sandra Kupperman Foundation, and CSC corporate sponsors, including Premier Season Sponsor Heath Village Retirement Community, The House of the Good Shepherd Silver Sponsors Hackettstown Medical Center, Home Instead Senior Care (Washington),  and Fulton Bank of New Jersey, and Centenary Stage Company members and supporters.
Photo by Christine Taylor
originally published: 2017-11-29 22:56:37

Dance On The Lawn 2018
(MONTCLAIR, NJ) -- Dance on the Lawn, Montclair, NJ's free outdoor dance festival, will return to the front lawn of St. Luke's Episcopal Church, 73 South Fullerton Avenue, on Saturday, September 8 from 3:00pm-5:00pm. Celebrating it's fifth year, Dance on the Lawn 2018 will feature performances by more than 13 New York and New Jersey dance companies and schools.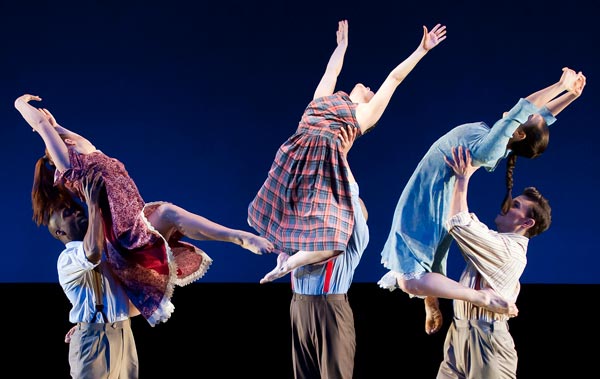 Carolyn Dorfman Dance To Perform At Monmouth University on Feb 25
(WEST LONG BRANCH, NJ) -- The Center for the Arts at Monmouth University will host a performance by Carolyn Dorfman Dance on February 25 as part of the Winter/Spring Performing Arts Series of events. Hosted in the auditorium of the Pollak Theatre, the 4:00pm performance is also being presented as part of the "Artful Explorations of Activism" series, under the Jewish Cultural Studies program at Monmouth.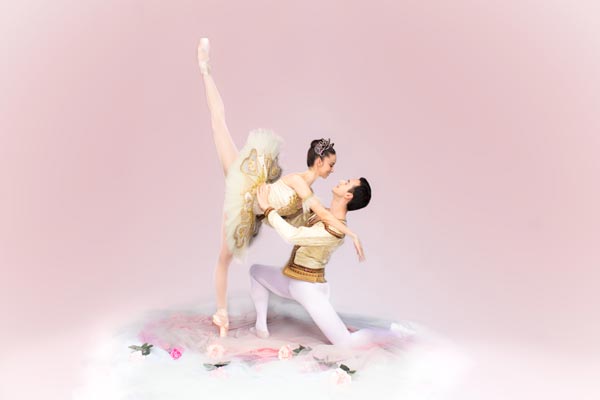 American Repertory Ballet To Perform "Pride and Prejudice" in Philadelphia
A pas de deux, or dance for two, can be full of heartfelt emotion, beauty and grace and leaves audiences in rapt awe and amazement. But for ballet couples – on stage and off—when the pas de deux is what Dance Magazine calls a "fairy tale moment, a life-imitates-art moment, a moment for ballet fans to remember" it makes for an unforgettable performance.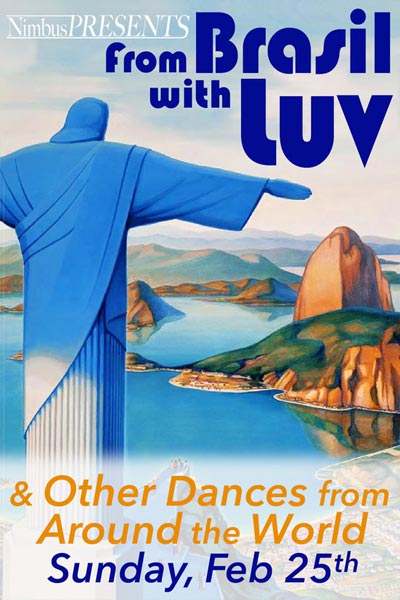 Nimbus Presents "From Brasil With Luv & Other Dances From Around The World"
(JERSEY CITY, NJ) -- Nimbus Dance Works presents from Brasil with Luv & Other Dances from Around the World on Sunday, February 25th in Jersey City.  The performance offers tales from around the world told through dance - featuring the world premiere of From Brasil with Luv - created by choreographer Elena Valls, and co-directed by by Chazz Giovanni Bruce.