---
Did you know NJ Stage offers FREE Event Listings? Nearly 100,000 listings were viewed in January. Be sure to add your events to our calendar and get your shows noticed!
---
New Jersey Civic Youth Ballet Returns To Centenary Stage Company In December
originally published: 11/29/2017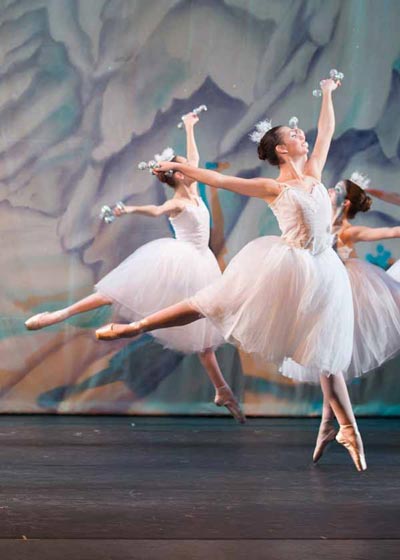 (HACKETTSTOWN, NJ) -- The critically acclaimed New Jersey Civic Youth Ballet returns to Centenary Stage Company's Lackland Performing Arts Center for their charming holiday family favorite The Nutcracker December 15 through 17.  Perfect for ages 4 – 104, the New Jersey Civic Youth ballet features international guest artists.
Your theatre ticket becomes an invitation to Dr. and Mrs. Stahlbaum's Christmas Party.  As the theater darkens, and some of the world's most beautiful music plays and Clara takes you on a storybook adventure. At the family's annual Christmas party, Clara's Godfather, Drosselmeyer, danced by Vitaly Verterich, (former soloist with the Moscow Ballet), presents his magic show of dancing dolls, and marionettes, mesmerizing each quest. He has gifts for all but only one touches Clara's heart, an ugly Nutcracker.  As Clara falls asleep under the Christmas tree the noise of mice wake her. To save Clara, the Nutcracker toy and his army, battle the giant Mouse King. A spell is broken and the ugly Nutcracker turns into a handsome prince. Clara and her prince travel through an enchanted forest to his spectacular palace. Through Clara's narration, young children understand a fanciful fairytale, that this is truly a story of life, love and the holiday spirit.
International and national guest artists in this year's Nutcracker are Sara Seger and her partner Sabatino Verleszza from the Rioult Dance Company, an international performing group based in New York City, and Ilya Kozadayev from Russia and his partner, Cuban born and trained, Milena Garcia. Kozadayev and Garcia will dance the lead roles of Cavalier and the Sugar Plum Fairy. Kozadayev received his training from the Vaganova Ballet Academy in St. Petersburg, Russia and has performed as a soloist with Colorado Ballet, Columbia Classical Ballet, and Houston Ballet.  Garcia, a graduate of the National Ballet School in Cuba in 2010 has performed with the Cincinnati Ballet, Oklahoma City Ballet, and Florida Classical Ballet.
Of course, Nutcracker is never complete without its child dancers. Lead roles of Clara Stahlbaum will be danced by Grace Lazzarotti and Sophia Musal both of Mt. Olive and Natalie D'Alessio from Panther Valley with Maya Papendick from Green Township, share the role of Fritz, Clara's naughty little brother. Gracing the stage again this year, is World Ballet Competition Gold Medalist Emma Crow from Hackettstown dancing as Dew Drop, Sunday matinee.
Tickets for the New Jersey Civic Youth Ballet's The Nutcracker December 15 through 17 are $28.00 for adult orchestra and $25.00 for adult balcony seating.  Children under 12 are $15.00 for all seats.  Tickets are available on – line at centenarystageco.org or by phone at (908) 979 – 0900.  The Centenary Stage Company box office is located in the Lackland Performing Arts Center at 715 Grand Ave. Hackettstown, NJ and is open Mondaythrough Friday from 1 – 5pm and two hours prior to performance time.
---
The article continues after this ad
---
---
The 2017-2018 season of performing arts events at the Centenary Stage Company is made possible through the generous support of the Geraldine R. Dodge Foundation, the NJ State Council on the Arts, the Shubert Foundation, the Blanche and Irving Laurie Foundation, the Sandra Kupperman Foundation, and CSC corporate sponsors, including Premier Season Sponsor Heath Village Retirement Community, The House of the Good Shepherd Silver Sponsors Hackettstown Medical Center, Home Instead Senior Care (Washington),  and Fulton Bank of New Jersey, and Centenary Stage Company members and supporters.
Photo by Christine Taylor


UCPAC Presents SOLE Defined
(RAHWAY, NJ) -- Dynamic. Infectious. Energetic. From the hit show STOMP, Ryan Johnson, and award-winning performing artist, Quynn Johnson, UCPAC presents SOLE Defined on Saturday, January 26th at 8:00pm.  A portion of the proceeds will support the UCPAC Humanities Scholarship. SOLE Defined is a 501(c)3 charitable organization. They are committed to their mission to restore and preserve percussive dance in international communities.
---
State Theatre Presents STOMP In January
(NEW BRUNSWICK, NJ) -- State Theatre New Jersey presents the return of the smash hit, STOMP for three performanceson Friday, January 11, 2019 at 8:00pm and Saturday, January 12, 2019 at 2:00pm and 8:00pm. From its beginning days as a street performance in the UK, STOMP has grown into an international sensation over the past 20 years, having performed in more than 50 countries and in front of more than 24 million people.  Tickets range from $35-$98.  
---
NimbusPRESENTS Jersey City Nutcracker
(JERSEY CITY, NJ) -- For the 9th consecutive year, NimbusPRESENTS its local holiday favorite: Jersey City Nutcracker. Set to Tchaikovsky's renowned orchestral score, Jersey City Nutcracker tells the story of two children's city adventure, following them through fantasy, adversity, and celebration with lessons about friendship and community along the way. This year's performances feature two exciting new components: video mapping and projection design by award-winning video artists Laia Cabrera & Isabelle Duverger. Also new: families can enjoy a pre-show Winter Carnival with games, concessions, and holiday craft vendors. Public performances run from Friday, December 14 to Saturday, December 22.
---
NJPAC Presents Bring It! LIVE - The Dance Battle Tour
(NEWARK, NJ) -- New Jersey Performing Arts Center (NJPAC) presents Bring It! LIVE- The Dance Battle Tour, Saturday, July 13, 2019 at 8:00pm. Back by popular demand, legendary Coach Dianna Williams and the Dancing Dolls of Lifetime's hit series Bring It! return with their 2019 live tour, an all-new, hotter-than-ever evening jam-packed with heart-pounding dance routines, lively audience interaction, and much more. Tickets range from $33.75 to $63.75.
---
State Theatre presents The Nutcracker performed by American Repertory Ballet With a live orchestra and choir
(NEW BRUNSWICK, NJ) -- State Theatre New Jersey presents American Repertory Ballet's Nutcracker for five performances from December 21 through December 23. American Repertory Ballet (ARB) brings the beloved classic Nutcracker to the stage with Tchaikovsky's magnificent score, stunning sets, thrilling choreography, and a cast of more than 100 performers.  All five American Repertory Ballet performances include a live orchestra and the Princeton Girlchoir.Tickets range from $25-$65. 
---


NJPAC's "The Hip Hop Nutcracker"
Celebrate the season with the New Jersey Performing Arts Center's holiday smash, "The Hip Hop Nutcracker." Tchaikovsky's classic ballet gets an urban makeover in this fresh retelling of the timeless tale. With contemporary dance moves and a New York City backdrop, this festive tradition feels new once again. Join Jesse and Dave as they talk to the creators of this bold show, which explodes onto the stage in Newark on Friday, December 14.
---
It's a Shore Holiday: The Atlantic City Ballet LIVE! at Caesars
On Saturday, November 24, 2018, The Atlantic City Ballet celebrated Christmas early with a production of It's a Shore Holiday at the Circus Maximus Theatre located inside Caesars Hotel and Casino in Atlantic City, NJ.
---
Dracula: The Atlantic City Ballet LIVE! at Lakewood's Strand Theater
On Saturday, Oct 21, 2018, The Atlantic City Ballet celebrated Halloween early with their production of Dracula at The Strand Theatre in Lakewood, NJ.
---
Ballet, Boxing and Street Dance Gangs?! An Artist Profile of Mark Roxey
Mark Roxey's been thrown in a garbage can, part of street dance gangs (who knew those were really real?!) and spends a whole lot of time in the boxing gym. He is also the founder and director of the Roxey Ballet Company, associate director of The Mill Ballet School, and has had a distinguished career with numerous American dance companies, including The Joffrey Ballet. You have to hear Mark's story in our latest artist profile.
---
Swan Lake: The Atlantic City Ballet LIVE! at The Strand Lakewood
On Saturday, September 22, 2018, The Atlantic City Ballet presented their version of Tchaikovsky's Swan Lake at The Strand Theatre in Lakewood, NJ. Featuring spellbinding choreography by Phyllis Papa, the talented members of the ACB transported an enthusiastic audience of all ages to another world, and Love Imagery was on hand to capture the magic in this photo-essay.
---
Event calendar
Wednesday, Dec 19, 2018
---
MUSIC

---
---
ICONIK BAND

@ Lobby Bar at Hard Rock Hotel and Casino Atlantic City, Atlantic City - 7:00pm
---
---
---
THEATRE

---
---
View all events
---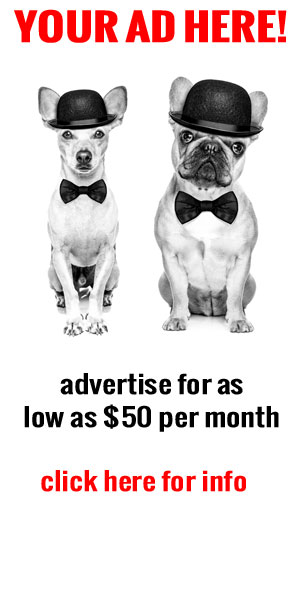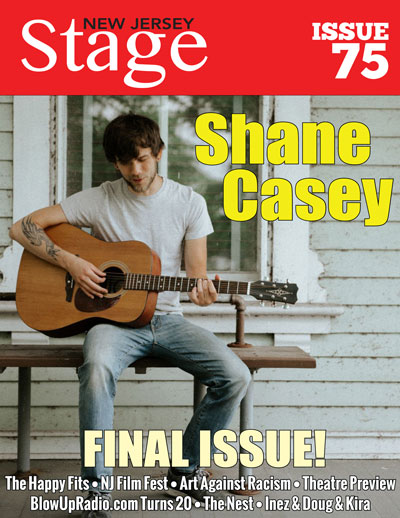 For more on our awards, click here