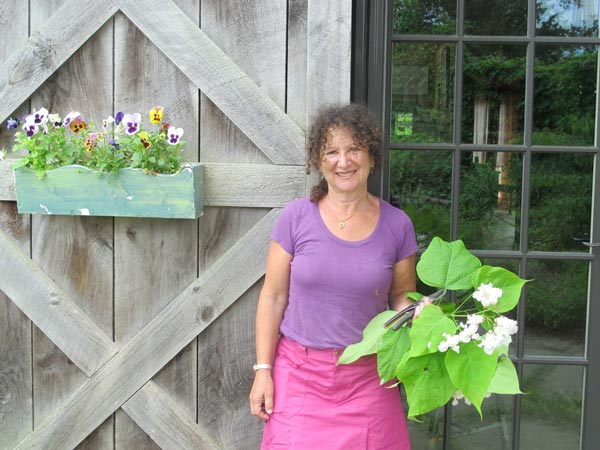 (PRINCETON, NJ) -- Morven Museum & Garden hosts Botanical Illustrator Wendy Hollender for a 2-day workshop on Thursday and Friday, April 19 and 20. On Thursday night at 7:00pm, Hollender will give a talk on "The Hows and Whys of Botanical Illustrations."
Study the fundamentals of botanical drawing using the mediums of graphite pencil, colored pencils, watercolor pencils and watercolor. This is a unique opportunity to study and draw plants in conjunction with the exhibition: "A Gentleman's Pursuit: The Commodore's Greenhouse". The workshop will focus on some of the plants grown in the Historic Greenhouse which included lemon trees, Japonicas, cacti, azaleas, and Daphnes.
Drawing plants and flowers starts with observation. Under the supervision of Wendy Hollender, Illustrator, Author, and Instructor, students will learn about plant structures and their importance through dissection and comparison. Students will create detailed botanical sketchbook pages of a flowering plant, and citrus fruit.
Botanical Illustration is the art of depicting the form, color, and details of plant species. Studying nature's forms and colors is a great way to learn about drawing and color to make beautiful realistic color in drawings. Traditionally a technique that was done in watercolor, Wendy Hollender has developed a method of teaching using a combination of colored pencil and watercolor pencils. Colored pencil isn't just a medium to use, it is also a learning tool. It allows you to teach drawing skills and teach about color at the same time. Understanding form and structure is crucial to this technique.
Students will learn how to use a grisaille technique for undertones in a neutral color and then how to layer color on top to create depth, using watercolor pencils in combination with dry colored pencils. This technique is very immediate and materials are simple, allowing the artist to work easily in multiple locations and it is especially useful for work in the field.
---
The article continues after this ad
---
---
Cost for the two-day workshop is $225; $175 for Friends of Morven. For the lecture only: $18; free for Friends of Morven. To register, visit morven.org/programs or call (609) 924-8144. Morven Museum & Garden is located at 55 Stockton Street in Princeton.
About Morven Museum & Garden - Situated on five pristine acres in this university town, Morven is a short walk from the Princeton Campus.  The museum boasts a growing collection of fine and decorative arts, including loans from the Boudinot Collection at the Princeton University Art Museum. Morven's second floor galleries serve as a changing exhibit space with new shows opening every few months that celebrates the cultural heritage of New Jersey. 
For more than 200 years Morven has played a role in the history of New Jersey and the nation. Originally part of a 5,500-acre tract purchased from William Penn in 1701 by the Stockton family, it became the site of the home of Richard Stockton, a Signer of the Declaration of Independence. As well as serving as a Stockton homestead into the 20th century, Morven was also home to Robert Wood Johnson and his family, and eventually five New Jersey governors.  In 1982, the New Jersey Governor's Mansion was relocated to nearby Drumthwacket and Morven began its conversion to a museum and opened to the public in 2004.