---
For great Jersey music and much more, tune into our radio station at AsburyMusic.com
---
Little Feat's Barrere & Tackett To Perform At The Newton Theatre
originally published: 05/09/2018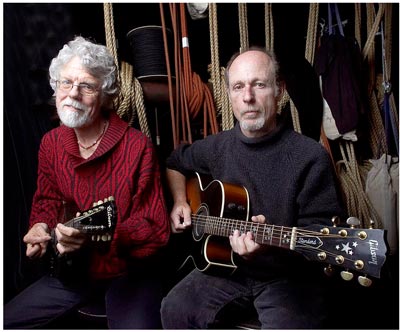 (NEWTON, NJ) -- Legendary members of Little Feat, Paul Barrere and Fred Tackett, will perform at The Newton Theatre on June 15 at 8:00pm. Tickets range from $29 to $44.
Paul Barrere and Fred Tackett are the guitar players with the legendary band Little Feat. Now they have joined forces to form an acoustic duet that will quite frankly blow you away. Performing songs from their Little Feat catalogue and more with a decidedly different twist. They first played together on the album "Dixie Chicken" some twenty-five years ago and since then have played together or individually on numerous recording sessions for Little Feat and countless others including Bonnie Raitt, Taj Mahal, Bob Dylan, Tom Waits, Dionne Farris, and the Wallflowers to name a few.
Paul Barrere has been a member of Little Feat since 1972, joining the band just after the release of "Sailing Shoes". He was hired on as he rhythm guitarist to back up Lowell George's cutting slide. His formal education was just beginning. Leaving his own band "The Led Enema" behind he earned degrees in scatology and phunk-logistics while studying with Mssrs George, Payne, Hayward, Radney and Clayton learning as a road's scholar. He has developed into a fine lead singer and songwriter as well as the band's slide guitarist over his many years with Little Feat adding his own brand of entendre Be-Bop. Born July 3, 1948 and raised in Hollywood, CA, both his parents were actors and his introduction and intoxication with show business came to him quite naturally.
Fred Tackett became a member of Little Feat in 1987 just before the making of "Let it Roll" but in a sense has been a member for a whole lot longer. He has been writing songs for and playing on recordings with Little Feat since 1972. The leading studio guitarists in Los Angeles since moving there in 1967 to join up with old friend Jimmy Webb. Fred's credits are really too numerous to list. Along with his many sessions, he found time to travel with Bob Dylan for 3 years, Bob Seger for 1 or of duty, and Boz Skaggs just as "Silk Degrees" was making discos almost tolerable. Born August 4, 1945 in Little Rock, AK, Fred says everyone in his family played the trumpet "cept Mom." He brings multi-faceted talents of guitar, mandolin and trumpet to the table with Mr. Barrere's guitar and voice in a much more intimate rendering of songs and stories from a well-traveled road.
The Newton Theatre is located at 234 Spring Street in Newton, New Jersey.
---


An Evening with Johnny Irion & Pat Sansone of Wilco At Hopewell Theater
(HOPEWELL, NJ) -- Hopewell Theater presents American folk rock favorite, Johnny Irion, who will be joined by Wilco's Pat Sansone in a special acoustic show on Saturday, November 10 at 8:00pm. This concert brings together two of folk-rock's acclaimed musicians for a one-night only performance.
---
South Jersey Pops Lauds Nautical Exploration in "Sail Away"
(CHERRY HILL, NJ) -- The South Jersey Pops, the area's own non-profit orchestra, raises the curtain on a 2018-2019 season that will include four themed concerts appealing to a variety of tastes and incorporating many touchstones of popular culture.  A pair of acclaimed guest vocalists will get the season off on a winning note with "Sail Away: Exploring the Sea," November 4, 2018, at Burlington County Institute of Technology's Medford Campus Performing Arts Center.
---
Rock Of Jersey Featuring The B Street Band & Slippery When Wet At iPlay America
(FREEHOLD, NJ) -- The B Street Band and Slippery When Wet come together at iPlay America, celebrating the music of two of New Jersey's favorite sons, on November 11th. Doors open at 5:00pm, and the show starts at 6:00pm.
---
Three Dog Night To Perform In Newton
(NEWTON, NJ) -- Legendary music icons, Three Dog Night, are celebrating their 4th decade bringing with them some of the most astonishing statistics in popular music. In the years 1969 through 1974, no other group achieved more top 10 hits, moved more records or sold more concert tickets than Three Dog Night. The celebration comes to The Newton Theatre on Sunday, February 10, 2019 at 8:00pm.
---
Seton Hall University Chorus Launches Season With: A Concert For Hope
(SOUTH ORANGE, NJ) -- To launch its 2018-19 season, the Seton Hall University Chorus, within the College of Communication and the Arts and its Arts Council, will perform "Et In Terra Pax: A Concert for Hope" alongside the Mid-Atlantic Symphony Orchestra on Sunday, October 28, 2018 at 7:00pm at Saint Bartholomew's Church in New York, N.Y.
---


Whitney Houston Exhibit Opens at The GRAMMY Museum Experience Prudential Center
Interviews with Pat Houston, President of The Estate of Whitney E. Houston and Bob Santelli, Founding Executive Director of the Grammy Museum
---
"Very Happy!" The Buckinghams and Cowsills Star in Cousin Brucie's Rock and Roll Yearbook Vol. 2 LIVE!
Fall is in the air at Homdel, NJ's PNC Bank Arts Center this Friday, September 28, 2018 evening as thousands of '60s music lovers ready themselves forCousin Brucie's Rock and Roll Yearbook Vol. 2! The show — produced by Cousin Brucie, along with Rob Albanese and the Garden State Arts Center Foundation — features four fab acts from the 1960s: The Buckinghams, The Cowsills, Freddy "Boom Boom" Cannon, and The Orlons!
---
"Brilliant!" The Young Dubliners LIVE! at Toms River's Grunin Center
It's a mild Saturday, September 29, 2019 evening as fans of Celtic rock are streaming into Toms River, NJ's Grunin Center of the Arts for a concert by The Young Dubliners.
---
A Tribute to Roy Orbison, The Beach Boys, and Frankie Valli at the PNC Bank Arts Center
A huge crowd is gathered here on this beautiful September 27, 2018 afternoon at Holmdel, NJ's PNC Bank Arts Center today for a live concert tribute to the music of Roy Orbison, The Beach Boys, and Frankie Valli and the Four Seasons.
---
An Interview with Rusty Young of POCO
Steel pedal guitarist Rusty Young is celebrating the 50th anniversary of the country rock band he helped to create, Poco.
---
Event calendar
Thursday, Oct 18, 2018
---
MUSIC

---
---
---
Rio Mira

@ Hopewell Theater, Hopewell - 7:30pm
---
---
THEATRE

---
The Shuck

@ Cape May Stage, Cape May - 7:30pm
---
---
---
Almost, Maine

@ Jay & Linda Grunin Center For The Arts At Ocean County College, Toms River - 7:30pm
---
Black Tom Island

@ The 1882 Carriage House, Liberty Hall Museum, Union - 10:30am
---
---
---
KIDS

---
---
POETRY

---
---
View all events
---