---
NJPAC Announces 7th Annual Sarah Vaughan International Jazz Vocal Competition Finalists Click here for the story!
---
Leonia Artists Featured in Group Show "EXIT 70A" at Fairleigh Dickinson University
originally published: 04/11/2018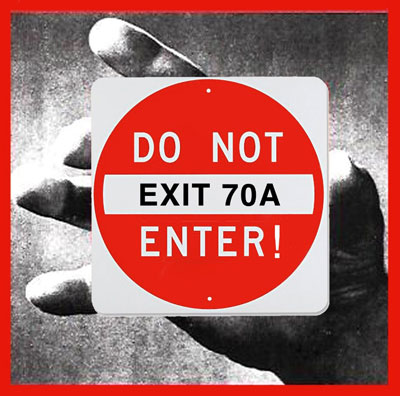 (HACKENSACK, NJ) -- Local artists from the borough of Leonia will present the group show from April 16 to May 31 at Edward Williams Hall Gallery at Fairleigh Dickinson University, located at 150 Kotte Place in Hackensack, New Jersey. The show's title, "Do Not Enter", is intended to be a humorous play-on-words of the borough of Leonia's recent enactment of new traffic rules.
Leonia, once the site of a renowned, thriving art colony, continues to attract artists in a range of medium. The borough's lengthy list of prominent visual artists included Charles Chapman and painter and etcher Grant Reynard. The Leoniaartists presenting their work in this show perpetuate that rich heritage.
This unique exhibition features emerging artists exploring different mediums using diverse styles in abstracts in oil, watercolor, acrylic, and photography. Artists' works presented in the show include Elizabeth DeMarco, Pam Fenwick, Katharina Castiblanco Grammer, Nanda van Ginkel, Marsha Heller, Paul Leibow, James Leynse, Ronald Pancrazi, Vince Priblo and Steve Swank.
An opening reception will be held on Sunday, April 22 from 2:00 to 4:00 p.m. Art enthusiasts are invited to come and meet the artists and enjoy light refreshments. The reception is free and open to the public.The gallery is open Monday through Friday from 8:30 a.m. to 8:30 p.m. and Saturdays from 9:30 to 4:00 p.m. For more information about the exhibition and the artists, contact Elizabeth C. DeMarco at 201-723-9696.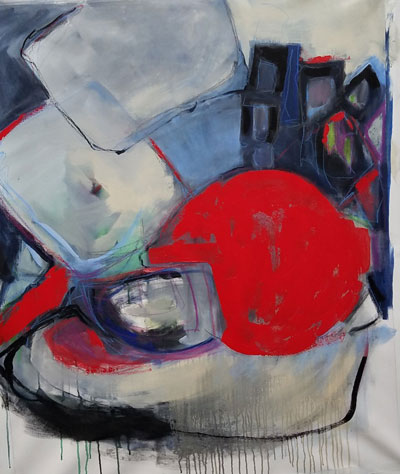 IMAGE by Elizabeth DeMarco
---


Walsh Gallery Presents Exhibits of Tom McGlynn and David Freund
(SOUTH ORANGE, NJ) -- The Walsh Gallery presents two new exhibits: "Tom McGlynn: Standards," a new series of paintings comprised of permutations of shape, color and the interplay of these elements, and "Gas Stop: Culture," black and white photographs by renowned photographer, David Freund.  The exhibits will be on display from Monday, November 5th through Friday, December 14th.
---
Masters of Illusion: The Legacy of John F. Peto At Morven Museum & Garden
(PRINCETON, NJ) -- Morven Museum & Garden hosts Masters of Illusion: The Legacy of John F. Peto from November 15th through May 12, 2019. Morven has partnered with the John F. Peto Studio Museum,  to present a new look at trompe l'oeilart in New Jersey.  Trompe l'oeil, pronounced "tromp loi," is a French phrase meaning "to deceive the eye," which is used to describe paintings that create the illusion of a three dimensional scene.  There will be an Opening Reception on November 14 at 6:00pm.
---
ArtsBergen Hosts Connect The Dots Networking Event On November 5th
(HACKENSACK, NJ) -- If you enjoy creating art, designs, inventions, woodwork, crafts, or other products, come to the Northern New Jersey Community Foundation's (NNJCF) ArtsBergen next Connect the Dots event, Makerspace Expo, on Monday, November 5.  The hands-on networking event takes place at Bergen Makerspace in the Bergen County Technical Schools Adult & Continuing Education Building, located at 190 Hackensack Avenue in Hackensack, New Jersey from 6:00pm to 8:00pm.  The event is free and open to the public.  Good-will donations are welcome.
---
Nikolina Kovalenko's Artwork on Display in Watchung
(SUMMIT, NJ) -- Artist Nikolina Kovalenko is interested in humanity's vanishing connection with nature and the consequences our everyday actions have on the environment. That fascination provides the inspiration for her new exhibition, Reclamation, which will be on display at the Watchung Reservation's Trailside Nature and Science Center, in Mountainside, NJ. Presented in partnership with the Visual Arts Center of New Jersey, this show will be on view from October 12, 2018–February 12, 2019.
---
Artist As Entrepreneur: Business Skills For Artists
(HAMMONTON, NJ) -- Creative Capital and South Jersey Cultural Alliance in partnership with the New Jersey State Council on the Arts presents The Artist as Entrepreneur Series from October 2018 through April 2019. The series includes 8 sessions to provide the business skills, tools and networking opportunities to artist so they may build financially healthy and sustainable careers.  It is sponsored by the Thrive South Initiative of New Jersey Community Capital.
---


Heather Ujiie Explores "Terra Incognita" At Rowan University Art Gallery
"My life's mission is to challenge myself to go to new places," said Heather Ujiie, a Bucks County, PA, multimedia artist whose latest work, "Terra Incognita," is on display at the Rowan University Art Gallery now through November 17, 2018.
---
Kevin Sampson: Solo Exhibitions In New Jersey and Beyond
"I'm a Civil Rights baby. I grew up laying across picket lines and blocking traffic." Artist Kevin Sampson's father, Stephen, was a well-known Civil Rights leader in New Jersey, and he instilled a commitment to community that his son still honors.
---
Basking Ridge Resident Returns to Matheny to Help Assist in Strategic Planning for 'This Amazing Place'
When Ellen Lambert was director of development at the Matheny School and Hospital in Peapack, NJ, from 1993 to 1995, one of her major achievements was the formation of a fundraising plan for what would eventually become the Robert Schonhorn Arts Center. The concept of Matheny's Arts Access Program  -- which enables people with disabilities to create art, assisted by professional artist-facilitators  -- was emerging in '93, and the arts center was eventually built in 2000.
---
City Without Walls and Aljira To Shine At Newark Arts Festival
Two long-running art spaces, City Without Walls ("cWOW") and Aljira, A Center for Contemporary Art ("Aljira"), will house pop-up exhibits during the Newark Arts Festival, October 4-7, 2018.  Though both spaces are now in a period of transition, through the support of Newark Arts, they will activate with fresh exhibits during Newark's citywide annual festival of the arts. 
---
The Healing Power of Art
Entering the office to see a neurologist can be a terrifying experience.  I know because I've had to do it for years.  Thankfully, when I see my doctor I am surrounded by his photographs on the walls. It's more than a hobby for Dr. Noah Gilson, it's a lifelong passion.
---
Event calendar
Sunday, Oct 21, 2018
---
MUSIC

---
---
---
---
---
Suzzanne Douglas

@ South Orange Performing Arts Center (SOPAC), South Orange - 7:30pm
---
THEATRE

---
---
The Shuck

@ Cape May Stage, Cape May - 3:00pm
---
---
---
---
---
Almost, Maine

@ Jay & Linda Grunin Center For The Arts At Ocean County College, Toms River - 2:00pm
---
---
---
---
---
DANCE

---
---
FILM

---
---
KIDS

---
---
POETRY

---
---
MISC

---
---
---
View all events
---