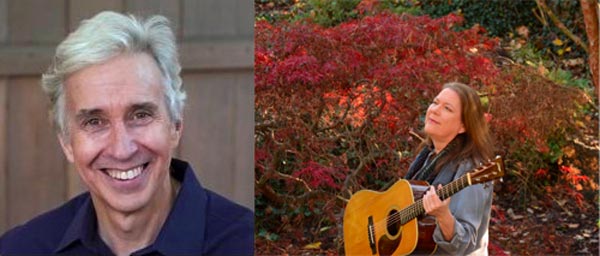 (MORRISTOWN, NJ) -- John Forster will headline at the Minstrel Acoustic Concert Series on Friday, January 18, at 7:30pm at the Morristown Unitarian Fellowship, 21 Normandy Heights Rd, Morristown. Judy Kass will open. The event is part of the Minstrel Acoustic Concert Series, sponsored by The Folk Project each Friday evening at the Fellowship. Admission is $10.00 per adult at the door. Children 12 and under are free. For further information, call 973-335-9489, or visit www.folkproject.org.  
John Forster is an award-winning songwriter, humorist and record producer whose work encompasses the worlds of singer-songwriting, musical theater and children's entertainment. As a recording artist, John's 1994 debut album Entering Marion got an Indie Award HM (the independent record labels' Grammy) for Best Comedy Album. Many of his witty topical songs have been featured on NPR's "Morning Edition." His songs have been recorded by Christine Lavin, Judy Collins, Rosanne Cash, and the late Dave Van Ronk, among many others. His song "Entering Marion" is included in Dr. Demento's 50 Greatest Novelty Songs Of All Time.
As a writer and producer of bright, sassy music for children John has been nominated for four Grammy Awards, most recently for the Tom Chapin album Some Assembly Required. Other children's albums include Family Tree, This Pretty Planet, Billy The Squid, and a dozen more. He has produced records for everyone from the Olsen Twins to the original "tot rock" band, Rosenshontz. John's song "Sing Me The Story Of Your Day" was sung by Faith Hill on the 2006 Grammy-winning Thanks & Giving.
New York based singer-songwriter Judy Kass quickly draws in her audience with soulful vocals, no-nonsense lyrical storytelling and genre-bending exploration of guitar and piano. Her original music blends generous amounts of folk, jazz and blues with songs that cover the full gamut of mood and experience — ranging from whimsical musings of relationship challenges to her own personal journey of healing from post 9/11 trauma and the loss of numerous colleagues to the terror attacks.
The Folk Project is a non-profit 501(c)(3) Corporation whose mission is to present high caliber folk music performances and instructional workshops for the public and members; to encourage development of musicianship and performance skills in the northern New Jersey area; and to provide interesting social and learning activities relating to traditional and participatory folk music and dance.
---
The article continues after this ad
---
---
Funding has been made possible in part by funds from Morris Arts through the New Jersey State Council on the Arts/Department of State, a Partner Agency of the National Endowment for the Arts.