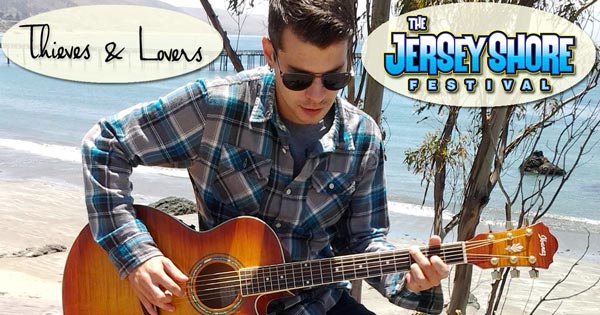 (SEASIDE HEIGHTS, NJ) -- The 2018 Jersey Shore Festival will take place May 18th to 20th in Seaside Heights. Over the past 10 years, the festival has established itself as one of the premier emerging artist festivals on the east coast. Artists of all ages and all genres come to Seaside Heights, perform on their stages, network with industry professionals, and have a true Jersey Shore Experience. The festival is free to attend and is held rain or shine with performances by over 300 artists from around the world.
Aside from the music, the Jersey Shore festival also includes activities that are fun the for whole family including BMX and Skate Shows, Motocross Shows, Ford Car show, Pro's vs. Heroes Charity Flag Football Game, Free Monster Truck Rides, Food Trucks, the JSF Vendor Village, and much more.
Here's a look at last year's festival from CJ Summers who created Vlogs of each day of the festival.
Two hotels are recommended for those who want to stay overnight. The official festival hotel is The Hershey Motel (1415 Boulevard, Seaside Heights) which has discounted rates for festival attendees (mention the Jersey Shore Festival for discounted rate) and The Sunrise Motel (202 Bouleard, Seaside Heights).
Scroll down for the complete schedule.
---
The article continues after this ad
---
---
Friday, May 18th
Hershey Motel Stage - 1415 Boulevard
6:00 - 6:30pm - From the Concrete - Clifton, NJ
7:00 - 7:30pm - Permanent Phase - Newburgh, NY
8:00 - 8:30pm - Dig A Revel - New Jersey
9:00 - 9:30pm - The Rareflowers - New Brunswick, NJ
10:00 - 10:30pm - Second String Hero - Toledo, OH
Voyager Live Stage - 1415 Boulevard
5:30 - 6:00pm - Underground Rats - Trenton, NJ
6:30 - 7:00pm - Matt Taelor - Stamford, CT
7:30 - 8:00pm - Old City Revival - Cinnaminson, NJ
8:30 - 9:00pm - Port Arthur - Philadelphia, PA
9:30 - 10:00pm - America Part Two - Asbury Park, NJ
Hook's - 1320 Boulevard
6:00 - 6:30pm - Petra Jarrar - New York, NY
6:50 - 7:20pm - The Break Lights - Parsippany, NJ
7:40 - 8:10pm - The Crowning - Stroudsburg, PA
8:30 - 9:00pm - Infinitus Mortus - Kenilworth, NJ
9:20 - 9:50pm - Leaving Eden - Boston, MA
10:10 - 10:40pm - Hambone Relay - Philadelphia, PA
11:00 - 11:30pm - Drumadics Beat 'N' Brass Band - New York, NY
11:50 - 12:20am - Doubleday - Sparta, NJ
EJ's - 919 Boardwalk
6:00 - 6:30pm - Stealing Fame - Philadelphia, PA
6:50 - 7:20pm - The Might Nothings - Middletown, NJ
7:40 - 8:10pm - Castle Black - Brooklyn, NY
8:30 - 9:00pm - Tubefreeks - Baltimore, MD
9:20 - 9:50pm - No More Pain - Long Branch, NJ
10:10 - 10:40pm - Autopilot - Saskatoon, SK
11:00 - 11:30pm - Empire Fallen - Belleville, NJ
11:50 - 12:50am - The Superbad - Brick, NJ
The Aztec - 901 Boardwalk
6:00 - 6:30pm - Rusty Blue - Wilmington, DE
6:50 - 7:20pm - Odette/Odile - Goldens Bridge, NY
7:40 - 8:10pm - Matchaponix - Old Bridge, NJ
8:30 - 9:00pm - Dino Petaccio & The Intruders - Philadelphia, PA
9:20 - 9:50pm - The Barrbarians - Asbury Park, NJ
10:10 - 10:40pm - Echoheart - Chevy Chase, MD
11:00 - 11:30pm - Dress Code - Asbury park, NJ
11:45 - 12:30am - The Great North - Buffalo, NY
12:30 - 1:30am - Annakickarse - New York, NY
Jimbo's - 715 Boardwalk
6:00 - 6:30pm - Daria Jones - Jersey City, NJ
6:45 - 7:15pm - Auguste and Alden - Warren, CT
7:30 - 8:00pm - Samantha Kromphold - Clark, NJ
8:15 - 8:45pm - yurby - Bronx, NY
9:00 - 9:30pm - Long Gone Day - Belleville, NJ
9:45 - 10:15pm - Johnny Stanec - Youngstown, OH
10:30 - 11:00pm - The Phoenix Within - Woodhaven, NY
11:15 - 11:45am - Mike Oregano - South River, NJ
Rigger's - 513 Boulevard
6:00 - 6:30pm - Shane Zen - Rockaway, NJ
6:45 - 7:15pm - John Joseph - Cedar Grove, NJ
7:30 - 8:00pm - Kama Linden - Bronx, NY
8:15 - 8:45pm - Dan & Chris - River Vale, NJ
9:00 - 9:30pm - Jonathan Tea - Shark River Hills, NJ
Hemingway's - 612 Boulevard
6:00 - 6:30pm - Avario - AvarTrenton, NJ
6:45 - 7:15pm - Steve Burks - Fair Lawn, NJ
7:30 - 8:00pm - Superstar Runner - Upper Black Eddy, PA
8:15 - 8:45pm - Justine Markman - Watchung, NJ
9:00 - 9:30pm - Darren Deicide - Jersey City, NJ
Spicy's Cantina - 500 Boardwalk
8:00 - 10:00pm - Lion and Tiger - New York, NY
10:00 - 2:00am - DJ
---
Saturday, May 19th
Coors Light Stage - Grant Avenue Lot
12:30 - 1:00pm - Dawson Rutledge - Cranbrook, BC
1:30 - 2:00pm - NIIC the Singing Dog - Philadelphia, PA
2:30 - 3:00pm - Sunday at Noon - Phoenix, AZ
3:30 - 4:00pm - Taylor Tote Band - Red Bank, NJ
4:30 - 5:00pm - Autopilot - Saskatoon, SK
5:30 - 6:00pm - Kiirstin Marilyn - New York, NY
6:30 - 7:00pm - Teammate Markus - Mesa, AZ
7:30 - 8:00pm - Owl Kill - Montville, NJ
Hershey Motel Stage - 1415 Boulevard
12:00 - 12:30pm - Seth Rosenbloom - Boston, MA
1:00 - 1:30pm - Underground Rats - Trenton, NJ
2:00 - 2:30pm - Famous & Fallen - Philadelphia, PA
3:00 - 3:30pm - Familiar Things - Philadelphia, PA
4:00 - 4:30pm - Just 6 Hours - Asbury Park, NJ
5:00 - 5:30pm - Mystic Seahorse - Milford, DE
6:00 - 6:30pm - American Grim - Hillsborough, NJ
7:00 - 7:30pm - The Rebellion Lost - New York, NY
8:00 - 8:30pm - Sell Yourself Short - Asbury Park, NJ
9:00 - 9:30pm - Creating Clementine - Freehold, NJ
Voyager Live Stage - 1415 Boulevard
12:30 - 1:00pm - City of the Weak - Minneapolis, MN
1:30 - 2:00pm - The World at Large - Philadelphia, PA
2:30 - 3:00pm - One 7-8 - Oakland, NJ
3:30 - 4:00pm - Antic! - Cornwall, NY
4:30 - 5:00pm - Almost Awake - Las Vegas, NV
5:30 - 6:00pm - The Danbees - New York, NY
6:30 - 7:00pm - The Flux Machine - New York, NY
7:30 - 8:00pm - Rose Cora Perry & The Truth Untold - London, ON
8:30 - 9:00pm - Seconds to Live - Cleveland, OH
9:30 - 10:00pm - Dig Deep - Toms River, NJ
Franklin Avenue Stage - Boardwalk @ Franklin Avenue
12:00 - 12:30pm - TBA
12:50 - 1:20pm - Marielle Kraft - Washington, DC
1:40 - 2:10pm - Fryd Chicken - New York, NY
2:30 - 3:00pm - Dave Goddess Group - New York, NY
3:20 - 3:50pm - Andrew Stoddard - Jackson, NJ
4:10 - 4:40pm - DuShane Band - Manhattan, NY
5:00 - 5:30pm - Whiskey Crossing - Vernon, NJ
5:50 - 6:20pm - Unlawful - Columbus, OH
6:40 - 7:10pm - The Shaun Peace Band - Richmond, VA
7:30 - 8:00pm - Carolyn Marie - Lebanon, NJ
8:20 - 8:50pm - Jackson Howard - Philadelphia, PA
Carteret Avenue Stage - Boardwalk @ Carteret Avenue
12:00 - 12:30pm - Mia Rocks & The Chick Power Band - Ashburn, VA
12:50 - 1:20pm - Soapbox Sound - Hillsdale, NJ
1:40 - 2:10pm - RIIZA - North Salem, NY
2:30 - 3:00pm - Silent Culture - Vineland, NJ
3:20 - 3:50pm - Adventure Lost - Philadelphia, PA
4:10 - 4:40pm - The Off Brand - Hillsborough, NJ
5:00 - 5:30pm - Mizu - Union, NJ
5:50 - 6:20pm - Jass Bianchi - Boston, MA
6:40 - 7:10pm - Painted Young - Aberdeen, NJ

The Barn - Grant Avenue
12:00 - 12:30pm - Brayden Kesling - Gilbert, AZ
1:00 - 1:30pm - Flourish - Manasquan, NJ
2:00 - 2:30pm - AIERS - Hoboken, NJ
3:00 - 3:30pm -Mirage - Brick, NJ
4:00 - 4:30pm - Gilbert - Katonah, NY
5:00 - 5:30pm - Malibu - Long Branch, NJ
6:00 - 6:30pm - The Hollow Roots - Nashville, TN
7:00 - 7:30pm - The Flukes - Manasquan, NJ
Hook's - 1320 Boulevard
12:00 - 12:30pm - MARYJANEROBI - Toms River, NJ
12:50 - 1:20pm - Avario - Trenton, NJ
1:40 - 2:10pm - Don Babylon - Philadelphia, PA
2:30 - 3:00pm - Popular Creeps - Philadelphia, PA
3:20 - 3:50pm - Echoheart - Baltimore, MD
4:10 - 4:40pm - The Silverhounds - New Brunswick, NJ
5:00 - 5:30pm - Joshua Van Ness - East Brunswick, NJ
5:50 - 6:20pm - 21 Kings - East Brunswick, NJ
6:40 - 7:10pm - Kris Rodgers & The Dirty Gems - Portland, ME
7:30 - 8:00pm - Amos Fortune - Haverhill, MA
8:20 - 8:50pm - Funeral Students - Waretown, NJ
9:10 - 9:40pm - Raftree - Union, NJ
10:00 - 10:30pm - Old Eastern - Baltimore, MD
10:50 - 11:20pm - Wynward - Brick, NJ
11:40 - 12:10am - The Parsnip Revolt - Philadelphia, PA
12:30 - 1:30am - Ser Xerri - Bordentown, NJ
EJ's - 919 Boardwalk
12:00 - 12:30pm - Play Pretend - Colorado Springs, CO
12:50 - 1:20pm - Doubleday - Sparta, NJ
1:40 - 2:10pm - Tubefreeks - Baltimore, MD
2:30 - 3:00pm - Flatleaver - Jackson, NJ
3:20 - 3:50pm - Sonic Blume - Red Bank, NJ
4:10 - 4:40pm - Out of Bounds - Monroe, NJ
5:00 - 5:30pm - Sygnal to Noise - Bidderford, ME
5:50 - 6:20pm - Stillphase - Long Branch, NJ
6:40 - 7:10pm - The Inversion Circus - Red Bank, NJ
7:30 - 8:00pm - Rahway - Rahway, NJ
8:20 - 8:50pm - Know Your Enemy - Somerville, NJ
9:10 - 9:40pm - Roulette - Asbury Park, NJ
10:00 - 10:30pm - Mind Riot - Long Branch, NJ
10:50 - 11:20pm - Revel 9 - Long Beach, NY
11:40 - 12:10am - Aurin - Hawthorne, NJ
12:30 - 1:30am - Police Navidad - Belleville, NJ
The Aztec - 901 Boardwalk
12:00 - 12:30pm - the broken fits - Fayetteville, TN
12:50 - 1:20pm - Kiirstin Marilyn - New York, NY
1:40 - 2:10pm - TBA
2:30 - 3:00pm - SAD - New York, NY
3:20 - 3:50pm - Caterina J - New York, NY
4:10 - 4:40pm - Sensory Hoverload - Scotch Plains, NJ
5:00 - 5:30pm - The Great Heights Band - Baltimore, MD
5:50 - 6:20pm - Samonik - New York, NY
6:40 - 7:10pm - What the Funk - Red Bank, NJ
7:30 - 8:00pm - LuKane - Chicago, IL
8:20 - 8:50pm - LightDivides - Mahwah, NJ
9:10 - 9:40pm - IMANKITA - Bordentown, NJ
10:00 - 10:30pm - rainmkers - Brooklyn, NY
10:45 - 11:45pm - Nonii Ryan - Charlotte, NC
11:45 - 1:45am - Annakickarse- New York, NY
Jimbo's - 715 Boardwalk
12:00 - 12:30pm - Sam McCoig - Richmond, VA
12:45 - 1:15pm - Matt Roach - Philadelphia, PA
1:30 - 2:00pm - AbCent - Danbury, CT
2:15 - 2:45pm - Samantha Spano - Freehold, NJ
3:00 - 3:30pm - Devon Alana - Freehold, NJ
3:45 - 4:15pm - Brianna Musco - Montvale, NJ
4:30 - 5:00pm - Kayla Cariaga - Monroe, NY
5:15 - 5:45pm - Brianna Vacca - Shamong, NJ
6:00 - 6:30pm - Wave Magnetik - Jersey City, NJ
6:45 - 7:15pm - Ally Mac Project - Paterson, NJ
7:30 - 8:00pm - Chris Gullace - Brick, NJ
8:15 - 8:45pm - Campland - Boston, MA
9:00 - 9:30pm - Tamara Goldinella - Seaside Heights, NJ
9:45 - 10:15pm - Joshua Branson - New Jersey
10:30 - 11:00pm - Troy Batey - Carboro, NC
11:15 - 11:45pm - The Autumn Fire - Brick, NJ
12:00 - 12:30am - Steff Reed - New York, NY
Rigger's - 513 Boulevard
12:00 - 12:30pm -Vernon Webb - Fair Lawn, NJ
12:45 - 1:15pm - Fred Rocks NJ - Piscataway, NJ
1:30 - 2:00pm - Ronald Maletich - Toms River, NJ
2:15 - 2:45pm - Eliot Feldman - Freehold, NJ
3:00 - 3:30pm - Matt Roach - Philadelphia, PA
3:45 - 4:15pm -Dave Vargo - Farmingdale, NJ
4:30 - 5:00pm - Thomas Laydon - Wallingford, CT
5:15 - 5:45pm - Cory Singer - South Plainfield, NJ
6:00 - 6:30pm - Brad Kleiman - Colonia, NJ
6:45 - 7:15pm - Keith Peters - Middlesex, NJ
7:30 - 8:00pm - Pocketful Rialto! - Asbury Park, NJ
8:15 - 8:45pm - The Wedding Funeral - Jersey City, NJ
9:00 - 9:30pm - iamCurbie - Toms River, NJ
Spicy's Cantina - 500 Boardwalk
2:00 - 6:00pm - C.O.A.L.G. - Rutherford, NJ
8:00 - 2:00am - DJ
Hershey Arcade - 1415 Boulevard
8:00 - 12:00am - All Ages Dance Party with DJ
Hemingway's - 612 Boulevard
5:00 - 9:00pm - Comedy Showcase
Kearney Avenue Busking Stage - Boardwalk @ Kearney Avenue
12:00 - 12:30pm -Vernon Webb - Fair Lawn, NJ
12:45 - 1:15pm - TBA
1:30 - 2:00pm - TBA
2:15 - 2:45pm - Campland - Boston, MA
3:00 - 3:30pm - LightDivides - Mahwah, NJ
3:45 - 4:15pm - Superstar Runner - Upper Black Eddy, PA
4:30 - 5:00pm - Fred Rocks NJ - Piscataway, NJ
5:15 - 5:45pm - Matt Roach - Philadelphia, PA
6:00 - 6:30pm - Brianna Musco - Montvale, NJ
6:45 - 7:15pm - rainmkers - Brooklyn, NY
---
Sunday, May 20th
Coors Light Stage - Grant Avenue Lot
12:30 - 1:00pm -Kellie-Anne - Weehawkin, NJ
1:30 - 2:00pm - Quinton Smith - Edison, NJ
2:30 - 3:00pm - Layla Khepri - Washington, DC
3:30 - 4:00pm - Zaritza - Highlands, NJ
4:30 - 5:00pm - Kayla Dillon - Brick, NJ
5:30 - 6:00pm - June Divided - Philadelphia, PA
6:30 - 7:00pm - Woodfish - Red Bank, NJ
Franklin Avenue Stage - Boardwalk @ Franklin Avenue
12:30 - 1:00pm - Rose Cora Perry & The Truth Untold - London, ON
1:20 - 1:50pm - Big Mind - Philadelphia, PA
2:10 - 2:40pm - Thieves & Lovers - Baltimore, MD
3:00 - 3:30pm - Tatiana Owens - New York, NY
3:50 - 4:20pm - Over the Bridge - Gloucester, MA
4:40 - 5:10pm - The Jayplayers - Hershey, PA
5:30 - 6:00pm - Sherry Lynn - Sewell, NJ
6:20 - 6:50pm - Paul Anthony - North Arlington, NJ
7:10 - 7:40pm - Fish Eyed Blues - Toms River, NJ
Carteret Avenue Stage - Boardwalk @ Carteret Avenue
12:30 - 1:00pm - The Green Planet Band - New Jersey
1:20 - 1:50pm - Kyle Alexxander - Bordentown, NJ
2:10 - 2:40pm - Ataraxia - Toms River, NJ
3:00 - 3:30pm - Almost Awake - Las Vegas, NV
3:50 - 4:20pm - The Spins - Vernon, NJ
4:40 - 5:10pm - Mirage - Brick, NJ
5:30 - 6:00pm - Zoochie - New Brunswick, NJ
6:20 - 6:50pm - The Missing Frets - King of Prussia, NJ
7:10 - 7:40pm - Flycatcher - New Brunswick, NJ
The Barn - Grant Avenue
12:00 - 12:30pm - TBA
1:00 - 1:30pm - Down by One - Absecon, NJ
2:00 - 2:30pm - The Everafter - Yonkers, NY
3:00 - 3:30pm - The Heavy Hitters - Huntington, WV
4:00 - 4:30pm - Time Marches On - Neptune, NJ
5:00 - 5:30pm - Famous & Fallen - Philadelphia, PA
6:00 - 6:30pm - The Victory Drive - Belmar, NJ
Hershey Motel Stage - 1415 Boulevard
12:00 - 12:30pm - Jack Names the Planets - Montclair, NJ
12:50 - 1:20pm - Amos Fortune - Haverhill, MA
1:40 - 2:10pm - Sunday at Noon - Phoenix, AZ
2:30 - 3:00pm - Surreal Nation - Smyrna, DE
3:20 - 3:50pm - Madeline Smith - Princeton, NJ
4:10 - 4:40pm - Weakknees - Philadelphia, PA
5:00 - 5:30pm - The Open Minds - South River, NJ
5:50 - 6:20pm - All Types of Kinds - New York, NY
6:40 - 7:10pm - Baron Praxis - Toms River, NJ
Hook's - 1320 Boulevard
12:30 - 1:00pm - TBA
1:20 - 1:50pm - Jim Baety Band - Jackson, NJ
2:10 - 2:40pm - All Types of Kinds - New York, NY
3:00 - 3:30pm - Cigar Box Stompers - Brick, NJ
3:50 - 4:20pm - Vermilion - Levittown, PA
4:40 - 5:10pm - The Jo Wymer Band - Freehold, NJ
5:30 - 6:00pm - The Heavy Hitters - Huntington, WV
6:20 - 6:50pm - The Wag - Middletown, NJ
7:10 - 7:40pm - John Carpenter - Seaside Heights, NJ
EJ's - 919 Boardwalk
12:00 - 12:30pm - TBA
12:50 - 1:20pm - Old Eastern - Baltimore, MD
1:40 - 2:10pm - The Inversion Circus - Red Bank, NJ
2:30 - 3:00pm - American Grim - Hillsborough, NJ
3:20 - 3:50pm - Broken Past - Atlantic Highlands, NJ
4:10 - 4:40pm - Off the Turnpike - Queens, NY
5:00 - 5:30pm - Bionic Monkey - Forked River, NJ
5:50 - 6:20pm - Terretta Storm - Wilmington, DE
6:40 - 7:10pm - Dave Simmons - Asbury Park, NJ
The Aztec - 901 Boardwalk
12:00 - 12:30pm - TBA
12:50 - 1:20pm - MARYJANEROBI - Toms River, NJ
1:40 - 2:10pm - Sunday Gravy - Long Valley, NJ
2:30 - 3:00pm - Sub-Radio - Washington, DC
3:20 - 3:50pm - Retroglyphs - Collingswood, NJ
4:10 - 4:40pm - XPRESIDENTS - Philadelphia, PA
5:00 - 5:30pm - Teammate Markus - Mesa, AZ
5:50 - 6:20pm - Dig Deep - Toms River, NJ
6:40 - 7:10pm - CINEMA STAR - Boonton, NJ
Jimbo's - 715 Boardwalk
12:00 - 12:30pm - TBA
12:45 - 1:15pm - Pocketful Rialto! - Asbury Park, NJ
1:30 - 2:00pm - Marissa Mengotto - Toms River, NJ
2:15 - 2:45pm - the hobo-style - Woodbury, NJ
3:00 - 3:30pm - Jamie B. Gallagher - Philadelphia, PA
3:45 - 4:15pm - SØF - East Brunswick, NJ
4:30 - 5:00pm - Hannah Cranton - Salem, MA
5:15 - 5:45pm - Alex Julia - Toms River, NJ
6:00 - 6:30pm - Lea B. - Woodbridge, NJ
6:45 - 7:15pm - The Well Wish - Long Branch, NJ
Spicy's Cantina - 500 Boardwalk
2:00 - 6:00pm - Ciro Patti - Bogota, NJ
8:00 - 12:00am - Jersey Shore Festival Closing Party
Kearney Avenue Busking Stage - Boardwalk @ Kearney Avenue
12:00 - 12:30pm - TBA
12:45 - 1:15pm - TBA
1:30 - 2:00pm - All Types of Kinds - New York, NY
2:15 - 2:45pm - TBA
3:00 - 3:30pm - Sam McCoig - Richmond, VA
3:45 - 4:15pm - the hobo-style - Woodbury, NJ
4:30 - 5:00pm - Pocketful Rialto! - Asbury Park, NJ
5:15 - 5:45pm - Jamie B. Gallagher - Philadelphia, PA
6:00 - 6:30pm - TBA
6:45 - 7:15pm - Cory Singer - South Plainfield, NJ
---
For more information visit the official festival website at www.jerseyshorefest.com